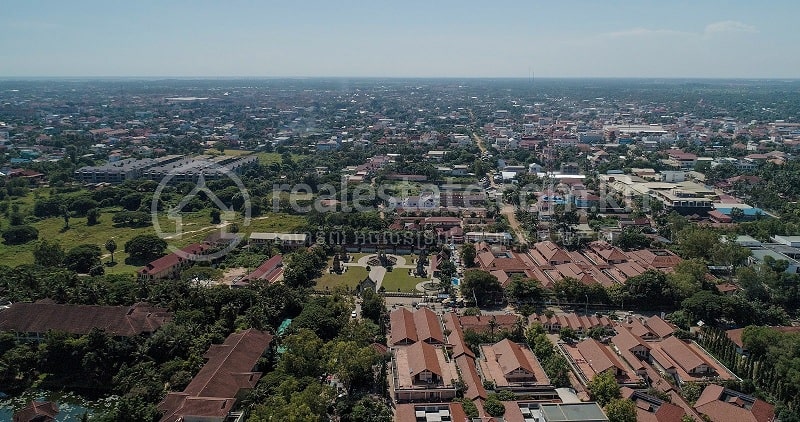 Despite the general consensus that the property market in Siem Reap has slowed down, many experts are bullish on the potential of the area. In fact, some speculate that the market is simply catching up to changing market demographics. They say the low prices won't last long.
Realestate.com.kh sat down will all the biggest names in Siem Reap real estate to find out more. Watch our full interviews with Charles Evans of Cambodia Property Shop, Calum Binnie of Property Finder Cambodia, Choch Cho from Siem Reap Property Services and Mario Hunter of Hunter Estate. To get even more background about the area read our guide for living in Siem Reap.
Tourism taking off
As the home of Angkor Wat, one of the country's biggest tourist draws, Siem Reap relies heavily on the hospitality sector. According to Angkor Enterprise, the custodial organisation for the park, the number of visitors nearly hit 2.5 million in 2017. 
Indeed, numbers are set to rise, as is foreign and domestic investment. The Council for the Development of Cambodia noted that in 2016 $1.4 billion worth of investments were made in the tourism industry. 
But tourist demographics have been shifting rapidly over the past few years. Arrivals from China are dominating the charts, they surpassed one million last year. In fact, the number of Chinese travellers grew by over 30% from 2016 to 2017. For more in-depth data, check out our annual real estate survey.
What's more, many hospitality businesses were previously focused on Western customers. As that market shrinks, many have been left in the dust. 
Leaning toward luxury
Phin Vanna, CEO of Camglobe Realtor in Siem Reap, noted that larger hotels—those with more than 100 rooms—have seen a massive influx of Asian tourists, especially Chinese nationals.
"Boutiques, guesthouses and homestays have not grown as fast as large-scale hotels," Vanna said, adding that the number of Western visitors to the area has gone down by about 50%. The number of Chinese tourists, he claimed, has doubled in recent years. He mentioned that most groups from China come as a part of packaged tours.
Indeed, many say large-scale hotels are the most fertile section of the market. 
Phy Sophov, general manager of Ring Boutique Hotel, said that despite growing numbers, the market is in the midst of a cooling down period. Large-scale luxury hotels have the most room for growth, he claimed.
"The market is still relatively strong and developers can profit as long as they bring something unique for their clients," Sophov pointed out.
The solution, industry figures say, is to bring more specialisation to the industry. Certainly, property developers are already bringing more condos and boreys to the residential market. This is a move to attract both expat renters, as well as middle- and upper-class Cambodians. 
Divide and conquer

Business owners do, in fact, seem to be changing their strategies to focus in on certain market segments. Check out our in-depth article about mounting competition in the hotel market to learn more.
"Last year, 30 new boutique hotels were built nearby Damnak pagoda," noted Charles Evans, director of Siem Reap's Cambodia Property Shop. Boutique and eco-resorts are two fairly new types of businesses that have been expanding in recent years.
On the other hand, many have called for a boost to professionalism in the industry as competition heats up. 
Charles Richard Evans, owner of Cambodia Property Shop (CPS), said: "I have been here for the last 10 years. The market now is less vibrant than it was in 2015, 2016, even 2017 … I have seen too many failures by inexperienced operators who do not follow the legal process and fail to conduct due diligence before they make a purchase or rental."
Data from Realestate.com.kh's annual survey back up these sentiments in the residential and commercial markets. Over a third of all respondents said they wanted to see compulsory real estate agent certification.
Bullish prospects
Choch Cho, the founder of Siem Reap Property Services, said that prices in the local property sector have declined over the past six months, but are now relatively stable. He predicted that they would stabilise, and could turn bullish in as little as half a year.
It shouldn't be forgotten that we are currently headed into high season for tourism in the Kingdom. This comes on the heels of announcements that GDP growth is projected to hit 7% yet again for this year. 
Luckily, Realestate.com.kh is the best place to keep on top of the news coming out of Cambodia's real estate scene. If you're thinking of starting a business in Siem Reap be sure to check out our guide on how to start a business in Cambodia and download the Cambodia Investment Guide 2019. It's completely free!