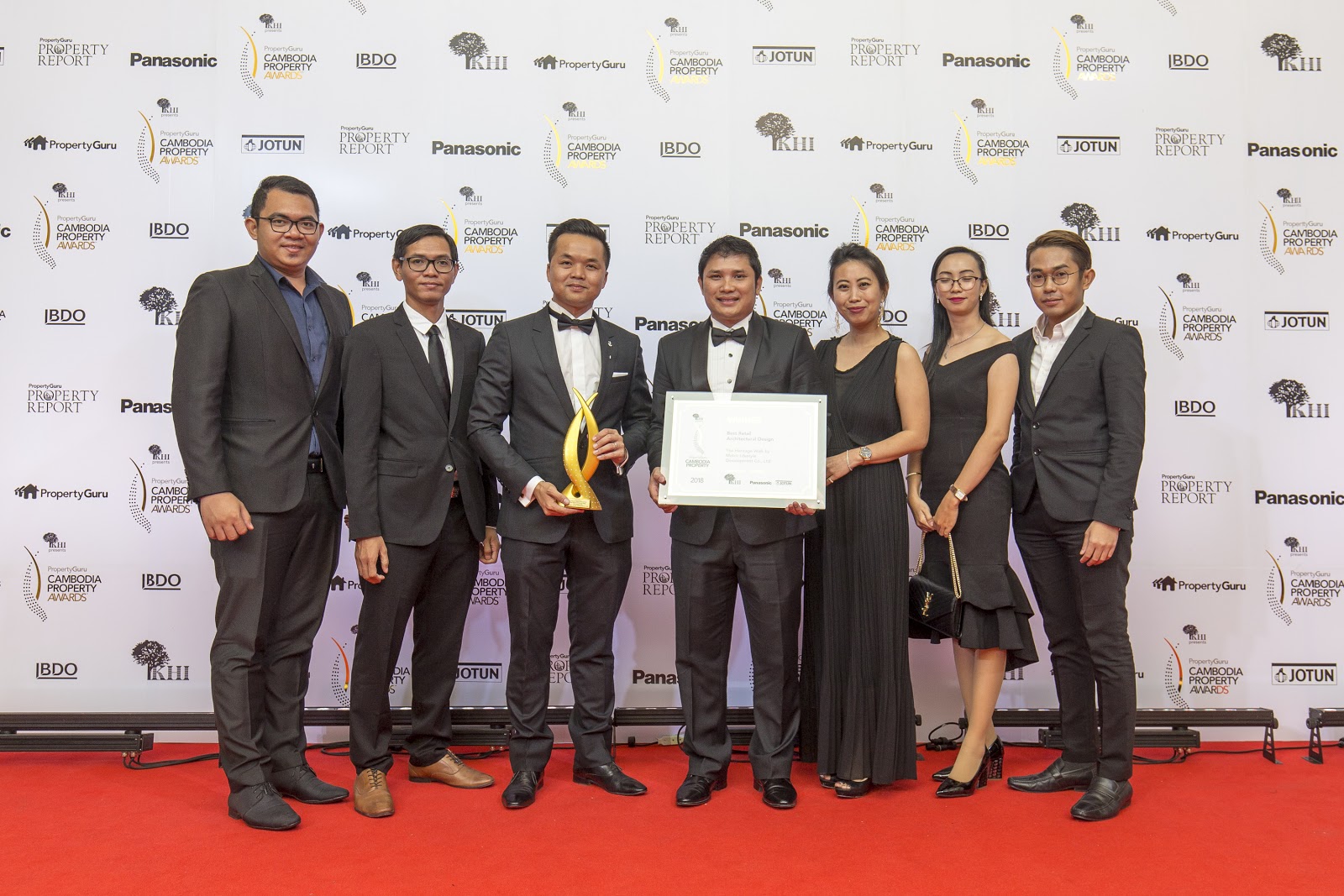 It is a big pride for Siem Reap Province as The Heritage Walk, Siem Reap's first lifestyle complex, awarded The Best Retail Architectural Design from PropertyGuru Cambodia Property Award event which was held on 16 March 2018 at Sofitel Phnom Penh Phokeethra, Cambodia. This annual PropertyGuru Cambodia Property Awards is part of the regional Asia Property Awards programme established in 2005 ,and it is the biggest real estate event and most exclusive industry awards in the Kingdom, with the top and emerging names in real estate celebrating the best developers, projects and designs in Phnom Penh, Siem Reap and Sihanoukville.
In 2018 , 19 noticeable projects and developers were shortlisted and being nominated for 25 awards in different categories. Noticeably, The Heritage Walk is the only project in Siem Reap that was nominated for Best Retail Architectural Design Award which at the end won The Best Retail Architectural Design. During the award session, Mr. Sopheak CHHEANG, General Manager of The Heritage Walk, delivered a speech showing his gratitude of being selected as the winner.

He stated, "I am so glad and proud to be here and holding this award tonight as the representative of The Heritage Walk project. Developed by local developer and architectures this awards represent the achievement of our effort that we have dedicated to this project".
In the short interview with PropertyGuru, Mr. Sopheak added that Siem Reap is the magnificent ancient city of Cambodia which attracts millions of foreign and local visitors every year. However, we found out that this city is lack of varieties of a quality hang out and eating place that is the reason why we came up with the idea to create The Heritage Walk to fulfil this continuous increasing demand. Situated in the very prestigious area together with a twist of modern and colonial architecture that embodied with a strong sense of cultural beauty, The Heritage Walk is emerging as another iconic building and transforming the beauty of Siem Reap City to the next level.", Sopheak added. To be noticed, The Heritage Walk is developed & invested by Metro Lifestyle Development Co., Ltd., Design and Architecture by Five Arch Architect Company, constructed by SOMA Construction & Development Co., Ltd and managed by Emerald+ Professional Property Management.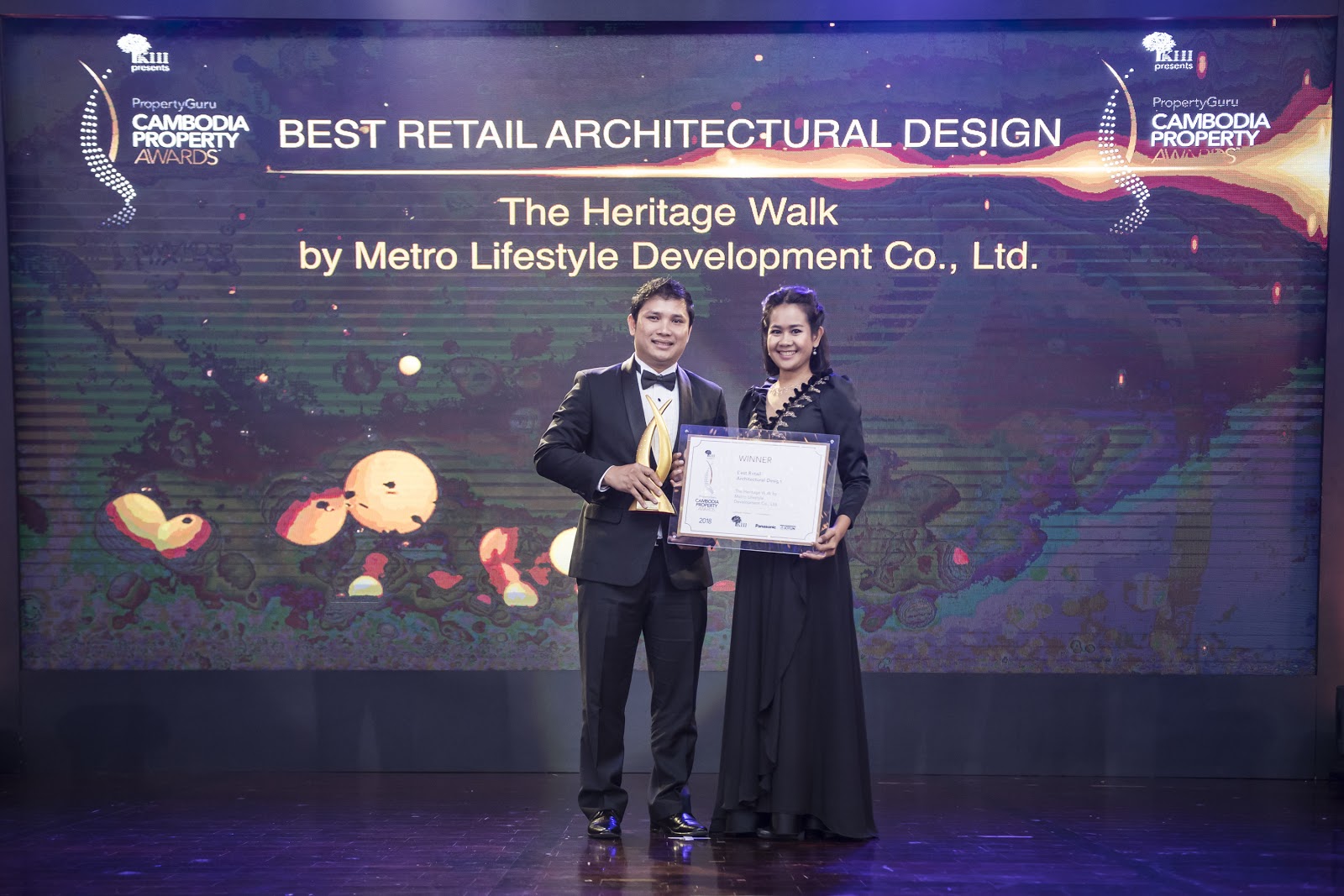 According the Mr. Sopheak, The Heritage Walk will open in late Q2 of 2018 with many well-known tenants such as Legend Cinema, Starbucks, BROWN coffee, Amazon, The Pizza Company, Bar B Q Plaza, Swensen, Dairy Queen, KOI, Tous Les Jour, Lotteria, The Asian Kitchen, The Hashi, Kids Park, Phum Chhnganh, Monument Book, Brand Collection, Miniso, WK Remax, T-Shop, Yves Rocher, Dr. Skin Clinic. Besides, this lifestyle complex will also be filled with Sky bar, Super market, Toys shops, and a rooftop space for event function. The Heritage Walk will be the hub of varieties of restaurant that have never exist before in this ancient city, but it will also become a new hangout venue and entertainment destination for both local residents and tourists.
Realestate.com.kh, Cambodia's home of real estate, has the most up to date information for buyers, sellers and property enthusiasts! Sign up for our newsletter today and stay up to date with the latest info…