The Gateway showroom is open everyday from 9.00am to 6.00pm. The Gateway showroom is located at the actual construction site of the Gateway project, along Russian Boulevard - the physical gateway of Phnom Penh central city.
As Russian Boulevard is the main road or the gateway of Phnom Penh, it is the essential route for all VIPs entering the city, especially those traveling to the Prime Minister's office from the International Airport. By positioning itself here on the main artery of Phnom Penh, the Gateway promises sustained appreciation for all ASEAN investors.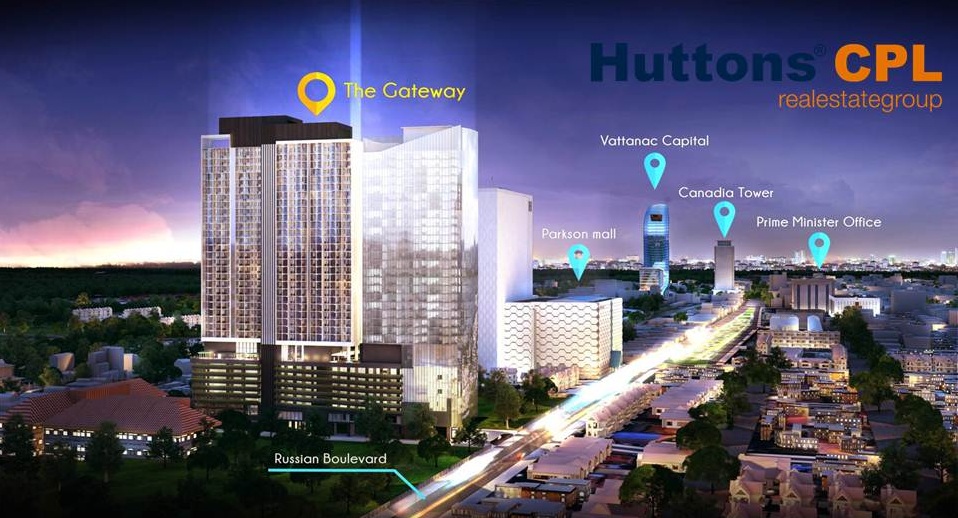 The Gateway is 3 minutes away from major amenities of Phnom Penh City. It will be alongside a variety of retail flagship stores, key government ministries, upcoming mega malls, and a host of International schools and embassies. Meanwhile, TA Corp has identified Cambodia as a fast rising market. Cambodia has illustrated strong and steady property growth year on year, with its average property prices doubling every 4-5 years over the past 10 years. Prime properties in Phnom Penh exhibit attractive rental yield of 7-11% of purchase prices. With bulk of its purchasing demand coming from the local buyers located in Phnom Penh; it displays a vote of confidence and a positive signal for potential investors who have already invested. The ASEAN Economic Community (AEC) has substantially increased the convenience of doing business in Phnom Penh and stimulated the demand for foreign direct investments from International Companies. Investor's from around the world are seizing the opportunity to tap on the high growth potential of the rising Cambodian market.