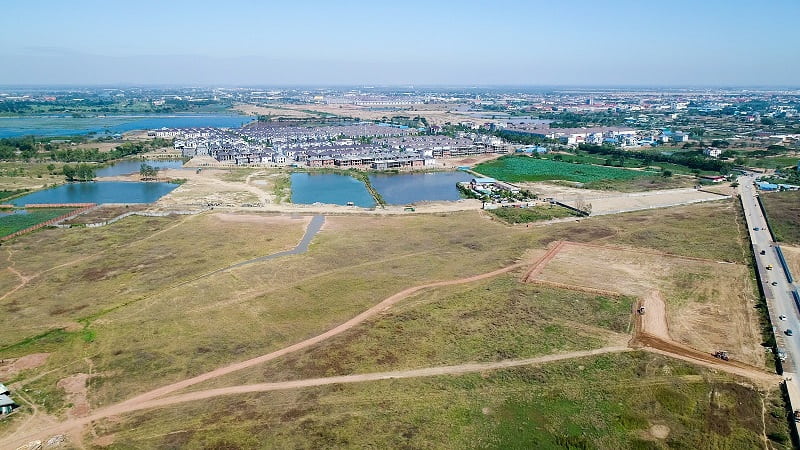 (Sen Sok remains a top choice for borey developments. But can the country's infrastructure handle its fast-growing real estate sector? Realestate.com.kh)
The 2019 real estate market in Cambodia has been growing due to increasing demand from both local and international buyers across different property types.
Will 2020 be more of the same? Industry insiders have mixed answers.
Po Eav Kong, CEO of Advance Real Estate, expressed that the property sector in Cambodia will grow in 2020 with some reservations due to recent events. He explains, "2020 will be a good year for real estate. The government has doubled the approved projects and this will lead to stronger construction activity in the following years." Though he added that, "It's rather unfortunate that the ban on online gaming has resulted in the slowdown of the real estate market in Sihanoukville"
According to the Ministry of Land Management, Urban Planning and Construction (MLMUPC), there were 4,446 construction projects approved amounting to $9.3 billion as of August in 2019. By comparison within the same period last year, the government only approved 2,867 projects amounting to $5.2 billion - these projects being mostly high-rise buildings located in Phnom Penh and Sihanoukville.
Ping Serey, Vice president of Cambodian Valuers and Estate Agents Association (CVEA), saw remarkable growth in purchasing activities in residential projects and office spaces. Serey says that the real estate market grew anywhere from 10% to 15% this year but still leaves some room for growth. He said, "The government must provide better infrastructure such as roads, sewage, and electric lines to encourage the private sector to build more affordable housing"
In terms of condominium development, Ros Sovantha, CEO of Estate Xchange, says that the condominium market is still seeing purchase transactions. He said that the addition of flexible payment options has opened the projects to a wider market that wants a piece of the high-yield rental market in Cambodia.
He added that the newly available condo supply this year is around 7,000 units but only less than 30% of that are owned by Cambodians. Sovantha said that a possible surplus of condo units could be at the horizon and he hopes that foreign investors, particularly the Chinese, would make up the difference.
Lack of public infrastructure is the bottleneck to Cambodia's growing real estate market. While government projects are underway, they cannot keep up with the market demand for commercial and residential projects in dire need of proper access to sewage, electricity, and even roads. Some developers have reportedly opted to construct their own roads.
"Currently, if a private company wants to develop a residential project, it's up to them to make a new road along with water and electric utilities. We can see examples of these private endeavors in Sen Sok and Russey Keo" according to Po Eav Kong. "We think that the government should invest more in infrastructure. Otherwise, the cost of infrastructure development will drive up prices for the homebuyer," he added.
Stay up-to-date on the real estate industry in Cambodia and get real-time updates on real estate news as they happen. Download the Realestate.com.kh App now!

Article by: