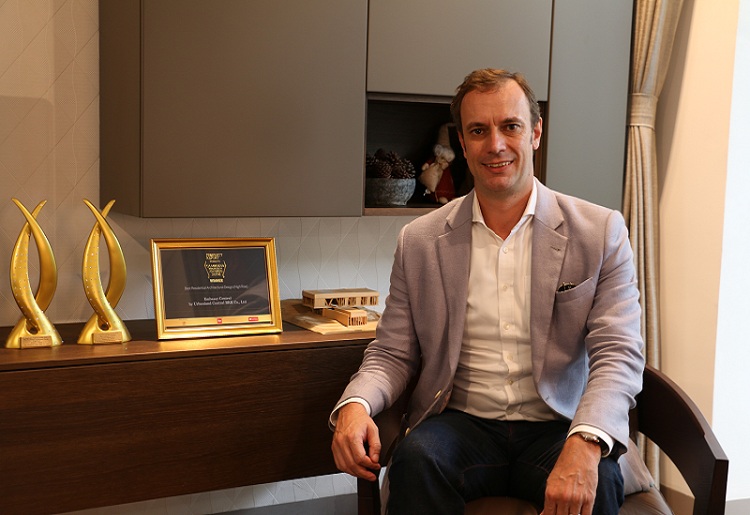 Although relatively small, Cambodia's real estate market scene is filled with industry-related events.
It is that time of the year again when developers get the chance to see (or not) the payoff of their efforts and work, reassembled in the form of an award. For the second year in a row, the PropertyGuru Group is organizing the Cambodia Property Awards, which is set to be the biggest and most exclusive real estate awards event in the Kingdom.
Last year, the debut event saw over 300 guests and VIPs, and was broadcast live on CTN's Cambodia News Channel.
Bringing together all the biggest developers in town and award them without upsetting anyone must be not an easy task. In order to find out more Realestate.com.kh met with Mr Terry Blackburn, Managing Director of PropertyGuru Asia Property Awards.
The Cambodia Property Awards was launched in late 2015 as part of the then 10-year-old Asia Property Awards programme that began in Thailand in 2005 (which later on expanded to other seven countries across South East Asia and in China). Cambodia held its first gala dinner in February 2016, becoming the latest addition to the awards programme last year, which Terry described as "one of the last pieces of the puzzle."
Mr Terry believes that due to the Awards' long history and earned credibility, they are in the right position to set a benchmark for quality within real estate, on a regional level.
Developers of contemporary projects that will be completed within the next 18 months are now eligible to apply. Currently 22 categories are set for this year and each project will be evaluated by an independent panel of judges formed by top experts of the industry. The panel will be supervised by BDO, one of the world's largest accounting and auditing firms, to ensure full transparency and conflict-free evaluations.
But how can the Cambodia Property Awards set the benchmark for quality?
Mr Terry explained that each project goes through a thorough onsite inspection, where the panel of experts reviews the viability of the construction and their quality, based on a verified checklist that covers different crucial aspects. This process – from nominations to choosing the winners – takes up to six months. Every real estate development is scrutinised, giving an extra assurance to future buyers.
More importantly, based on existing rules of the Awards, developers who eventually win but fail to complete their projects by the established deadline, risk to have their award withdrawn. This gives assurance not only in terms of quality and design of a given development, but as well as its economic viability.
Due to his familiarity with other Southeast Asian real estate markets, we have also asked Mr Terry's thoughts on Cambodia compared to other countries where the Awards operate in, as well as the possibility of a real estate bubble: "In the upcoming months , when majority of the developments will be completed, we should have a better overview of what is being sold for occupation and what for investments. Of course a healthy market implies a high number occupants rather than speculative investments; if this will be the case for Cambodia, then a new wave of investments will come in, if not it might take a while before these projects are sold or rented out. In the latter case however, I do not see an imminent drop in price, since developers often work on tight margins."
When comparing Cambodia to other countries in Asia, Mr Terry stated: "I must say that Cambodia is small but certainly a fast-moving market, with plenty of room for everyone: I particularly see a big potential in the affordable housing, given that the Cambodian finance sector is more consolidated compared to other countries, such as for instance Myanmar, where all the payments still happen in cash and a proper mortgage system is not yet in place."
For developers who are interested in entering their properties in the Cambodia Property Awards, nominations will close on 27 January and entries on 3 February.