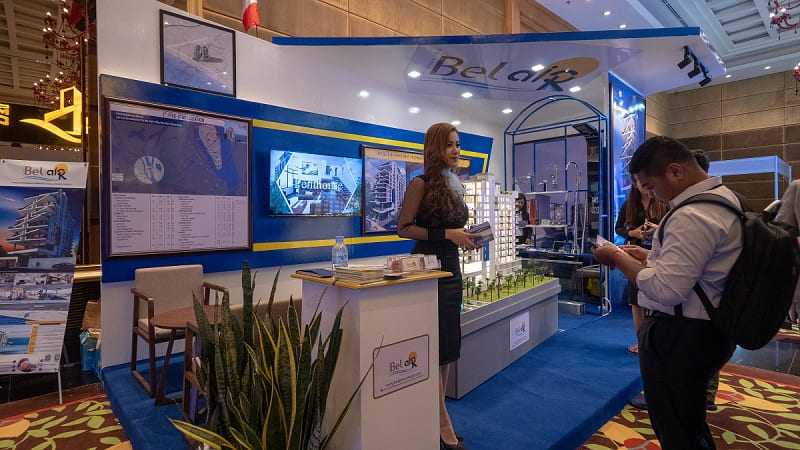 The news is out about the Realestate.com.kh Expo 2019 and companies are jumping to join. Exhibitor spots are selling fast for what is set to be one of the biggest property events in Cambodia's history. Read on to see who's already signed up, what benefits exhibitors get and all the details about the October show.
Sponsored by ZTO Express, The Realestate.com.kh Expo 2019 is set to take place on October 4 and 5 at Phnom Penh's NagaWorld. This is the fifth major property show put on by Realestate.com.kh and is set to be the best yet. 
Over $100 million in property has been sold over the course of Realestate.com.kh's previous expos, with over $30 million worth of property sold at the same event last year alone. The company expects to push this number even higher and break its own record with this latest event.
Top reasons to join the expo
The Realestate.com.kh Expo will attract thousands of real property buyers. Here are the top reasons to be an exhibitor:
Access to over 10,000 local home buyers and regional property investors who are ready to buy now! 
Generate hundreds of sales leads for your sales team to follow up after the show 
Supercharge your companies brand as one of the leaders in the market
Network with all the biggest names in Southeast Asia real estate.
Join the biggest names in real estate! 
Join the biggest names in Cambodia real estate, construction, law, design and more
Leading condo developers already onboard the expo include Prince Real Estate (Cambodia) Group, R&F Cambodia, La Vista One, Bel Air, Victory Bay, Morgan Tower, Prince Huan Yu Real Estate, Le Bassac, Urban Village, M-Residence, New Landmark and Prince Jin Jia Real Estate Group. 
The countries favourite borey and plot land developers are also returning for 2019 in Creed, Orkide Villa, CPYZ Development and KH Land. 
International Top Agent, Yi Fung Real Estate and C-Herald headline the real estate agencies & property management companies on for the event while, Aru-Me Metal Co Ltd, MAA Architecture & Design and Unicorn Design Plastic have also joined. 
Big property names from across the globe are also signed up with Pearl Bay Consulting bringing developers from Australia, America, Canada and the Caribean. The hot market of Cyprus is also well represented with developers Aristo and Pafilia joining. 
The biggest local and global media partners are supporting the expo 
Chinese heavyweights 58.com and Fang.com are set to attract 1000's of international investors to the event. While local media partners will be focused on attracting 100's of expats and local Cambodian buyers: Property Area Asia, Fresh News Asia, EuroCham, Biz Khmer, Thmey Thmey, Business Cambodia, The Cambodia China Times, Forward Asia, Khmer Times, Nice TV,, Gold Zone Media, Grep Tech, B2B Cambodia, Angkor Today, CTN,, Khmer Load and My TV.
Prices set to rise this week on August 16
Make sure to contact Realestate.com.kh today if you're interested in participating in the show. Prices for booths go up on August 16, so if you want to get the best deal, contact us now.
To learn more about booth and sponsorship options contact:
Nin Kang (Chinese/Khmer)
+855 78 637 323 / +855 93 552 305
Tyler Stuart (English)
tyler.stuart@realestate.com.kh
+855 12/81 599 669 
Or, to read more visit the Realestate.com.kh Expo 2019 homepage and sign up for free express entry.