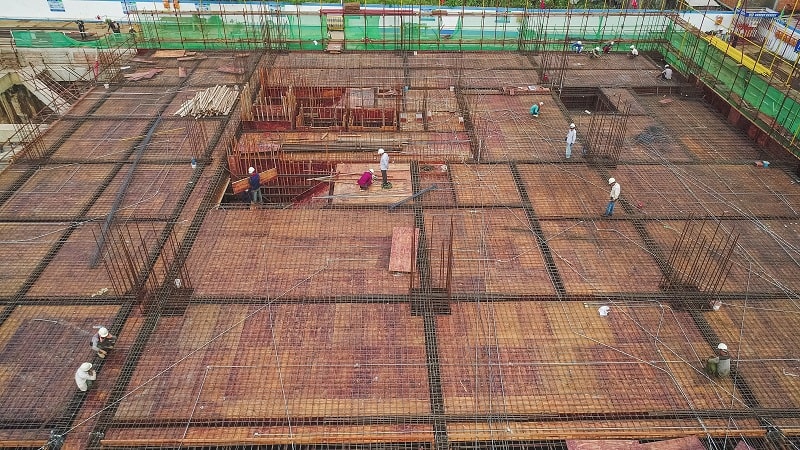 According to the latest semi-annual report from the National Bank of Cambodia (NBC), the construction sector is set to be one of the biggest contributors to the Kingdom's forecasted 7% economic growth this year. Sitting neck and neck with both exports and tourism, the building industry is expected to be responsible for 11.5% of the yearly growth. By all accounts, the industry is as strong as it has ever been. 
Many commenters, however, have claimed that safety and training in the industry are below where they should be. A report released by the Building and Wood Workers Trade Union Federation found that only 40% of construction workers believed their worksites were safe and mostly free of injuries.
Fortunately, there are moves being made to make the industry, which employes over 200,000 in the Kingdom, safer. Given the huge amount of international investment fuelling the current boom, it's no surprise that other nations have stepped up to aid safety initiatives. 
Additionally, the greater issue of a skills gap in the construction industry has many looking to patron nations for assistance in bolstering human resources. 
Bridging the gaps
Despite spotty safety and training, the construction sector is still providing work opportunities for hundreds of thousands in the country. Some have speculated that the industry is a gateway, bringing rural labourers into the fold of the Kingdom's economy.
Chrerk Soknim, CEO of Century 21 Mekong, said the construction sector has been a main driver of the Kingdom's economy over the last five years. 
In addition to employing countless construction workers, the industry also employed those making and selling construction materials such as bricks, cement and sand.
Soknim said he saw more potential for Cambodian workers in the burgeoning real estate sector. Increasing human resources would allow people to branch out into more skill-based areas such as architecture.
"Normally low-skill workers can earn between $8 and $20 per day," he confirmed, adding that alleviating the skills gap could bring young workers into more lucrative careers and help strengthen growth.
It is often overlooked that many women are employed in the construction sector. Many of these women are give periphery jobs on worksites, but face the same concerns in terms of safety. CARE Cambodia, an NGO focusing on poverty among women and children, found that 92% of women in the sector received less than one hour of training.
"CARE in Cambodia has a strong relationship with the Ministry of Labour and Vocational Training in promoting gender equality and labour rights in the garment and construction sectors … So far, 3,000 female workers are aware of their labour rights and they feel confident to claim safety equipment from their supervisor," said Kalyan Rath, project manager for labour rights at CARE.
Getting a helping hand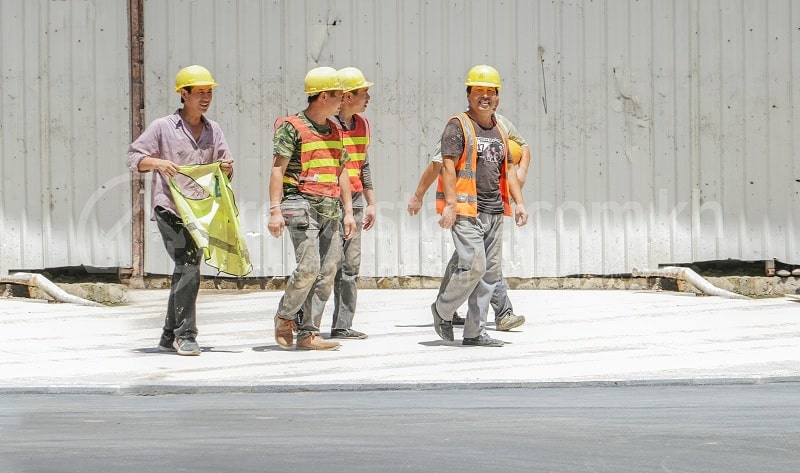 In September, representatives of the Japanese government announced that they would continue to support a program focused on boosting safety standards through 2020.
The project, which is also supported by the International Labor Organization (ILO), has four stated goals, including strengthening inspections at construction sites and putting together a legal framework and regulations governing the construction sector.  
Under the project, there will be more on-site inspections and construction workers and their employers will be required to attend safety courses. 
The EU and Korea have also supported initiatives for greater safety standards in construction as well. 
According to Marta Nevas Abrantes, trade assistant with the EU delegation in Cambodia, the EU is working closely with the Cambodian government to improve safety at construction sites around the country. 
The EU's effort is being supplemented by the European Chamber of Commerce (EuroCham), which recently reiterated its call for construction companies to improve safety in and around building sites. 
The Korean government recently announced plans to build a Cambodian-Korean Institute of Construction Technology (C-KICT). The main goal of C-KICT is to improve standards within infrastructure and construction.
Growth itself has already been a motivator in bringing more safety to the nation's construction sites. Acted, a French humanitarian NGO operating in Cambodia, found in a study this year that workers on larger, more expensive sites are in a better situation than those on smaller sites. 
Their report said both safety and legal conditions were better on these larger sites.
Realestate.com.kh, Cambodia's home of real estate, has the most up to date information for buyers, sellers and property enthusiasts! Sign up for our newsletter today and stay up to date with the latest info