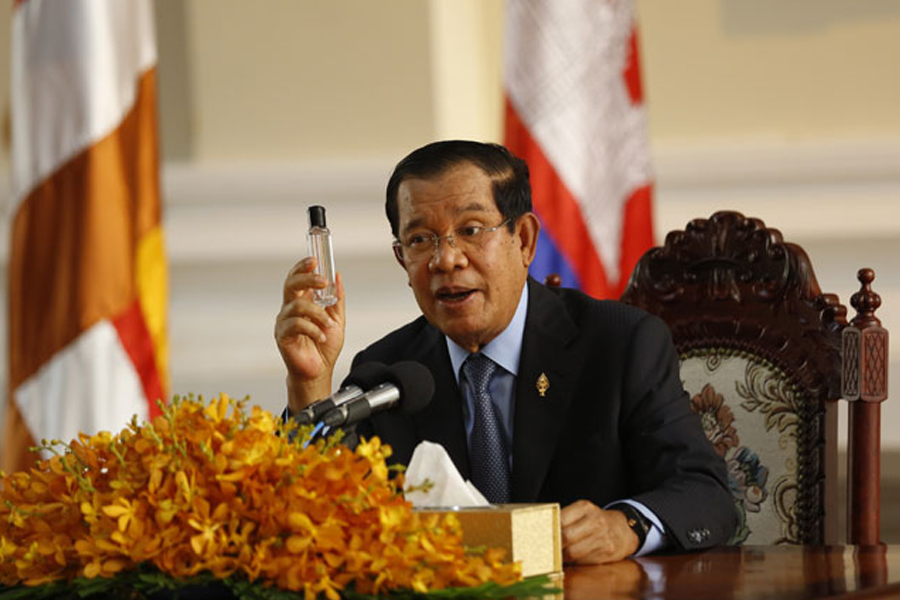 (Prime Minister Hun Sen speaks to reporters at a press conference at the National Assembly / Khmer Times)
Prime Minister Hun Sen announced today that the government ministries would convene on Friday to draft a state of emergency bill for approval in the National Assembly.
According to Khmer Times, the Prime Minister is convening the meeting to tackle the issue of the COVID-19 pandemic. He said in a statement, "Even though our situation has not needed the country to be placed in a state of emergency, we need to prepare for it as we cannot downplay it".
A state of emergency in Cambodia is a government proclamation usually reserved for natural disasters, armed conflict, civil unrest, and in this case, medical epidemic/pandemic. According to a report from the Khmer Times, a state of emergency is a measure that gives more powers to the authorities, but these vary from country to country. They might include the right to impose curfews, prevent demonstrations or mass gatherings, lockdown public spaces or allow police to conduct searches without warrants.
The Prime Minister showed awareness of these concerns and he reassured the people that the government will prioritise the rights of the people.
The government has already ordered the closure of schools, museums, cinemas, clubs, KTVs, and religious sites to limit the spread of the virus. Most recently, casinos in the Kingdom were ordered to close down starting March 31.
He assured factory workers, however, that factories will continue operating along with restaurants, groceries, markets, and small shops in the Kingdom.
Realestate.com.kh is proud to bring back Cambodia's biggest Property & Lifestyle Market Expo which will be held on 7th and 8th August at Koh Pich Exhibition Center.
Booth sales and sponsorships for Home & Lifestyle Expo 2020 are open. 
For more information, please contact:  
Nin Kang (Khmer/Chinese)
+855 78 637 323
+855 93 552 305
nin.kang@realestate.com.kh
Tyler Stuart (English)
+855 12 599 699
+855 81 599 669
tyler.stuart@realestate.com.kh

Article by: