Welcome to Real Estate Investment Opportunities High Value Networking Event... Successful people agree that effective networking is crucial to growing your business. That is why we are organizing the very special and high value networking event to provide you with the Best real estate investment opportunities and discover many good ideas how the seasoned investors invest in the property market in Cambodia. We have 3 Successful Entrepreneurs sharing their valued experiences.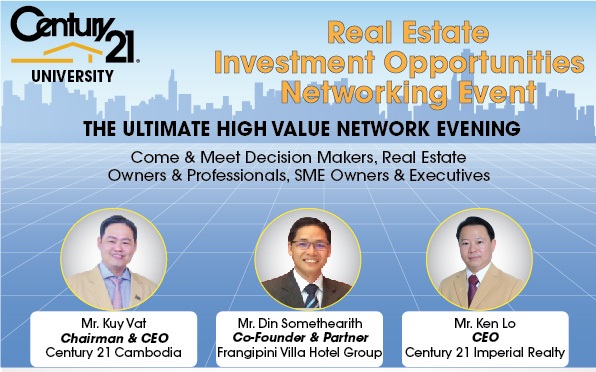 You will meet new business contacts such as Season Real Estate Investors, Decision Makers, Property Owners, Real Estate Professionals, SME Owners and Executives from across industries, and the Best of it's Fun sharing together. We will be served Cocktail and Drinks and you will get a chance to win great PRIZES. Bring an associate, lots of Business Cards and be ready to have a GREAT TIME!
Date:
Wednesday 30th March 2016.
Time:
6:00- 8:30PM.
Venue:
At Skybar of Frangipani Boutique Hotel (Toul Tom Poung).
Address:
#15 Steet 123 Khan Chamkarmom, Toul Tom Poung (Near Russian Market), Phnom Penh.
Your investment is only $15/person.
Call:
Ms.Vannak 095 666 298 to reserve your place now!