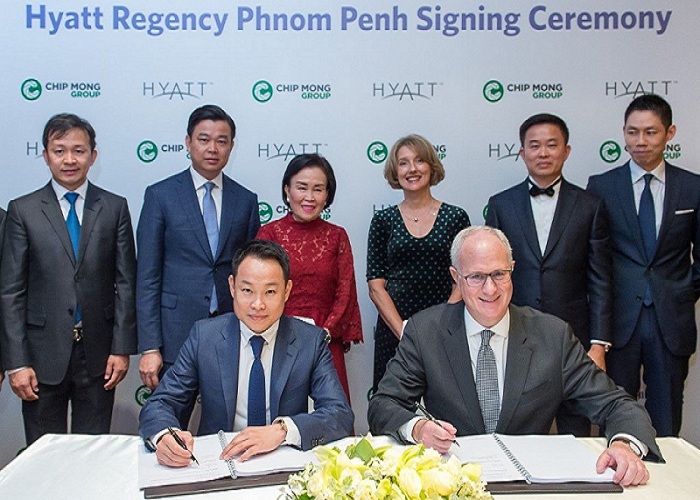 One of the sectors that have been booming in Cambodia right now is tourism.
TTR Weekly reports an increase in tourist arrivals by roughly 3.4% from January to July of this year. In addition to that, 2,756,693 travelers from all over the world visited the country. This not only leaves an impression, but it also provides opportunities for businesses – especially for Phnom Penh, where 24.7 percent of the travelers enter through. This increases demand for better accommodations, especially for travelers looking to stay comfortably while in the country.
Grabbing the Chance:
One of many big international names clenching onto this tourism growth is the Hyatt Hotels Corporation. Already garnering international praise through 30 countries and 168 locations worldwide, reports have been swirling that – through an affiliate of the company – a management agreement has been entered into with leading Cambodian conglomerate Chip Mong Group to build Cambodia's first Hyatt Regency Hotel in Phnom Penh.
The Chip Mong Group has worked on large-scale projects like The Park Land Sen Sok, and will utilize their expertise on construction materials and real estate for the Hyatt Regency development and construction.
Integrating the Familiar:
Though internationally acclaimed, Hyatt Hotels Corporation still wishes to incorporate the familiar quality it has brought worldwide into the culture of the Cambodian people and environment. The Hyatt Hotels Corporation Asia Pacific president explains, "As Phnom Penh continues to become known as a destination for art, culture, tourism and business, we are confident that the globally recognized Hyatt Regency brand will resonate with business and leisure travelers visiting the country. Furthermore, we believe the hotel will play a vital role in the city's development and will become a landmark in the city and a dynamic member of the local community."
In lieu with this, the development will stand among popular attractions such as art galleries, cafés, restaurants, the Royal Palace, and the National Museum.
Capturing the Niche
Estimated to open on 2020, this 250-room hotel will join existing hotels such as Arunreas Hotel, Raffles Hotel, and Sofitel to provide a complete hospitality experience in Phnom Penh. Plans for the hotel include setting up facilities like a rooftop swimming pool, a bar, a spa, a fitness center, and an amazing view of both the Mekong River and the Royal Palace. It will also cater to the needs of tourists and locals who are in need of services and a venue for exhibits, weddings, meetings, conferences, and social banquets.