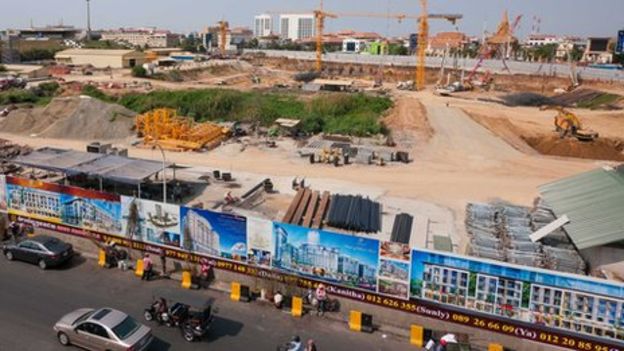 Knight Frank has just released the Prime Asia Development Land Index for the first half of 2016. The index chart's prime residential property land prices (land used for apartment or condominium development), commercial space land and offices and prime development land across 13 major Asian hub cities.
Phnom Penh prime land prices are show to have cooled notably since last year.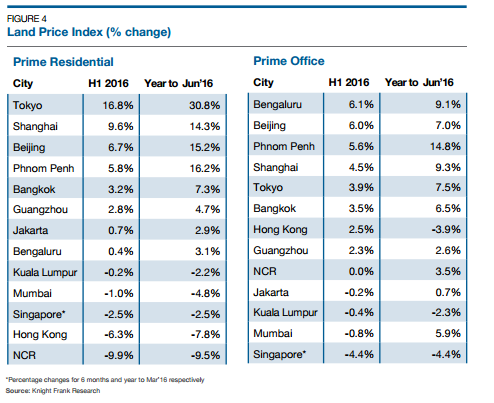 The report notes that prime residential land index in regards to Phnom Penh land is now at 5.8% in the first half of the 2016, slowing compared to the first half of 2015 when it was as high as 16.2%. This marks a fall in prime residential land prices across the city. Prime Office land similarly was reported to have taken a fall. In H1 2016, the index for Phnom Penh land records 5.6% - compared to 14.8% the same time last year. Prices aren't falling, but the rate of growth is slowing. The tables show price increases for the first half of the year (5.8% growth for residential) and price growth during the past year – year to June – so the increase from June 2015 to June 2016 (16.2% for residential). Thus, if we double the 5.8% to give an indication of price increases over 2016, we would get 11.6%. So, it's still good growth, but it shows that the market is slowing down but not declining (11.6% growth compared with 16.2% growth). Ross Wheble, country manager for Knight Frank Cambodia, comments that, "Whilst Phnom Penh land still ranks within the top four cities for year on year growth in prime land prices, for both residential and commercial land, the figures for the first half of 2016 indicate that the rate of growth is slowing which, in part, can be attributed to the anticipated short term oversupply of condominiums which has impacted on demand for land in prime locations. However, whilst the rate of growth is moderating, land prices are still expected to achieve double digit growth over the course of 2016 and we continue to see investment inflows into Cambodia." These trends in Phnom Penh appear to come with a region wide cooling. The report details that Asia-wide development land investment volumes are on par with the same period of 2015. The residential index slowed in pace to 1.9% across the region, compared to 2.8% the half year prior. However, office development land however rose 3 points, from 1.9% to 2.8%.
Want to read more, check out the latest Market Highlights report from Knight Frank Cambodia.