Phnom Penh, often referred to as the "Pearl of Asia," has emerged as a sought-after destination for travellers seeking unique experiences. With a surge in global interest and a wave of new developments, this city seamlessly blends tradition with modernity, catering to both visitors and residents.
Tourists flock to Phnom Penh to explore iconic landmarks such as the Independence Monument and the Riverside, immersing themselves in the local market for an authentic experience. However, the city's appeal as a must-visit destination in Southeast Asia is steadily growing, thanks to the emergence of award-winning hotels and exceptional rooftop bars that serve as top-notch entertainment venues. These exciting developments have positioned Phnom Penh as an increasingly attractive destination in Southeast Asia.
According to a research report by Explore Worldwide, a UK adventure travel company, Phnom Penh ranks fifth on the list of preferred destinations for solo travel worldwide. Over the past two years, the search volume for Phnom Penh has skyrocketed by an impressive 500%, indicating its growing popularity among travellers. Moreover, Phnom Penh is renowned for its diverse districts that cater to different interests and preferences.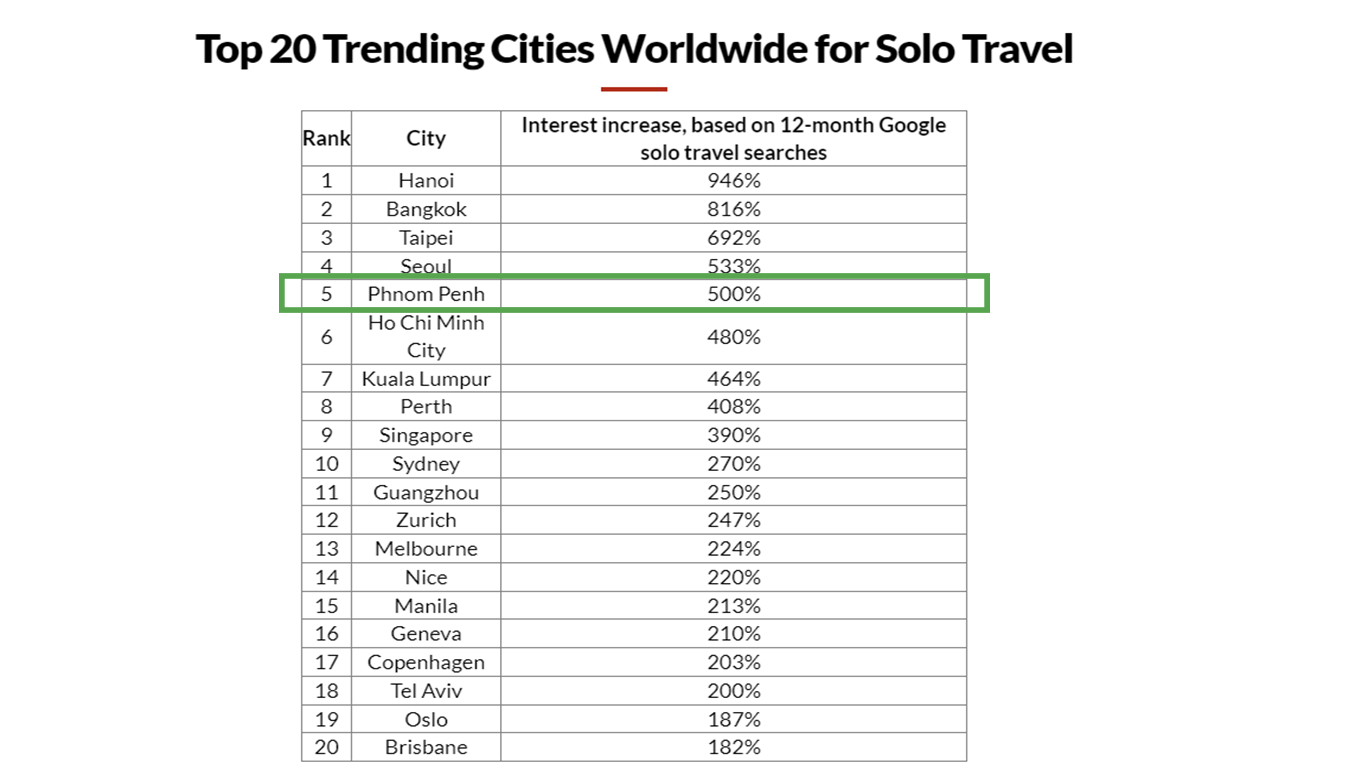 (Photo credit: Explore Worldwide)
One of the most popular areas is Riverside (Sisowath Quay), situated along the Tonle Sap River. This neighbourhood offers a range of accommodations and is known for its lively street life, particularly at night with the Phnom Penh night market. Tourists enjoy strolls and explore attractions like the Royal Palace, National Museum, Phnom Penh Post Office building, and Wat Phnom. Additionally, the Riverside area provides boat rides offering excellent views of Cambodia's skyline from the Tonle Sap River, with prices ranging from $3 to $5.
BKK1 is another favoured district in Phnom Penh, renowned for its upscale community and an abundance of cafes, shops, shopping malls, and restaurants. Food enthusiasts can enjoy a wide range of international cuisine, while the location itself attracts foreigners and young locals. BKK1 is an ideal place for cafe hopping and exploring shopping centres like Aeon Mall Phnom Penh and Chip Mong Noromall. In addition, the Independence Monument, symbolising Cambodia's sovereignty and independence from French colonial rule, is also a must-see attraction while in BKK.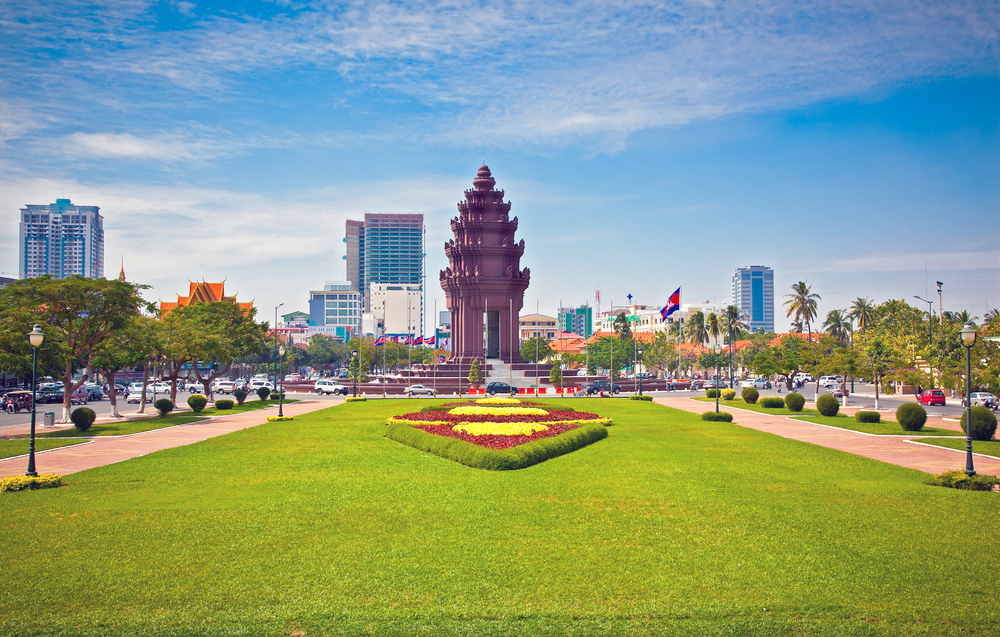 For solo travellers seeking an exciting nightlife experience, Bassac Lane, also known as Phnom Penh's "Bar Street," is a must-visit destination. Located in the Bassac River District, this famous street is hidden in the city centre and offers a wide array of eateries, bars, and pubs. Travellers can enjoy craft beers, dining, live music performances, and the opportunity to socialise and meet new people.
When it comes to shopping and immersing in the bustling local market scene, Phnom Penh's wet markets such as Russian Market, Central Market, Orussey, and BKK Market are the go-to places. They offer a wide variety of handicrafts, souvenirs, clothing, and authentic local street food. Navigating through their narrow alleys, bargaining with friendly vendors, and sampling local snacks will provide an unforgettable experience.
Phnom Penh also boasts several modern entertainment venues worth visiting. The city's rooftop bars, offering breathtaking views of the skyline, have become popular choices for tourists seeking a memorable experience.
One recent highlight in Phnom Penh's tourism industry is the recognition of the Rosewood Hotel located in Vattanac Capital. The readers of Travel + Leisure, one of the oldest international travel magazines, voted Rosewood Phnom Penh as the Best City Hotel in Asia. The hotel's exceptional facilities, prime location, outstanding service, gastronomy, and great value have contributed to its success. Rosewood Hotel, which is also home to the Sora Sky bar, offers a unique venue to enjoy the city from high above. Located on the 37th floor, its standout feature is the outside terrace, providing breathtaking views over the capital city. Another popular rooftop bar is the Lantern Rooftop Bar, situated atop the fabulous Baitong Hotel & Resort Phnom Penh, also located in BKK1. The bar's chic and charming atmosphere, contemporary lounge vibe, and comfortable seating arrangements create a perfect setting for enjoying craft cocktails and bites while overlooking the high-rise buildings.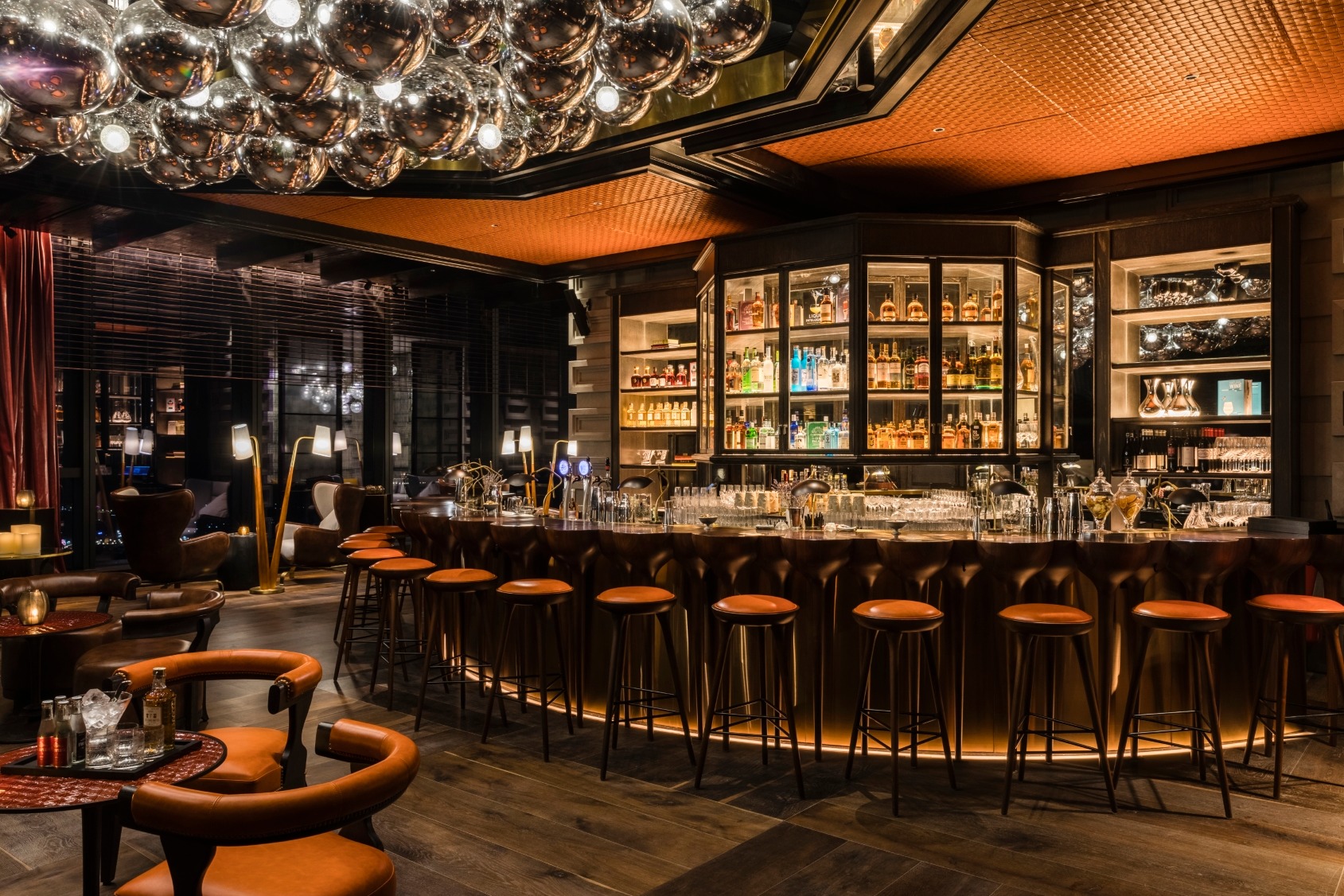 (Photo credit: Sora Facebook Page)
Excitement is on the horizon as IHG Hotels & Resorts prepares to make an impressive addition to Phnom Penh's entertainment scene with the introduction of the prestigious Vignette Collection brand at Odom Tower. Situated on Norodom Boulevard, the hotel will occupy the top seven floors of Odom Tower, a 45-story office building. It will feature two remarkable restaurants and a breathtaking rooftop bar will provide a stunning setting to enjoy panoramic views of the cityscape. This sophisticated venue is destined to become a popular gathering spot, offering a stunning view of the city and becoming a favoured destination for both visitors and residents alike.
---
Whether you are looking to buy or rent property in Phnom Penh, we have more than 40,000 listings on our website!