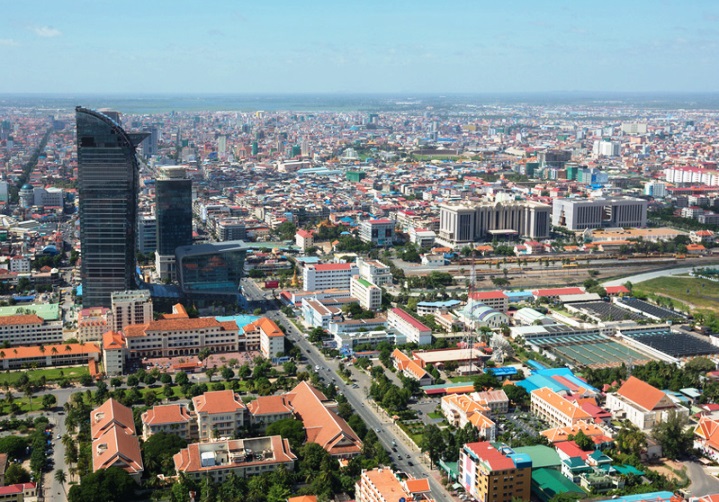 Cambodia remains a relatively untapped market for many, offering substantial upsides to foreign or local investors looking for green field investment opportunities. Hence, investors with foresight are increasingly identifying Cambodia as the next boom economy in the Southeast Asian property market.
MCC International Corporation Ltd, a Chinese state-owned company which ranked 326th in the world's largest companies in 2015, and 10th in the Engineering News Record's Global Top 225 Contractors, recently set up a subsidiary in Cambodia, acting as chief and sole constructor, and strategic partner, for J & L Property Development and their latest project in Russey Keo: 
SkyTree Condominium.
Mr Chen Shaochun, President of MCC International Corporation Ltd,
at a recent press conference in Phnom Penh
, stated that "Cambodia is exhibiting the correct economic growth indicators, investment incentives and political stability to allow us to enter this market in a real estate related faculty. And these same qualities are appealing to many other Chinese and International property investors." Mr Scott Wu, CEO of 
J & L Property Development
 concurs, mentioning that "our development company's investment timing is perfect to enter the Cambodian market in 2016. The Government is stable; the economy is showing impressive but sustainable growth across the board; the nation's infrastructure and logistical networks are developing out of sight; and consumer tastes in the city are fast changing to high-end, convenience-driven, high-rise real estate. Those buyers who look to quality projects such as SkyTree Condominium now will realise their investment was extremely smart five years into the future when Cambodia truly comes of age." For investors seeking stability, Cambodia is now able to meet international expectations. The current head of government — Prime Minister Hun Sen — has been in charge for more than 25 years; and, in fact, Hun Sen now represents the longest standing non-royal leader in Southeast Asia. CEO of Eastland Development, Sam Yang,
said that
, "Three things are clear to me: Firstly, the next great international economic boom will happen within the ASEAN countries. Secondly, out of the ASEAN nations, Cambodia has demonstrated itself to be within the top 3 in regards to political stability. Meanwhile, thirdly, in Cambodia investors can still trust in the US dollar – this is unique." Rami Sharaf, Member of International Advisory Council, APCO Worldwide, and a well-known advocate for the Cambodian market, says that, "the major attraction for foreign investors considering whether they should invest in Cambodia is the ASEAN-member nation's steady economic growth; phenomenally steady growth: 7.5 per cent average for the last 5 years, year on year. This puts Cambodia as the number 21 worldwide in growth, and number 1 in the region." Due to its membership in
ASEAN
, Cambodia has access to the ASEAN Free Trade Area. The ASEAN countries have 625 million people and are a less mature macro-market, providing vastly more opportunity for growth. If ASEAN were a single country, it would have the seventh largest economy in the world, after the US, China, Japan, Germany, France and the United Kingdom.  Additionally, Cambodia has been designated one of the Least Developed Countries (LDC), which gives it preferential access to both the European and North American markets.
Why invest in Cambodia? Learn more.
Importantly also, Cambodia is midway between China and India. Very recently, India displaced China as the world's fastest growing economy. Due to its location, Cambodia has excellent geographic access to both of these huge markets. The wealth of the future is practically guaranteed to be determined by who has access to the Chinese and Indian markets. In 2010, the China–ASEAN Free Trade Area (CAFTA) became a reality, giving member nations access to a trading block of 1.7 billion people. ASEAN also has an agreement with Australia and New Zealand that creates yet another free trade area in the other direction (AANZFTA). Additionally, talks are under way between India and ASEAN, which could create a similar trade block. Those seeking pure investment opportunities are offered a unique proposition in the rising market of Phnom Penh; which is exhibiting appreciation growth impossible in the developed markets that property investors have traditionally targeted. According to
Knight Frank Cambodia's Cambodia Real Estate Highlights 1H2015 Report
, "land prices in Phnom Penh have increased by as much as 80 percent since 2010, with a forecast of a further 25 percent increase for 2015." Yang also cites the "One Belt One Road" initiative, saying that plans for a regional Chinese railway in the coming years will only aid Chinese investment in Cambodian real estate. "Thus far," continues Yang, "the Cambodian real estate market has only attracted relatively small investment pools, in comparison to international and mainland Chinese standards of major investments. Generally, new real estate investments in Cambodia are valued at around five to ten million dollars only. The larger real estate investment funds of 200 to 600 million dollars have not yet come to Cambodia – but they will soon." With Singaporean architectural design, Sky Tree Condominium rises 32 storeys above Phnom Penh. Uniquely, 40% of the total complex is dedicated to exclusive public facilities such as rooftop gardens, helipad, medical clinic, sky bar, gym, spa, international brand shopping, ample car parking, business facilities, and much more. Furthermore, Sky Tree Condominiums unit size is well suited to a a family who needs extra space - you will have all the room you need to invite extended-family to stay with you in your new condo home. This makes it perfect for Khmer and expat families looking to move into a better standard of living within the inner-city. Don't miss out on your chance to improve your families' quality of life - with monthly payments starting from just $333 per month, and a minimum 10% deposit on signing.