Phnom Penh's landscape: Photo credit to Mr.Chhoy Theara
With the main theme of "Co-Creating Common Values of Sustainable Real Estate" in Cambodia, "Rainmaking Cambodia" has been selected to be one of the "Rainmaking Series" in 10 countries across Asia, Africa and North America, to be hosted by Good City Foundation with local strategic partners, virtually on 25th May 2021, supported by InvestHK and StartmeupHK. Rainmaking Cambodia is calling for urban tech projects submission and inviting interested real estate professionals, young leaders in housing public policy, and corporates to register and co-create the new pages of resilient values for future cities in Cambodia.
Rainmaking Series' page: https://www.goodcityfoundation.org/programs/rainmaking-series
Delegate Registration Link: https://www.goodcityfoundation.org/programs/register-as-delegate

"Rainmaking Cambodia" would be conducted in the form of Keynote Speaking; Panel Discussion and Tech For Good Cities Roadshow (to meet with angel investors). Representatives of the World Economic Forum, Cambodia Real Estate Association, Knight Frank, and other key influential stakeholders would sit in the panel discussion and explore the challenges and prospect of real estate development in Cambodia and the role where technology, public policy, Hong Kong, and Greater Bay can play and support.
Tech For Good Cities Roadshow would be hosted with corresponding local top partners with a prime mission to identify impactful urban technologies and support their soft landing in Hong Kong and Greater Bay Area with potential investment matchmaking, market expansion advisory, and corporate partnership in Hong Kong and Mainland China to boost strategic business values.

Global supporting partners include investment promotion agency of Hong Kong Government, InvestHK, World Bank IFC, Global Changemakers, Ventures Platform Hub and Hong Kong Scheme of Excellence Scholarship Scholar Association (HKSESSA). Local Supporting organizations include Knight Frank Cambodia, Realestate.com.kh, Property Area Asia, Cambodia Real Estate Association, and Digital Commerce Association of Cambodia.
Good City Foundation is a non-profit non-governmental development organization founded in 2016 by a group of Hong Kong scholars and entrepreneurs, with a vision of better urban resilience in the next 100 cities in emerging Asia and Africa. The Foundation missions to foster innovative public and private partnership among the young generations in emerging cities, and have attracted a wide spectrum of innovative startups, family offices, young policymakers, and corporates to explore the latest development of urban design, economics, technology, and innovation and explore partnership. The foundation is an Institutional Partner of G20 Global Smart Cities Alliance and Private Sector Committee of ASEAN Smart City Network on behalf of Thailand, and also serving as Non-Profit Committee in the IoT and Urban Transformation Platform (Asia Action Group) and the Future Real Estate Taskforce of the World Economic Forum (China and ASEAN).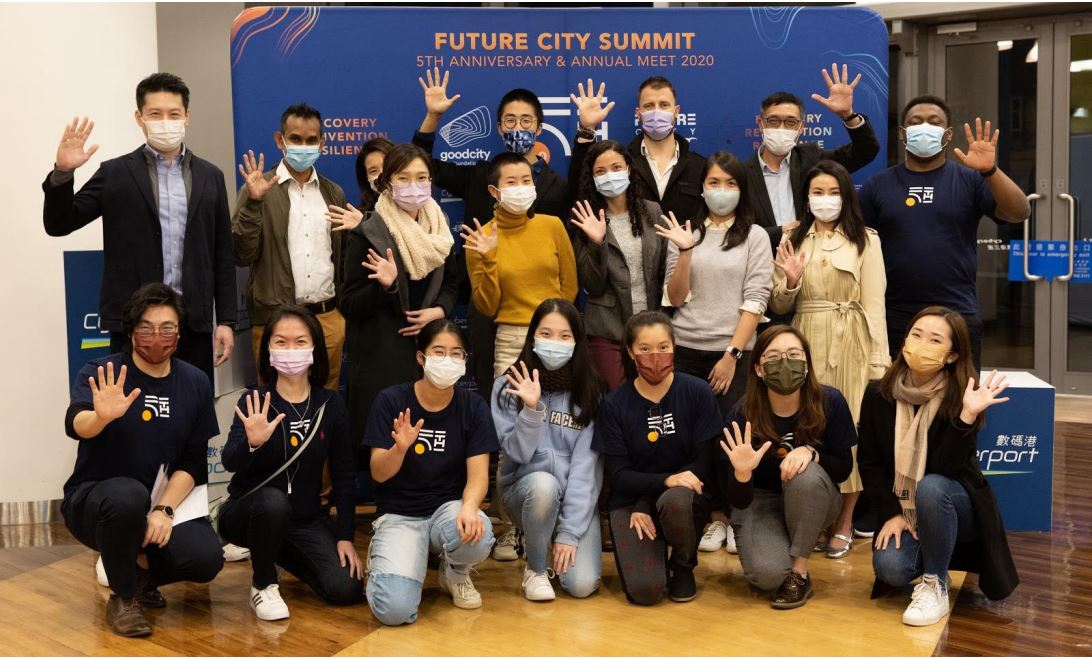 Ms. Chan Pichmonyka, City Partner of Good City Foundation, has been inspired by the Foundation to be Cambodian Young Leader and continue enhancing her capability. After the summit, she deepens her leadership role in Cambodia and Asia, and speaks up for the issue, as the selected young delegate to the Model UN conference at the United Nations in Geneva and New York respectively. Currently, throughout her experience as the city partner and investment analyst (Capital Markets) at Knight Frank, a global real estate consultancy firm based in Cambodia, she hopes to leverage the Cambodia real estate market for growth acceleration.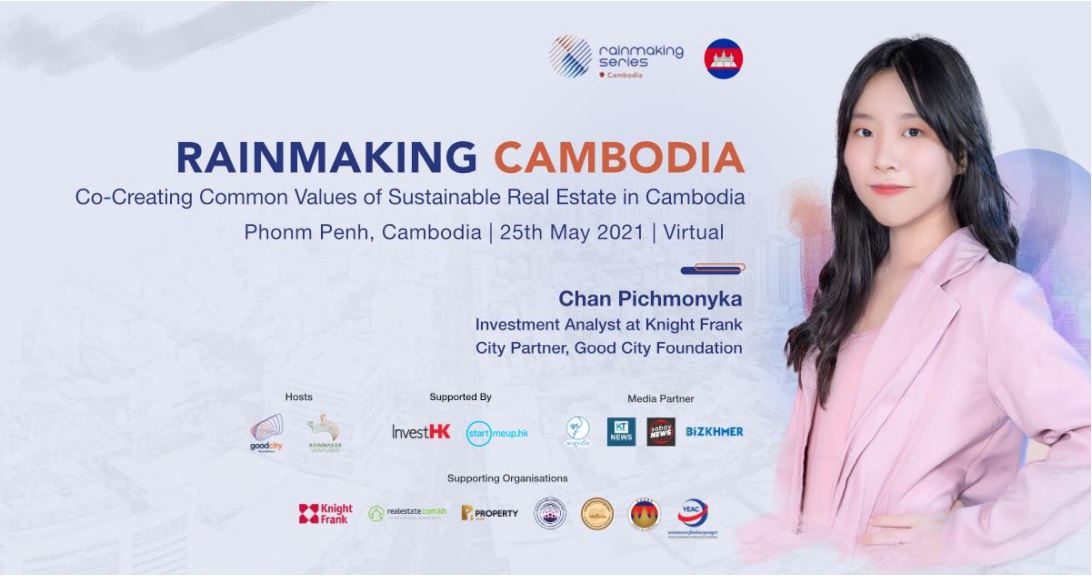 "In the year of this "Rainmaking Cambodia" I would like to humbly invite you to be part of our curation of the event and speak for the potential development, future city and entrepreneurship in the context of emerging Cambodia. As the expected overall outcome, the ultimate goal of the event is to connect all the aligning interests as a powerful network and resources for future discussion and impactful collaboration within the real estate and entrepreneurship ecosystem in Cambodia and across the region within ASEAN, Hong Kong and the Greater Bay Area. The sustainable real estate, is not just a matter of time, but together, we could break through the miracles, challenge the old dots, and create impacts".
Interested delegates and parties for the partnership could contact local city partner of Good City Foundation,
Ms.Chan Pichmonyka (monyka@futurecitysummit.org)
Rainmaking Series' page: https://www.goodcityfoundation.org/programs/rainmaking-series
Delegate Registration Link: https://www.goodcityfoundation.org/programs/register-as-delegate