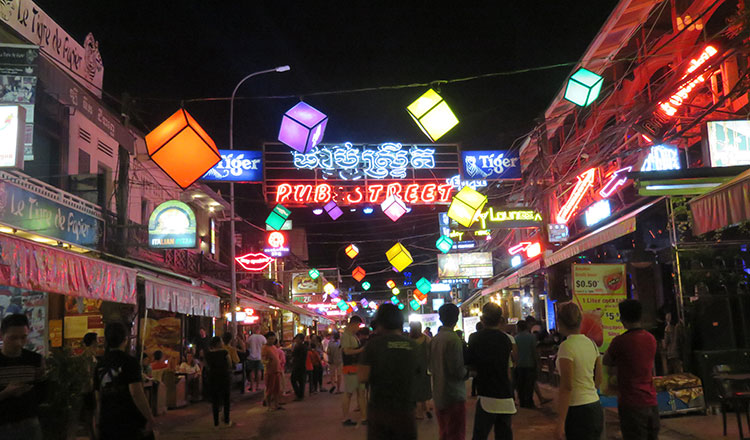 Siem Reap attracts millions of tourists every year, leading to the city's boom in the past decade. Photo by Khmer Times.
It was almost 6 am when the bus rolled into an open garage somewhere along Sivatha Boulevard. It normally takes a while for Bun, a Phnom Penh resident and heavy sleeper, to get up from an overnight trip. But today was different. His 6-hour cross country ride had a purpose: To see if he can start a business in Siem Reap.
Bun first came to Siem Reap in 2010 and saw a city teeming with people. He was not surprised at the sight, considering the city has been receiving a lot of international attention. What caught him off guard was how relaxed the city's atmosphere was.
"Siem Reap felt different from Phnom Penh," recalling the day he first came to the temple town. "It was active but not busy". The roads were lively with tourists and locals, tuk-tuks and motorbikes ferrying passengers, and street food vendors peddling Cambodia's fried delicacies. He knew then and there what he needed to ride the city's growth.
Bun came back to Siem Reap in 2011 in time to ride the wave. It took some time before he found a suitable place to renovate into a guesthouse with a small kitchen that can serve breakfast meals. "If there's anything I know about tourists it's: They get up, eat breakfast, and spend the whole day outside", sharing his guesthouse philosophy.
The turn of the decade in 2010 was a golden time for Siem Reap. Tourists from all over the world were flocking to the city, wanting to see the majesty of the Angkor Wat temples, specifically the Ta Prohm temple where Tomb Raider was filmed. After tourists spend the day in the temples, they go to Pub Street at night where they drink their exhaustion away and party until they're told to leave.
"But now, it feels like I have to make the choice to either stay or leave", said Bun grabbing a small towel and disinfectant to wipe down a freshly vacated table.
Siem Reap in the time of COVID-19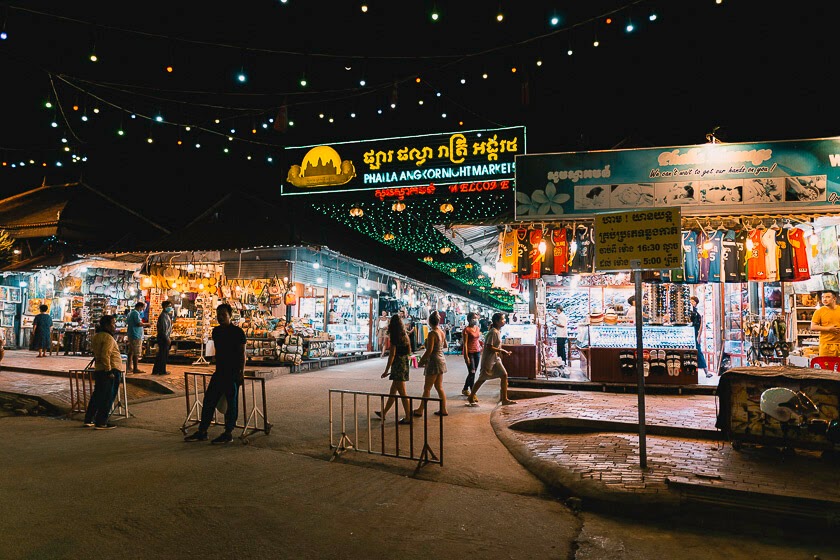 Siem Reap's night markets are one of the city's key shopping areas. Photo by Our Travel Mix.
The risk of contracting COVID-19 and its burden on the local economy are of equal concern to the people of Siem Reap. The roads once bustling with tourists wandering around, tuk-tuks kicking up dust, and fried insect peddlers with their recorded ads blaring on megaphones are now mostly silent.
"I can't remember the time when Siem Reap was this quiet," said Daka Kun, a long-time resident of the city and founder of Daka Kun Realty, a popular real estate agency in Siem Reap staffed by local real estate experts. "COVID hit a lot of local businesses like pubs, restaurants, and local markets. They've all been hurting since Q2 2020."
As of April 2021, the Ministry of Tourism reports a drop of over 90% in foreign tourists, a blow to Cambodia's tourism industry valued at over $4 billion annually. The government has so far (July 2021) rolled out its 9th round of economic aid to provinces struggling due to COVID-19.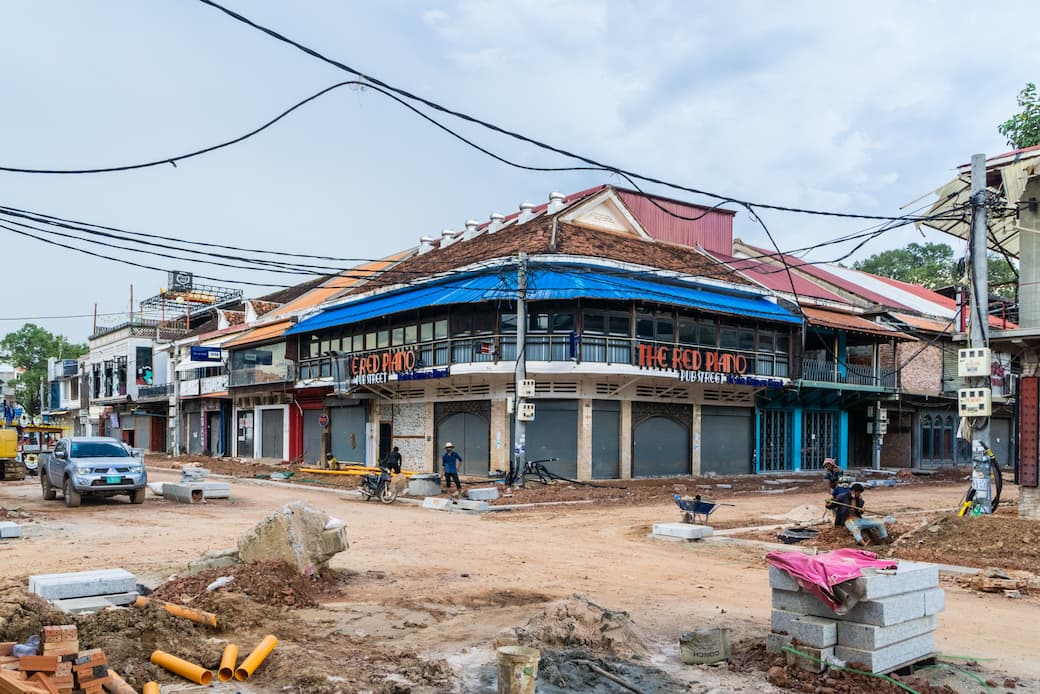 Construction is currently ongoing along Siem Reap's major roads. Photo taken in June 2021 by Daka Kun Realty.
Popular areas like Pub Street and the Old Market were once packed with locals, expatriates, and tourists on a daily basis, more so towards the end of the year. These places are no longer as busy, even among locals, given how community incidents back in November 2020 and February 2021 displayed how a cluster of less than a dozen can lead to a city-wide lockdown.
"Residents of Siem Reap are still very careful about going out and maintaining social distance," said David Granger, the Branch Manager of IPS Cambodia, a premier real estate agency servicing expatriates and Khmer buyers. "Not a lot of people go out on the weekends"
"They tend to meet in smaller groups at private locations," noting that residents, both locals, and expatriates have learned to live with the regulations. "Some of the bars and restaurants on Sok San Road, Sivatha Boulevard, and behind Pub Street do have foreigners visiting, but not in large numbers."
Siem Reap businesses that managed to weather COVID-19's impact have maintained a few regulars that support them. However, most have shifted their models to adapt to the new climate. "Businesses have had to rely on food delivery apps, social media advertising, and their own promotions that encourage deliveries," David said.
From tourist market to buyers' market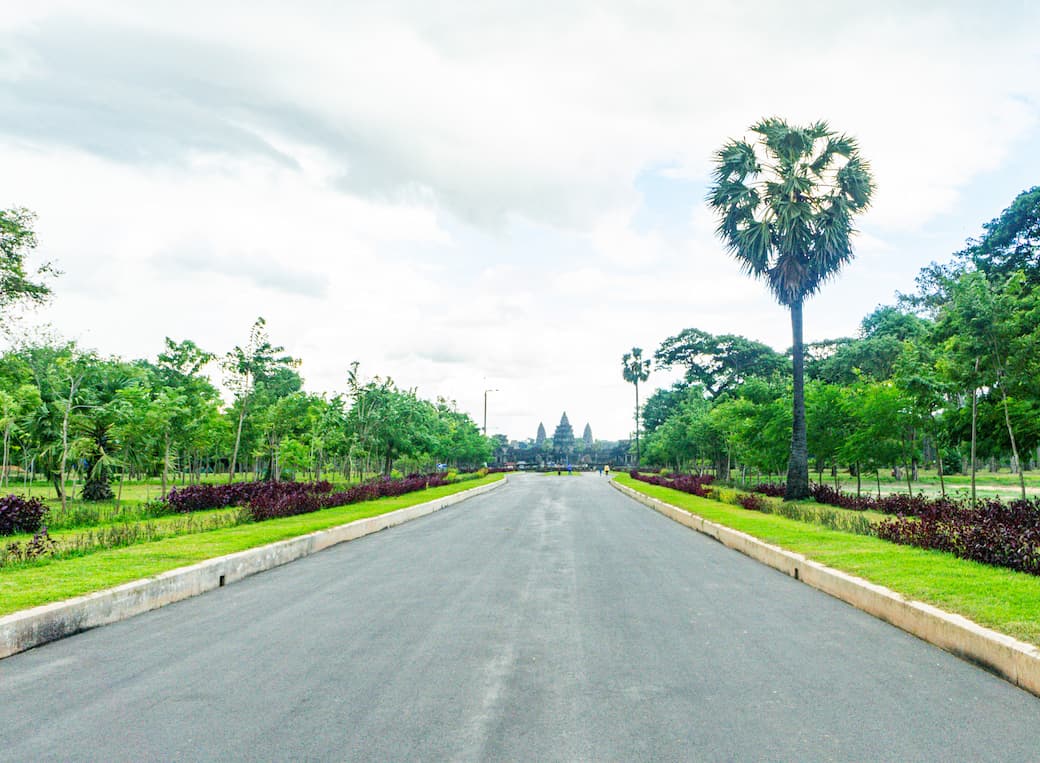 The lack of tourists has given authorities the space to work on improving the temple grounds. Photo by Daka Kun Realty.
Siem Reap may not have the crowd that it used to but it still attracts visitors, albeit a different kind. Daka Kun often sees them entering their office in Taphul village, and is upfront with what they need: "I'm looking for property here".
The news of the temple town's hard times have reached far and wide within the Kingdom, attracting keen investors looking for properties well under market value. Both Daka Kun Realty and IPS Cambodia have observed this trend grow more pronounced in recent months.
According to Daka Kun, buyers coming to Siem Reap often look for properties for as low as 40% below market price. She notes areas such as Svay Dangkum, a big commune in Siem Reap, and Sala Kamreuk, an area popular among expatriates, are locations often considered by property buyers if they are not looking for commercial properties in the city centre.
"Siem Reap may be going through tough times but most people here know the value of their land", Daka resolved that most properties for sale have not adjusted their asking prices unless the owners are strapped for cash.
David similarly observed property sales prices in Siem Reap largely remain unchanged, saying "We [IPS Cambodia] have cash buyers who are both local and foreign buyers and they are looking to buy in any part of Siem Reap where they can find distressed sellers".
In terms of property buyers look for, villas, shophouses, and flathouses are the most common residential properties being considered. David notes that the market for well-priced, western-style homes and villas remains strong, due to strong demand for home purchases and a low supply of these properties on the market.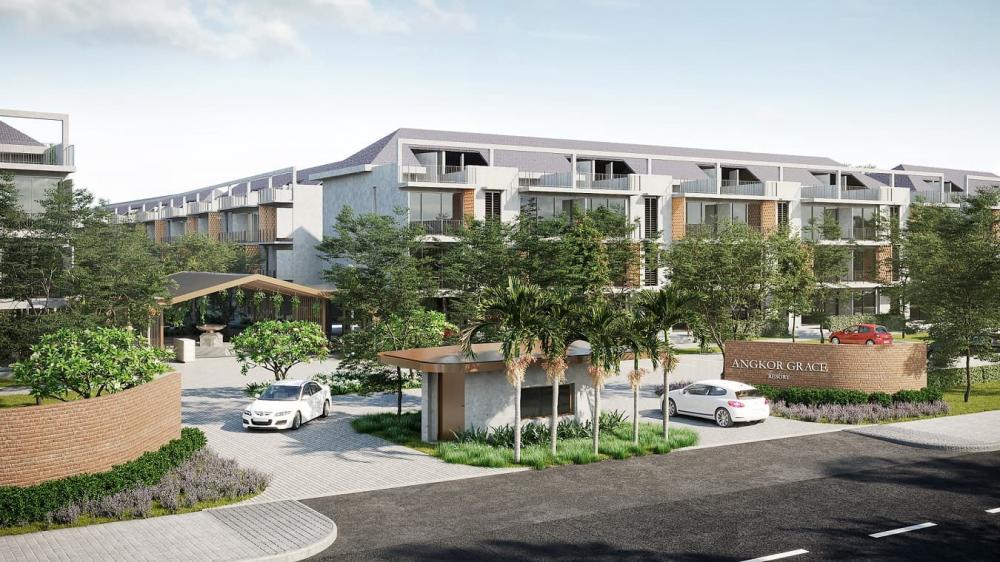 Angkor Grace Residence & Wellness Resort is a major development in Siem Reap offering western-style properties for local and foreign investors. Supplied.
Angkor Grace Residence & Wellness Resort is an example of western-style homes that are in demand for property investors. The project will be the first condo-resort that will offer freehold ownership for both local & international clients. Angkor Grace offers a 10 years leaseback with 7% to 8% guaranteed rental returns per year, making it an opportunity to invest in western-style homes in Siem Reap.
While Siem Reap's property sales market has managed to maintain interest, the same cannot be said for rental properties. "It's been tough." Bun cleared his throat, "I've tried a lot of things from cutting on overhead, offering package deals, to outright reducing prices. I consider it a win if I break even for that month".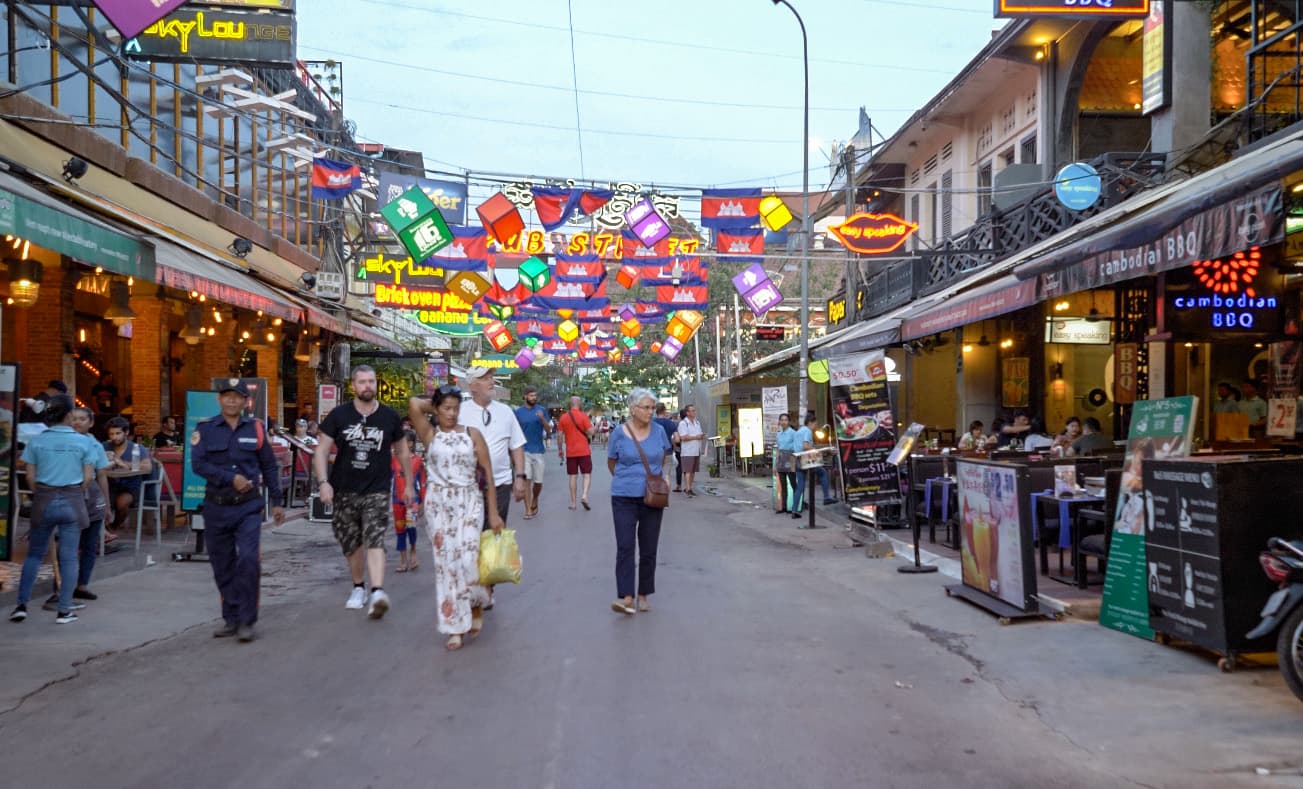 Siem Reap's Pub Street is one of the most popular destinations for tourists throughout the day. Supplied.
Siem Reap has a population of over 1 million residents according to the latest edition of the General Population Census 2019. This number swells by as much as another 2 million from the tourists arriving and departing the city annually. But as COVID-19 persists, tourist figures have dropped by as much as 77% so far in mid-2021, only being kept afloat by visiting locals.
The drop in tourism forced many rentals to either slash prices or suspend operations altogether. "Rental prices dropped to 30% with some to almost 50% below what they were before COVID", David said. He attributes the sharp decrease in rental demand to international borders being closed, adding that many tenants are moving out of their rentals to find lower-cost accommodations. 
"Hotels, guesthouses, and serviced rental apartments have been hit the hardest," Daka sharing her observation of the market. "Prices for rental properties still operating have adjusted anywhere from 30% to 50% below their pre-COVID values. Not just because of the lack of tourists but also expatriates looking for cheaper places to live." Daka adds that a considerable amount of businesses operating in Siem Reap are foreign-owned and the continuing slump in foot traffic has forced many expatriate owners in the city to look for more affordable places to live.
It has become increasingly apparent among Siem Reap residents that the longer COVID-19 persists, the longer it will take to get on the path to recovery. However, an equal number of residents are starting to notice that they may well already be on that road.
Improving more than 38 roads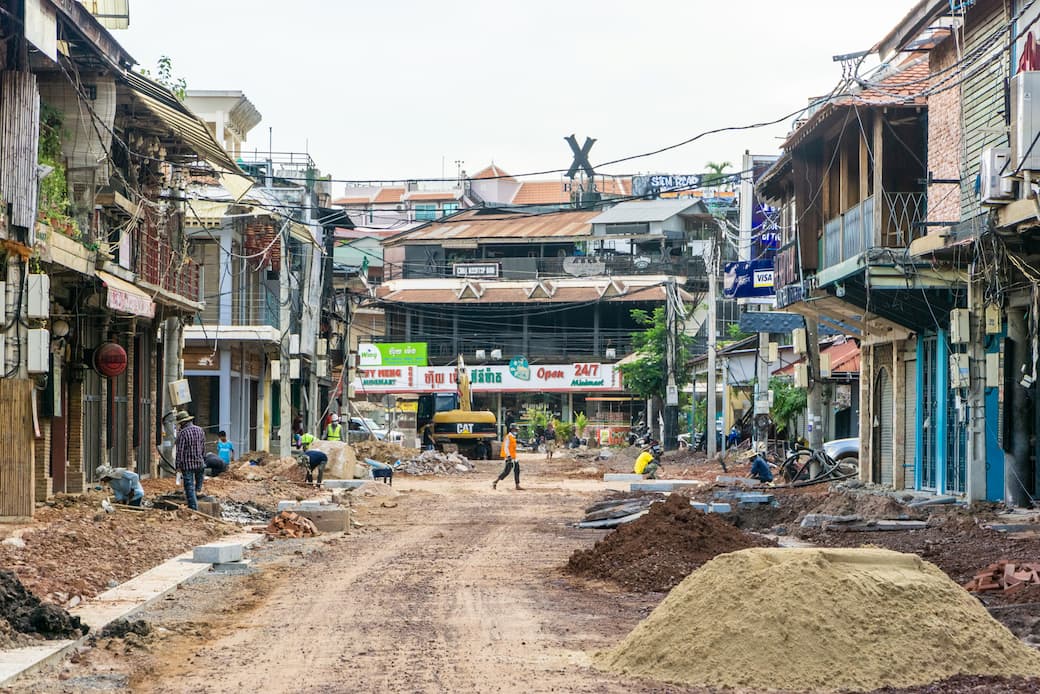 The 38-road project is a major infrastructure project by the Cambodian government to improve road access in and around Siem Reap. Photo by Daka Kun Realty.
"I think calling it as the 38-road project understates the scope and the value of the project,"  David Granger said, referring to the extensive work currently turning much of Siem Reap's road networks inside out. "Whilst the project does include the construction and upgrades of 38 roads, it is providing more benefits than that alone."
In November 2020, workers first broke ground on what would be popularly called the 38-road project. The massive infrastructure endeavour, estimated to cost $150 million, is part of the Siem Reap Tourism Development Master Plan 2020-2035, an apt name for an equally long-term goal.
The 38-road project is an extensive government project that includes improving and rehabilitating the drainage & sewage systems, electrical infrastructure, and construction of pedestrian walkways and bicycle paths across Siem Reap. This has led to much of the city's roadways and sidewalks being turned upside down, including those along Pub Street and the Old Market. It is no stretch to say that the project is one of the biggest Siem Reap has seen in recent years. As of June 2021, progress on the 38-road project is at 63% and is expected to finish on schedule by the end of the year.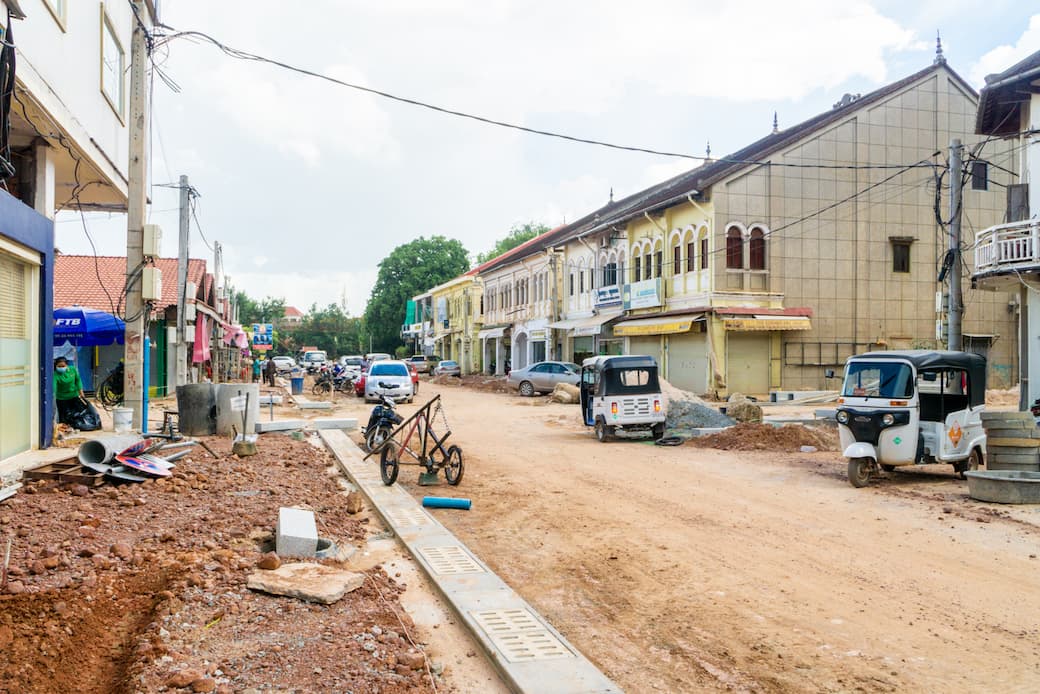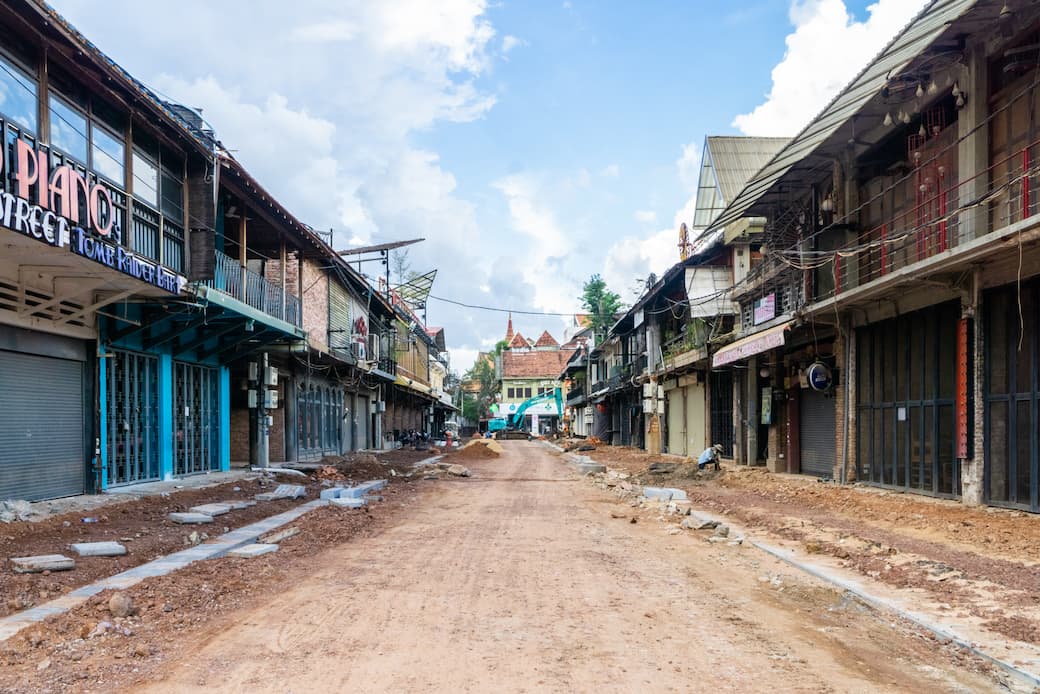 The 38-road project encompasses works on roads, sewage & drainage, and even sidewalks. Photo by Daka Kun Realty.
Many in the city, like Bun, believe the project will have an overall positive impact on Siem Reap. "Yes, it's difficult to move around today. But it'll make the trip to my girlfriend's house a lot smoother," Bun laughed, momentarily forgetting his worries. "This part of town has always had a dirt road, so I look forward to walking on a proper sidewalk."
The boon to Bun's romantic trips is not the only benefit the 38-road project would bring. IPS Cambodia's David Granger is confident that the project will improve the quality of life in the city. "Residential and commercial areas within a 2km radius of the city are going to see vast improvements in infrastructure. Those within a 5km radius of the city are going to see improved access and spur development of new residential areas. And property owners up to 10km out from the city are going to enjoy better connectivity to the city centre and other parts of Siem Reap," he said.
Better road access and connectivity always drive real estate values up significantly. It also happens to be a given that Cambodian real estate investors keep their ears on the ground for the next big infrastructure project.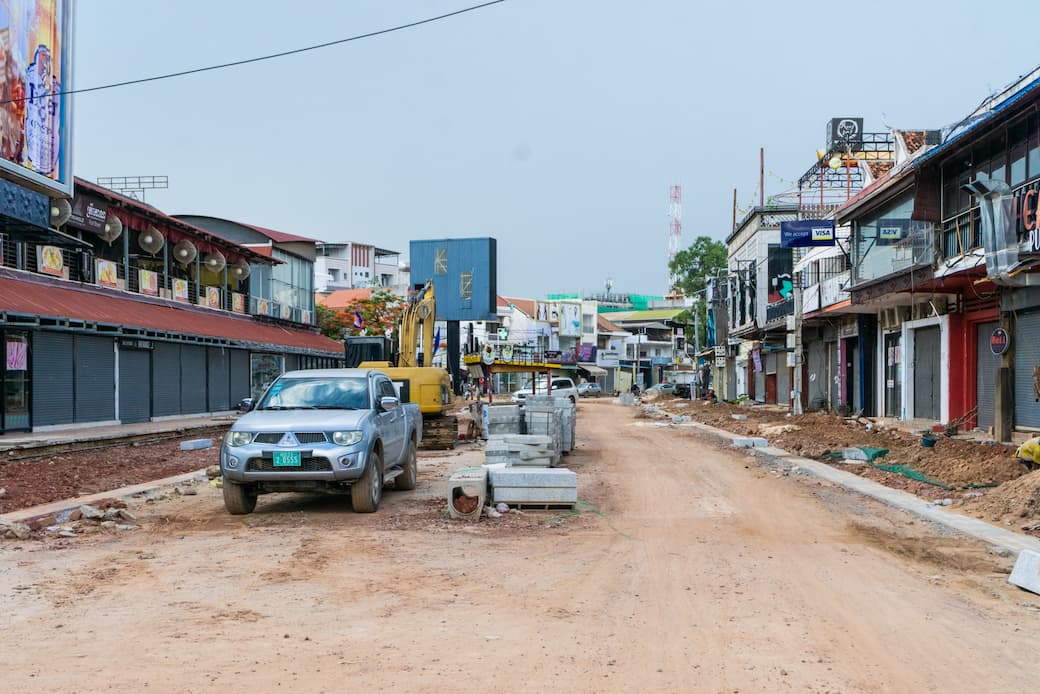 Popular roads around Pub Street and the Old Market are also being worked on and are expected to increase accessibility to these areas once finished in Q4 2021. Photo by Daka Kun Realty.
"The 38-road project is one of the factors driving interest in the city," said Daka Kun. "People know it will be a good thing for Siem Reap in the long-term, so they are looking to buy property near these roads today". 
Daka Kun notes that outer parts of Siem Reap may see a considerable jump in prices, especially if the property is by the roadside. "There are land properties in the city outskirts worth $20 to $30 per square metre that will see significant jumps in 2-3 years following the road project's completion", she added that city centre properties may also see a boost of around 20% in value, a more modest increase considering downtown properties are already pricey, to begin with. But roads are not the only things being worked on in Siem Reap.
The new Siem Reap International Airport will be some ways away from the city centre but will allow Cambodia to accommodate more tourists in the coming decades. Supplied.
The new Siem Reap International Airport is another project set to boost the city's capacity to handle tourists. The new airport is located 51km southeast of Siem Reap and began its construction in March 2020. An extensive project of its own, it occupies 700 hectares and includes the construction of new 4E runways, taxiways, airside stations, terminal buildings, operational support projects, and external facilities including highways - all to accommodate a projected 7 million tourist arrivals every year. The project is reported to be 42% complete in May 2021, with expected completion to be sometime in 2023.
The 38-road project and the new Siem Reap International airport are a few examples of the Cambodian government's plan to keep the country competitive despite a sluggish global economy. It is quite clear among public officials and private groups that COVID-19 will not be letting up anytime soon and playing the long game would be the more beneficial path to take.
The future of historic Siem Reap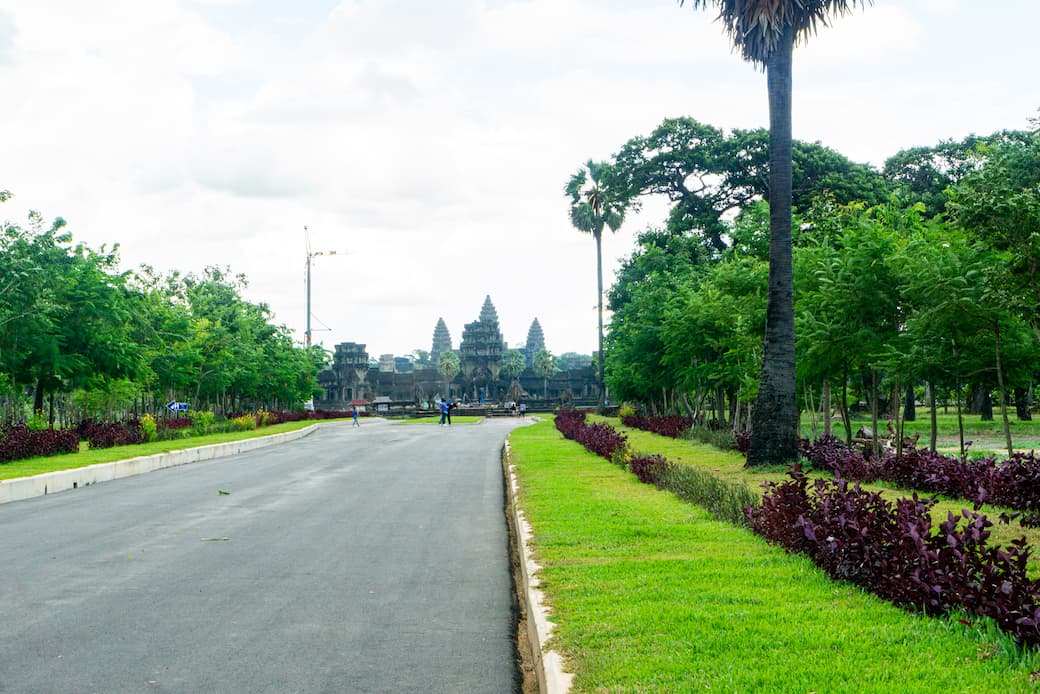 The Angkor Wat grounds are regularly maintained by Cambodian authorities despite virtually little tourist activity. Photo by Daka Kun Realty.
Siem Reap and its temples are often looked at by international observers as a tourist town. The city's economy is largely built around the interest the Angkor Wat Temple generates via international tourist arrivals and the businesses that follow. But what most outsiders overlook is how the temples are much more than a source of income for Cambodians.
"Angkor Wat is a source of pride for the Khmer people," said Daka Kun. "Our ancestors built these magnificent structures and that gives us something to be proud of." She mentions that the lack of tourists has not stopped Siem Reap residents from visiting the temples. Both locals and expatriates still hold picnics on the open grounds, run laps around the temples, and even enter the complex to experience the temples by themselves.
"The Angkor Wat is featured on the Cambodian flag and is a powerful symbol for the country," said David Granger. "Angkor Wat is referred to as the 8th wonder of the world and is the largest religious structure in the world, meaning there will also be a fascination in this temple complex by international visitors"
David explains that because the temples are part of the UNESCO listing, Siem Reap city is protected from the overdevelopment that befalls other cities. This ensures that Siem Reap will always retain the charm that makes it such a popular city to live in and to visit.
"We expect that when pressure from COVID on the international economies begins to fade, the benefits of the infrastructure project will begin to be seen with the unfreezing of price rises in the Siem Reap property market," he said.
For business owners like Bun, infrastructure developments like the 38-road project and the new airport are signs that Siem Reap will remain to have a bright future. "Siem Reap may not have the same vibrance as before," said Bun, "But people here have not lost their spirit and we're all ready to welcome tourists back once COVID-19 is over".
*This article is part of Realestate.com.kh's Industry Insights series. Check Realestate.com.kh's property listings in Siem Reap today!

Article by: