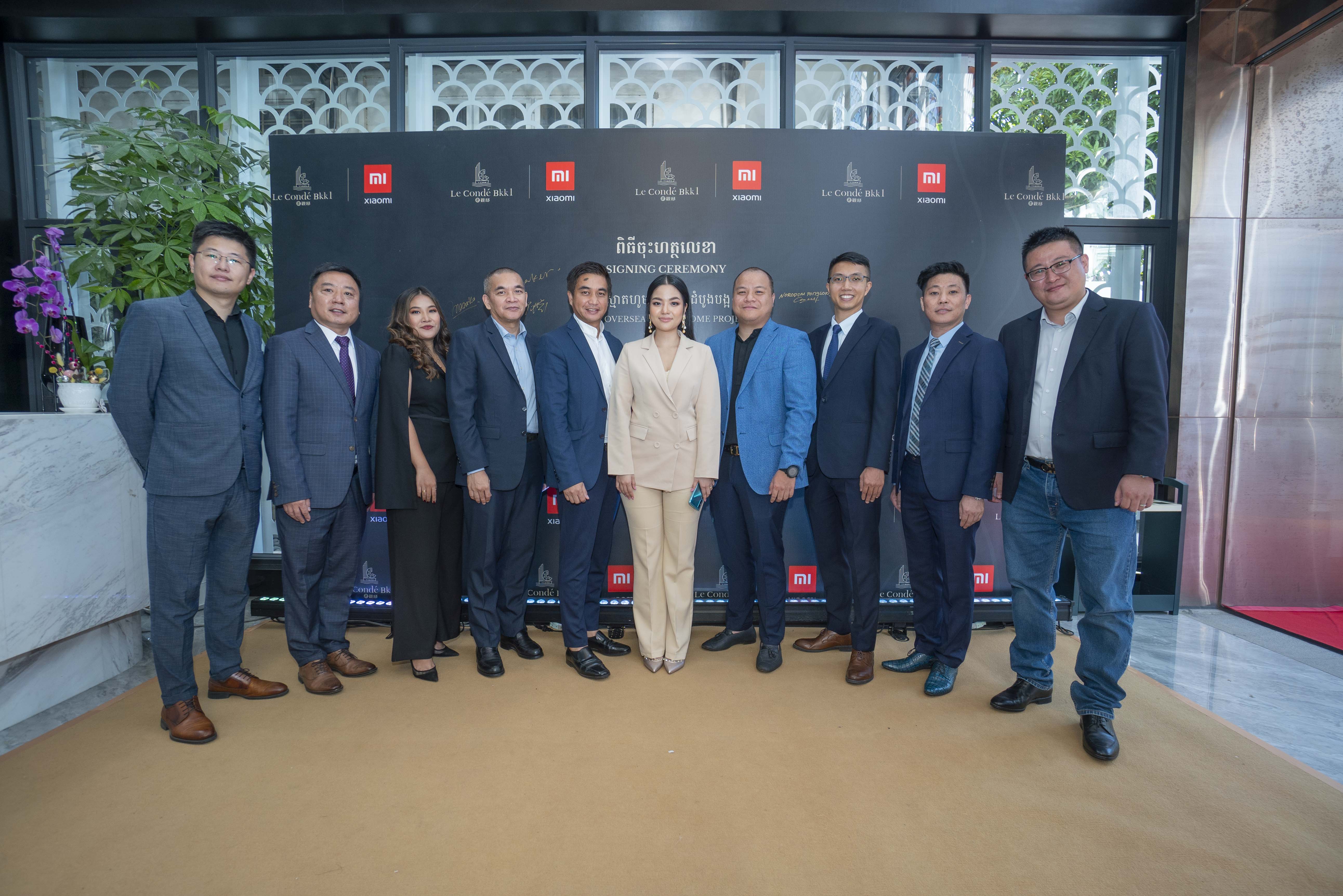 The Collaboration between Wangfu Guoji, the developer of Le Condé BKK1 – the smart luxurious residental project and Xiaomi Cambodia – a global tech company, has begun to create a future revolutionary lifestyle to happen now.
On August 28th, the Signing Ceremony between Le Condé BKK1 and Xiaomi Cambodia had held with the highly important guests'presence such as:
H.R.H Prince Norodom Buddhapong
H.R.H Princess Norodom Soriya
H.H Princess Norodom Pongmonirath Devi
Mr. Zhong Jin Jian, Executive General Manager of Wangfu Guoji
Mr. Cui Hui, Marketing General Manager of Wangfu Guoji
Mr. Gao Feng, Xiaomi Cambodia Country Manager
Ms. Maarika Torn, Xiaomi Cambodia Marketing Manager

With all the presence of our valued, a glimpse on Xiaomi's intelligence Smart Home technologies had offered our guests to experience the future of smart life.
At the beginning of our event, Xiaomi presents the video of smart home technologies which made us feel the real future in present time. Imagin, "In the morning, the smart curtains are slowly opened, and allowed the natural light shining through; when you want to leave home, a one-click to activate the away mode and the air conditioner, curtains, music, and lighting are automatically turned off. After that, the security system is automatically turned on. While you are on your way back at home, you can make a smart appointment through the mobile application, so that you can turn on the air conditioner to cool down in advance. And even when you sit down on the sofa, the TV will warmly welcome you and automatically play your favorite music..." The ultimate vision of luxurious and convenient lifestyle is collided here in Le Condé BKK1.
Next, Mr. Zhong Jin Jian said "Wangfu Guoji has always been committed to providing owners with complete solutions for a better life through high-quality products and services, and this is highly compatible with Xiaomi's corporate culture. Together have created a strong cooperation to create the future community in luxurious model living."
As a pioneer real estate developer, Wangfu Guoji entered first in Cambodia with an enormous project locates in BKK1, the most prime suburb district in the capital that could offer great value for high-end residental and commercial lifestyle to the ultimate living of Cambodians.
Afterward, Mr. Gao Feng,Xiaomi Cambodia Country Manager, stated that "Smart Home is a revolutionary in modern era, and Xiaomi's goal is to cultivate this revolutionary into reality. And Wangfu Guoji will be Xiaomi's first oversea smart home project in modern living innovation in Cambodia."
Both parties mutually reached a strategic cooperation to jointly create the First Cambodia's smart residential community that will upgrade the future of Cambodians living.
The next exciting moment, Mr. Zhong Jin Jian, representative of Le Condé BKK1, to officially introduce our Brand Ambassador, "H.R.H Norodom Soriya" with the presence of namely Royal family members in this occasion, presented the Royal Brand Ambassador certification by Mr. Cui Hui and Ms. Maarika Torn.
H.R.H Norodom Soriya, successfully graduated with a bachelor's degree in international politics, said that "I am deeply attracted by the creative concept and ingenuity of Wangfu Guoji, especially after visiting the Sales Gallery and Unit showrooms.
With these remarks of the cooperation unveiling ceremony, the signing ceremony came to a successful conclusion. But Wangfu Guoji believes that a new life full of wisdom is slowly starting.