Realestate.com.kh spoke with talented freelance architect & accomplished artist Sothea Thang about innovative architectural design and how to add value to your property.
Sothea Thang is a self-taught Cambodian artist born in 1983. He graduated from Norton University in Phnom Penh with a degree in architecture and urban planning, and he worked at an architectural agency from 2007 to 2010. In September 2009, Sothea took a leave from his architectural position and turned to painting for a break from his office job. This soon became his vocation when he developed "Happy Together", his first collection of paintings. The series was commissioned by a Siem Reap hotel and was exhibited later that year, and its success pushed Sothea to explore his skills across visual media, even as he continued to work as a freelance architect. In 2011, he opened his own studio-gallery in Phnom Penh, Top Art Gallery.
What made you decide to be an architect?
Sothea Thang: As a child with a wild imagination, I always enjoyed all kinds of creative activities. When I finished high school, I looked around at the art scene in Cambodia. The scene was small and there were not many opportunities for local artists at that time. I thought about what I could do for my studies that was still connected with creative activities and thus decided to try architecture. I found I really enjoyed studying the subject at university and that led to my continued work in the field.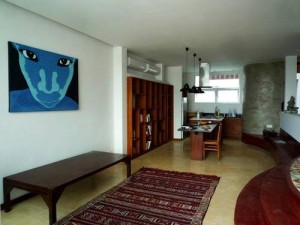 What trends do you feel are important in architecture/design?
Sothea Thang: I appreciate naturalistic aspects that emphasize space, functionality, and light. Green space is important too. Architecture is about merging elements in designing a structure, and I feel it's necessary to bring these things all together into the building as well. 
What is your design philosophy?
Sothea Thang: Simplicity and strength through purity. Less is more.
Practical yet beautiful. I like to bring about something that is unexpected; creating new forms within older structures and merging them together. This can be challenging but has often led to my most unexpected and novel successes.
What key aspects are essential for innovative design?
Sothea Thang: Space: the feeling when you walk in, that it's an open space with light, air and with green/natural elements. You feel like you can breathe. Also need to study and consider what's around the building
.
The result is needs to fit well.
The materials inside and outside also need to fit with a vision and belong with those naturalistic elements informing the design.  Some businessmen today, they build without thinking about the space itself or about the surroundings, they just build and want to sell. But this omits any thought about the people living, working, or passing time in that space.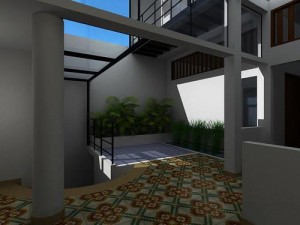 What's happening in Cambodia in terms of "green" or sustainable design?
Sothea Thang: In Cambodia, we don't really see this a lot right now. Past architects have paid more attention to the light, the air, the rain, but today we see buildings going up quickly with focus on maximizing profit. For example, they make housing developments, and they divide the land plots as much as they can to maximize the number of units available for sale. This minimizes space for greenery, it blocks out light and air, and it actually leads to increased energy and water costs. From one unit to another, the space is not enough. No attention to trees or nature, and not enough focus on the space within the units they build. 
How do you know if a building is well designed?
Sothea Thang: There is more attention to the way the elements flow in and around the structure, better technical connections such as water pipes, drains, and electricity. I look at the details and the quality of the chosen materials. These signal the quality of the construction work. I also look at how the space is arranged to determine what kind of concept there was in the design. The finishing on the walls or the way a floor is polished, signal to me the intentions and the techniques behind the designs.
Regarding renovation, what elements add the most value to a property?
Sothea Thang: When I'm renovating an old building, it's important for me to determine the existing elements of the space. Then I try to retain key features of the building while merging my own contemporary additions into the structure. Often, the key step is opening up the blocked interiors of the property. I select higher quality materials, open up the space to more light and air, add green features, and maybe create some aesthetic flourishes.
My clients have appreciated when the spaces are opened up to more light and air. This also requires thoughtful consideration of the overall floor plan and the way people actually walk through the rooms and use the space. Modernizing the appliances and updating the materials with higher-quality detailing are also key. This is the same for every part of the house: living room, kitchen, bedroom, bathroom, and terrace/garden. 
This interview has been edited for length and clarity purposes
.