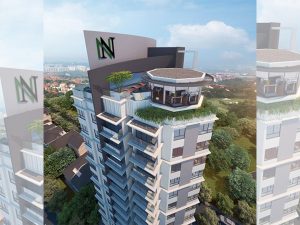 The Apennines Condominium project, which aims to bring elegance and comfort to its future residents, is now 100% completed. Now is the time when the developer devotes its resources into interior design, furniture and hiring and training the staff which will be servicing those living in the brand new condominium.
The buyers of the Apennines Condominium will have the choice of purchasing an unfurnished apartment and decide themselves on the furnishings and decor, or buying a furnished unit based on few design models offered by the developer KHSI Investment. All the furniture is imported from overseas, carefully selected to provide comfort and high end style.
Although the projected completion date was set to January 2018, the construction progressed faster than expected and the key handover will take place in September 2017.
More than 50% of the units have already been sold and a 6 percent discount is currently offered to those deciding to purchase a unit. So far, the main customer target has been international buyers with great predominance of Singaporean nationals, with the exception of few Khmer buyers.The development has 17 storeys and the starting price is $170,000 for single bedroom, going up to $330,000 for 3 bedroom apartments.
What does Apennines stand out above the rest?
The Apennines development stands out from its competitors with its unique construction features: is the very first condo in Cambodia which uses car elevators. The advantage of having this feature is to have an assigned parking spot for each resident and a singular lift, where one can enter with his car and go right to his/hers parking spot, saving time and energy.
Another important feature of the building is its singular structure. The condominium has only column from the first to the the sixth floor, leaving the rest of the floors column free. Building apartments with this approach means having more spacious and with greater air flow units.
Lastly, the developers put high importance to each and every part of the construction, ensuring perfection in every detail. The aim is to make people feel at home, which is not the case when continuous maintenance work takes place. For this reason, the engineers put their best efforts in ensuring the highest quality of the materials, to guarantee long lasting quality.
Despite the many years of building experience overseas, this is the first project in Cambodia for KHSI Investment PTE LTD and building a strong reputation of high quality developers, is their mission which they are determined to achieve.
Find out more about The Apennines Condominium today!