(The living room of a serviced apartment in The Elysee in Koh Pich, Phnom Penh. Realestate.com.kh)
Whether you're a tourist, expat, or even a local, serviced apartments offer plenty of conveniences not often included in other real estate properties. The "serviced" in serviced apartments particularly appeal to tourists and expats looking to have quality-of-life conveniences "built-in" with their residence.
Included services in these apartments usually range from weekly cleaning services, regular laundry services, consistent supply of drinking water, and even a full concierge service similar to hotels. It's important to remember, however, that service offerings will vary from apartment to apartment. For a more detailed discussion of what you should expect from serviced apartments as a whole, you can check out this brief guide to what makes for a well-serviced apartment in Cambodia.
For this guide, we will be talking about where you can find serviced apartments (and what's included in each one) for a long-term stay in Cambodia.
Where can I find serviced apartments in Cambodia?
Serviced apartments in Cambodia are largely concentrated in Phnom Penh. According to Knight Frank, an international property consultancy firm, most serviced apartments can be found in the following districts: Boeung Keng Kang (BKK) with 35%, Chamkarmon with 20%, Daun Penh with 13%, and Toul Kork with 12%.
If you're looking for commercialized districts that come complete with modern city staples like shopping malls, markets, banks/ATMs, restaurants, cafes, convenience stores, and offices, you should be considering living in these areas as they make up the city centre of Phnom Penh.
What serviced apartments are good for long-term stays?
We've come up with a few of the best-serviced apartments in Phnom Penh well suited for a range of the tourist/expat market looking to stay long-term in Cambodia. This list is by no means all serviced apartments in Phnom Penh, but a shortlist of what best represents the serviced apartment sector of Cambodia's advancing real estate market.
Silvertown Metropolitan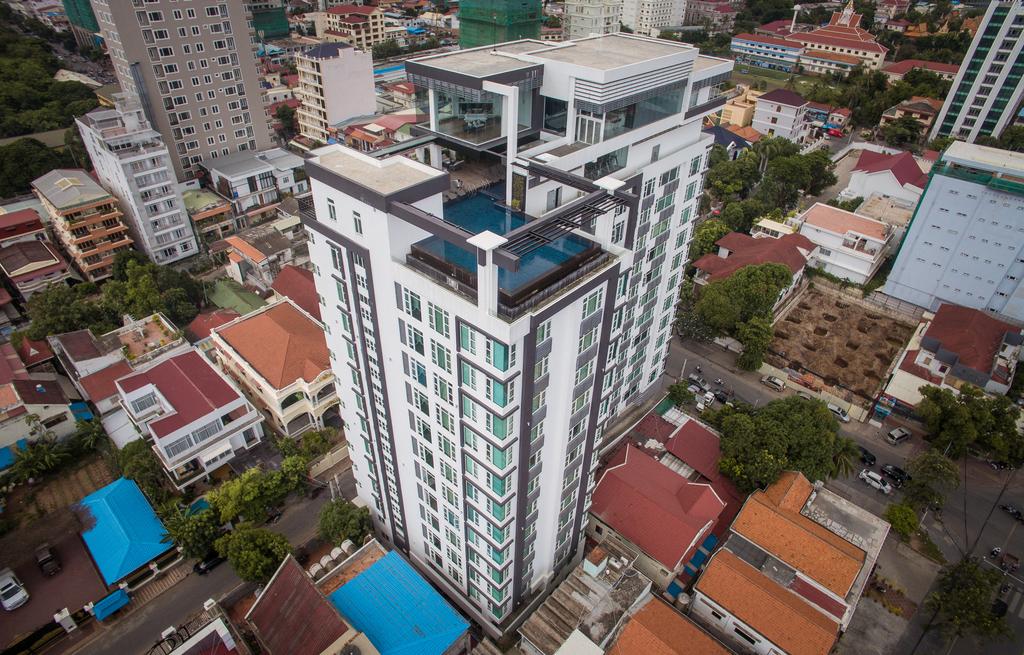 (An aerial view of Silvertown Metropolitan, one of Phnom Penh's upscale serviced apartments. Photo courtesy of Booking.com)
Starting Rent: USD $1,000 per month
Offerings: 1 bedroom to 3 bedrooms
Silvertown Metropolitan is a high-end development that offers luxury condos, studios, and serviced apartments in BKK1. Expats, most especially, will appreciate the comforts immediately available. And given Silvertown Metropolitan's proximity to the Mao Tse Tung Boulevard, anyone staying here can easily find their way to wherever they need to go in the city.
Their tagline of "bringing L.A. to Phnom Penh" becomes apparent once you see their offerings and accompanying price tags. Starting at $1,000 per month, Silvertown Metropolitan is one of the more upscale and expensive serviced apartments in Phnom Penh. But does its services justify its price? If money isn't an object and you don't want any punches pulled in city pampering, then it certainly does. Their services include a 24-hour full concierge, housekeeping, and high-speed WiFi. Each unit comes fully furnished with a complete kitchen and dining area, laundering facilities, a refrigerator, hairdryer, robes, cable TV, towels, linen, and A/C. All rooms are outfitted with modern furnishings popular in posh West Coast apartments. Amenities such as the rooftop pool and fitness centre are also available for use.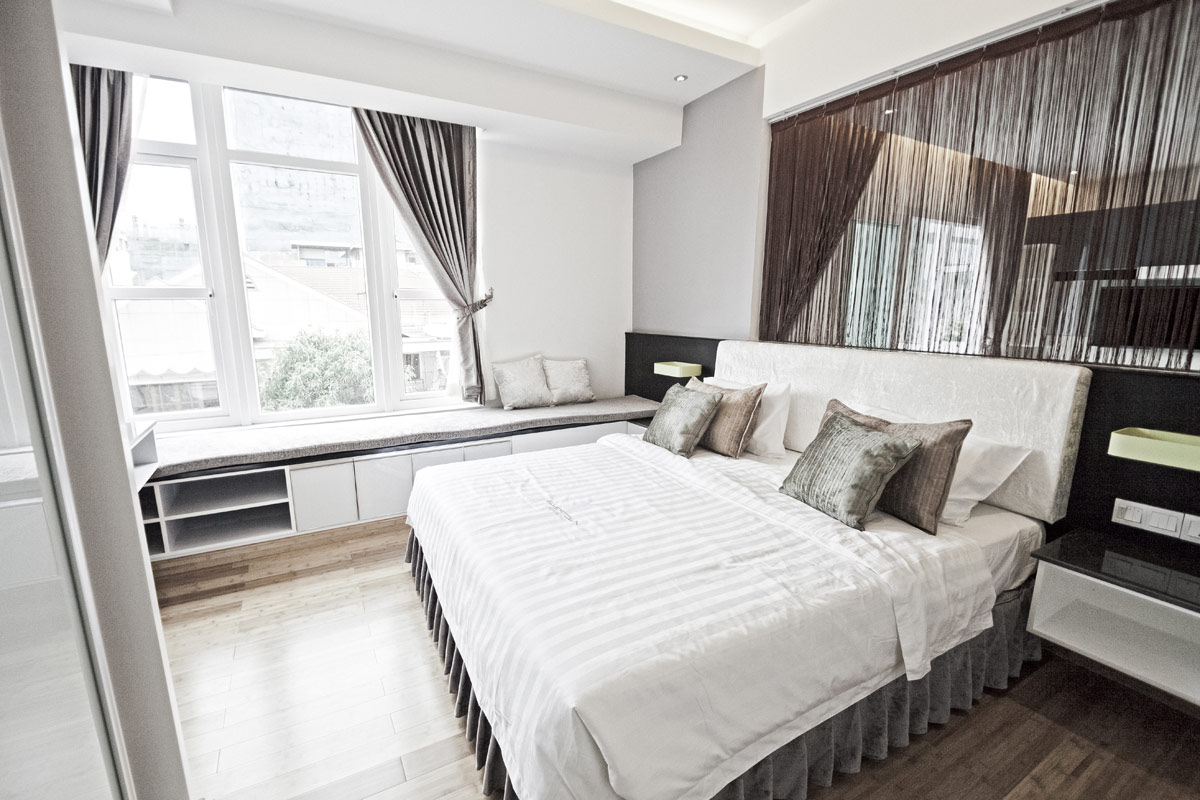 (An image of a bedroom in Silvertown Metropolitan serviced apartments. Photo courtesy of Silvertowncambodia.com)
But if you're more into what it offers beyond its premises, then it doesn't differ too much from the other serviced apartments mentioned in this guide. Silvertown Metropolitan is in the mid-point between Preah Norodom and Preah Monivong Boulevard and sits close to Mao Tse Tung Boulevard. All these roads lead to the popular spots in BKK1, the Russian Market, and Riverside in Daun Penh.
Silvertown Metropolitan represents one of the higher ends of the serviced apartment sector and with good reason: It tops the discussion when it comes to what condo has the best service and is well-managed in Phnom Penh.
The Elysee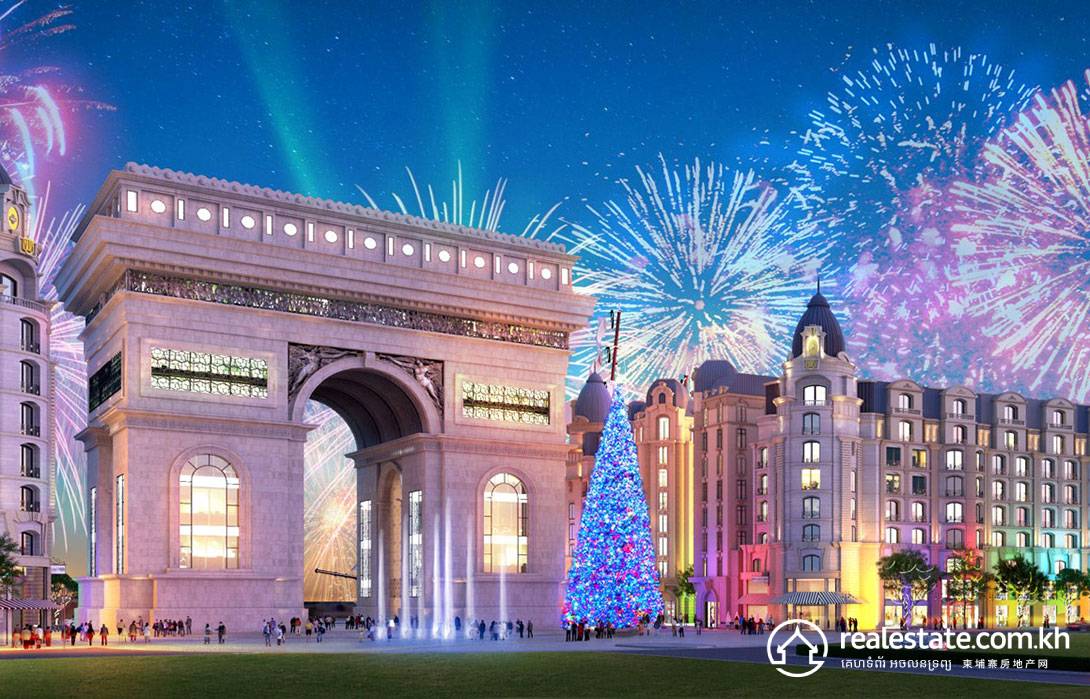 (The Elysee by Dara is inspired by the French monument, Arc de Triomphe)
Starting Rent: USD $750 per month
Offerings: 1 bedroom to 4 bedrooms
Located in the French-inspired suburban area of Koh Pich, a.k.a. The Diamond Island, the Elysee is designed after the majestic Arc de Triomphe. And much like the actual monument, The Elysee's vicinity takes after the iconic townhouses and boulevards of modern-day Paris. The Elysee is also one of the newest serviced apartments developed in Phnom Penh.
The Elysee certainly tops this shortlist as its French-influenced design comes with luxury amenities and services without necessarily breaking the bank. Units can be rented out for as low as USD $450 a month which already comes fully-furnished and includes Cable TV, internet WiFi, and housekeeping included in the monthly rental - a good package we're certain anyone definitely appreciates. Renting here gives you access to a fully-equipped fitness center and steam & sauna within the comforts of the apartment.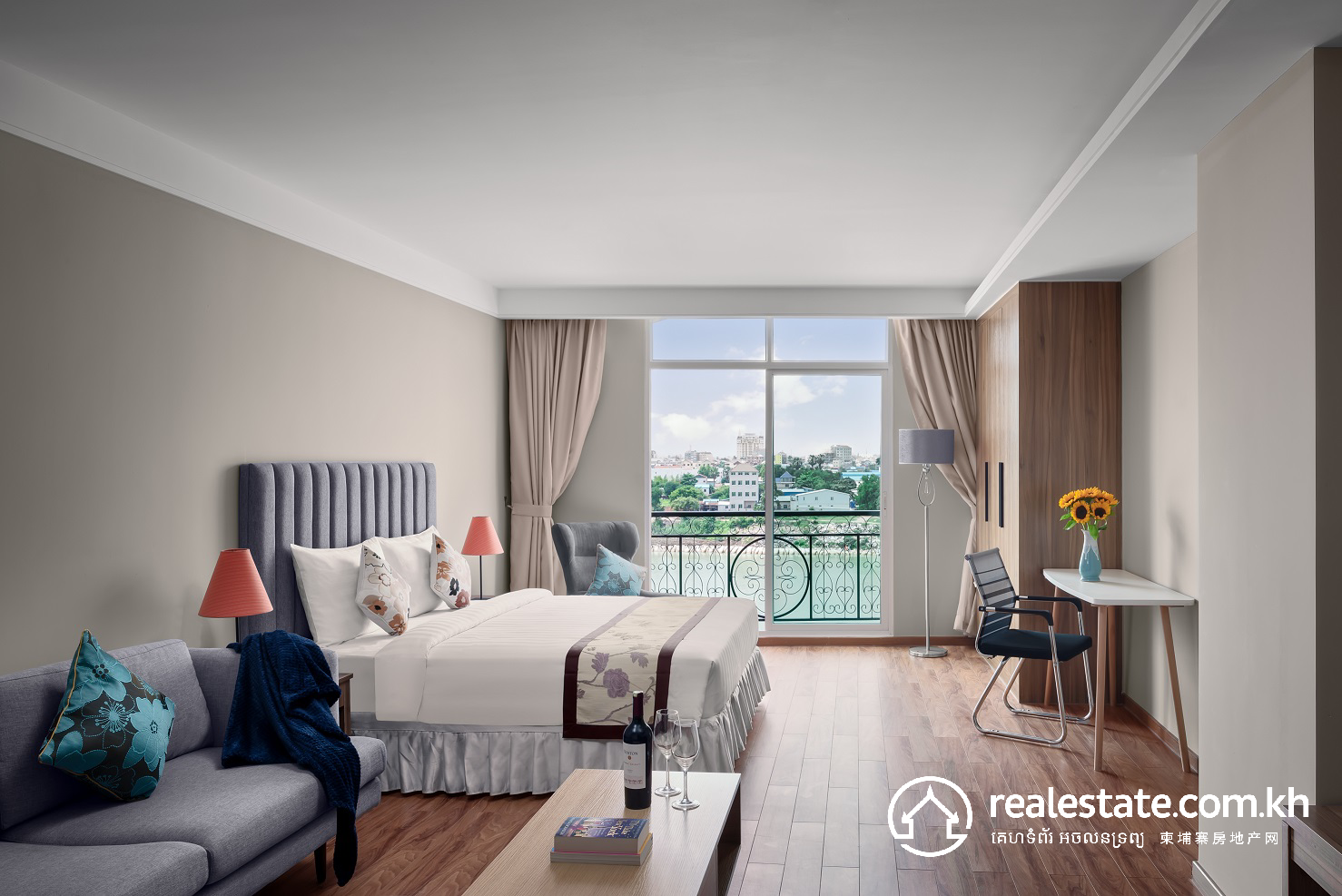 (An image of an apartment for rent in The Elysee. Realestate.com.kh)
Koh Pich island lies east of Phnom Penh's mainland and is one of the fastest-developing areas in the city. Commercial amenities such as banks, cafes, restaurants, and offices can be found throughout The Elysee's immediate vicinity. The Elysee sits right on Koh Pich road leading to Samdach Sothearos Boulevard where AEON Mall 1 stands. The same road is connected to Preah Norodom and Mao Tse Tung Boulevard, giving residents access to even more commercial establishments in BKK1, Chamkarmon, and Daun Penh.
Koh Pich's inspired urban design offers a new and unique experience of living in Phnom Penh, making it one of the hottest properties to watch out for - and at a good price. If you're interested in living in Diamond Island, we highly recommend checking this property
Urban Loft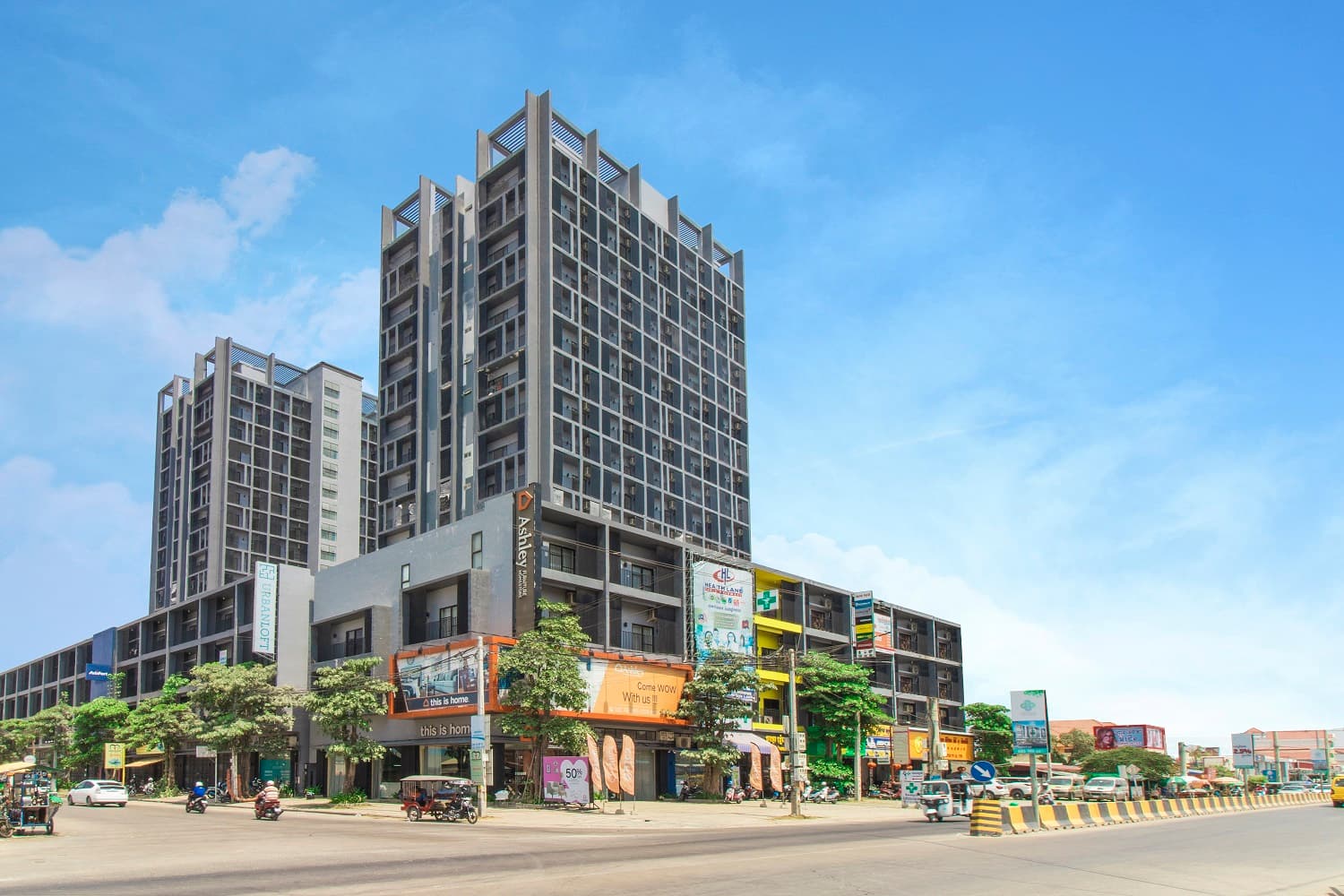 (An image of Urban Loft's exterior in Sen Sok. Photo courtesy of Google Map contributors)
Price Range: USD $600 per month
Offerings: 1 bedroom to 3 bedrooms
Urban Loft is a serviced apartment located in Sen Sok. While this area is quite some distance from the center centre, Sen Sok itself has seen massive developments in residential and commercial real estate. We recommend this area more for expats rather than tourists as it's still in the early-mid stages of development and doesn't have much to offer if you're not staying long-term.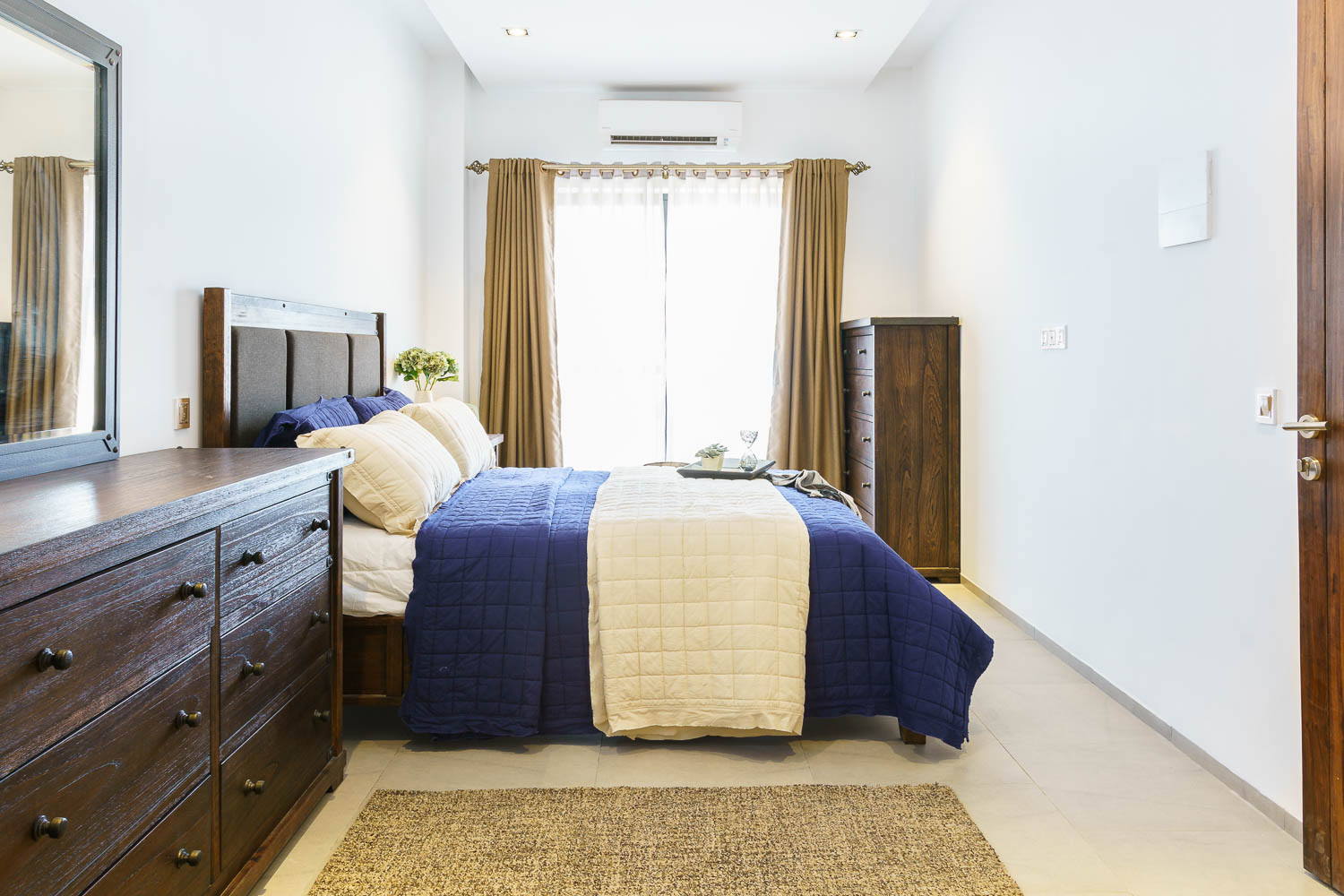 (An image of a bedroom in Urban Loft Sen Sok. Photo from Urbanloft.com)
Regardless, Urban Loft offers plenty of space for quality long-term living. Its wide interior design allows for large open-plan condos that maximize light and airflow within each unit. It's also fully furnished so moving in is easy and quick - something we know expats would definitely prefer. Urban Loft's spacious units are complemented by an expansive pool and gym. Families living here can avail of the kindergarten and babysitting services. An array of excellent schools are not too far away as Sen Sok is where boreys (gated communities) are becoming increasingly popular among Khmer families.
AEON Mall 2, the biggest mall in the city, is just a 5 to 7-minute drive away. And down the road is the popular wholesale grocery Makro. Choices are becoming increasingly abundant in Sen Sok that going into the city proper is starting to become an option rather than a necessity.
The View Serviced Residences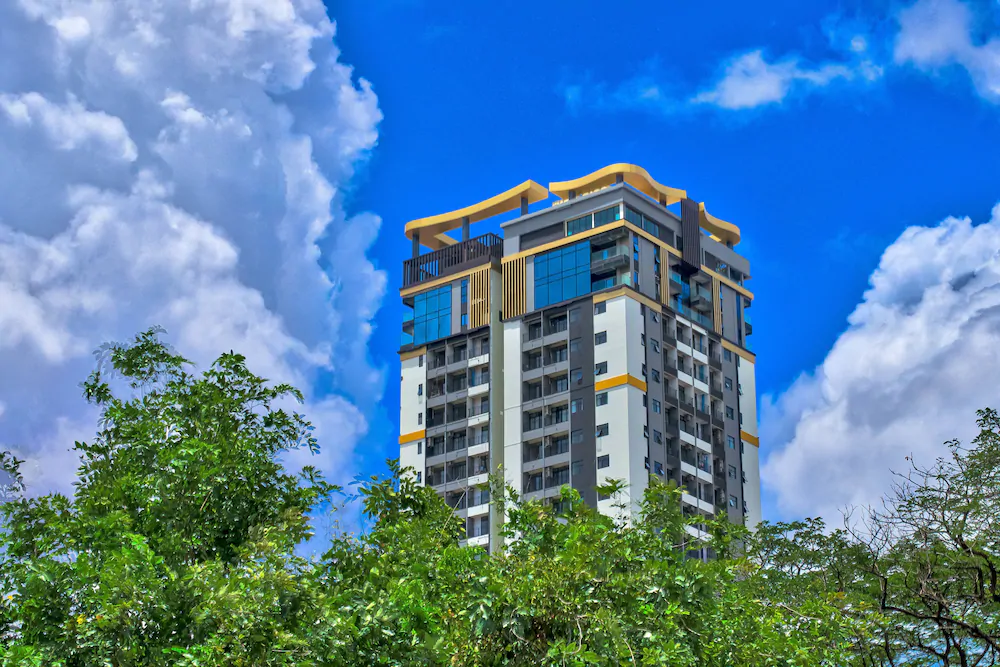 (An image of The View Serviced Residences in BKK1. Photo courtesy of Agoda.com)
Starting Rent: USD $1,000 per month
Offerings: 1 bedroom to 2 bedrooms
The View Serviced Residences is one of the premier serviced apartments in BKK1. Inspired by Japanese interior design, The View's units offer a simplistic charm many tourists and expatriates would find attractive.
The View is at the crossroads of Phnom Penh's many attractions and modern conveniences. Its location in BKK1 surrounds it with the city's best places to eat and the newest and biggest shopping centres around in the form of Chip Mong Noro Mall and AEON 1, respectively. Its proximity to popular tourist and expat spots makes it a good choice for foreign travelers wanting to get a peek of the many offerings within the Kingdom.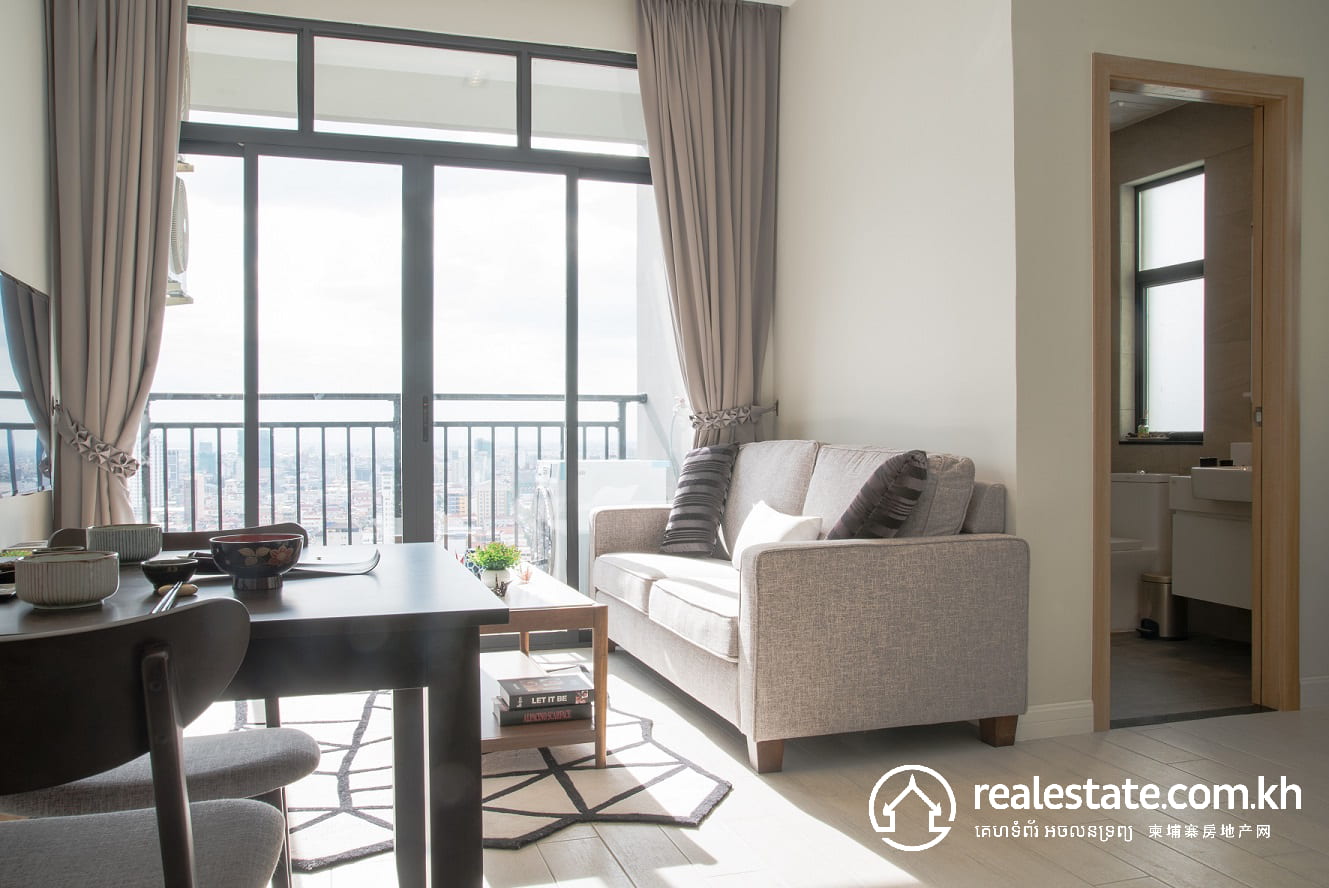 (The View Serviced Residences was designed by Japanese architect Kato Yoshio. Realestate.com.kh)
But what's a serviced apartment without talking about services? Starting at $1,000 per month, residents get fully-furnished rooms, twice-a-week housekeeping, fitness centre, and access to an infinity pool, jacuzzi, and steam room in the common areas. A cafe and restaurant are also serving residents inside the apartment building.
Whether you're by yourself or with your family, just visiting or staying for some time, the View's units may be what you're looking for considering its ambiance and location.
TK Royal One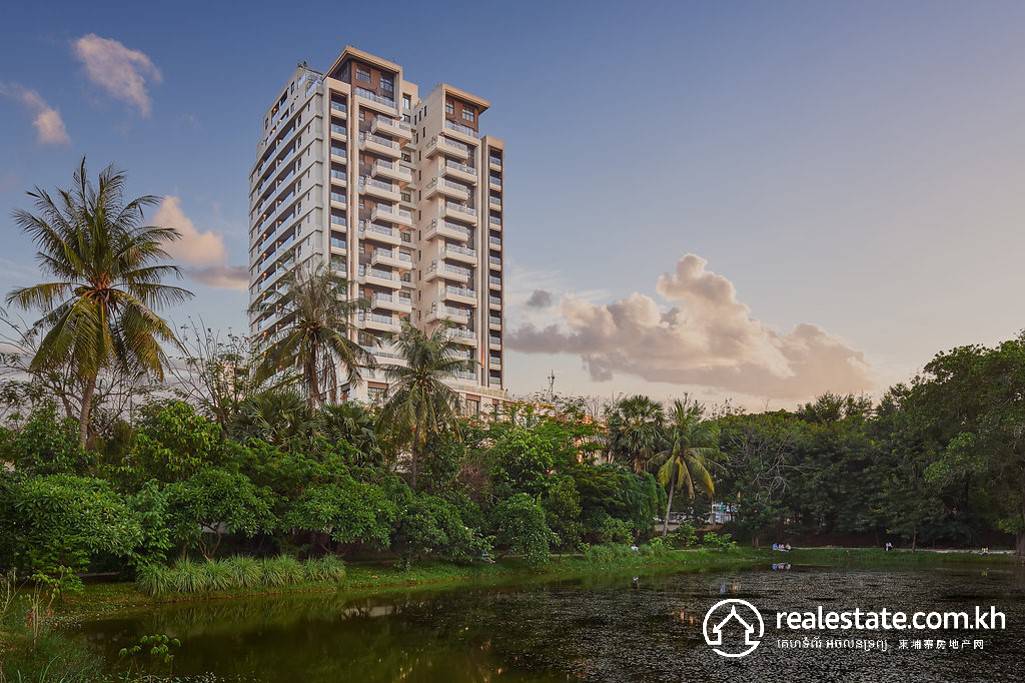 (An image of the exterior of TK Royal One in Toul Kork. Realestate.com.kh)
Starting Rent: USD $900 per month
Offerings: 1 bedroom to 3 bedrooms
TK Royal One Serviced Condominiums is a mixed-use development featuring offices and serviced residences. Its location in Toul Kork, right along the Russian Federation Boulevard, has made it a landmark of sorts in the area, making it hard for passers-by to miss.
The Toul Kork district has developed over the past few years as an extension of the many conveniences available in the Phnom Penh city centre. TK Royal One is one of the district's more iconic developments as its offerings of office spaces and residential units is a sort of testament to how much Toul Kork has improved in a short amount of time. As such, TK Royal One's location along the Russian Federation Boulevard gives residents access to a lot of markets, shopping centers, restaurants, cafes, schools, sports facilities, and other entertainment centers now established in Toul Kork.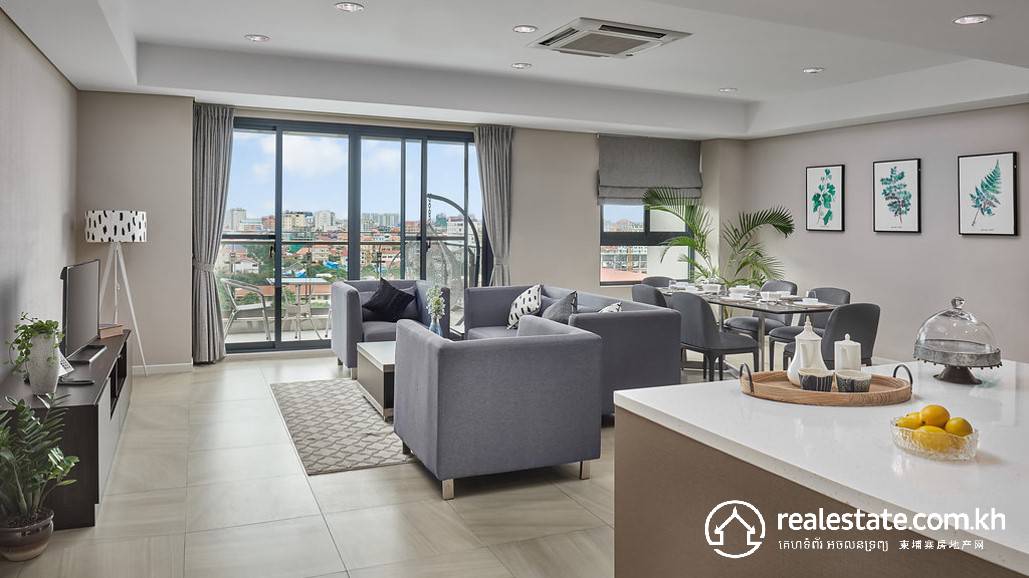 (An image of TK Royal One's spacious living rooms and balcony. Realestate.com.kh)
TK Royal One's residential units come fully furnished and designed to accommodate renters living by themselves or expat families looking to live long-term in Phnom Penh. Each unit is spacious and comes with a private balcony providing an astounding view of the city's rising skyline. Amenities in TK Royal One include internet Wi-Fi, a fitness centre, swimming pools, a parking area, and a rooftop garden.
Are serviced apartments worth it?
The choice entirely depends on you as you are the best judge of your personal needs and budget. Most serviced apartments in Phnom Penh are proportionally more expensive than standalone apartments without 24/7 concierge services, regular housekeeping, fitness centre, and a swimming pool. If these services are important to you, then serviced apartments could be well worth the extra hundred or so dollars a month.
On the other hand, if you're the type of person who can live without these services, you can save a few hundred dollars which you can allot more to necessities like food or other luxuries like traveling across Cambodia and its neighbouring countries. You can check out several listings of apartments for rent in Phnom Penh here.
Article by: