From the humble shophouses to towering luxury penthouses, Phnom Penh's residential choices have undoubtedly grown in only a short span of time. Its luxury choices, in particular, have been the highlight of the city's transformation and put it on the radar of property investors from both within and outside of Cambodia.
The word "luxury", however, has been a buzzword many developers have used to describe their properties to paint a grand picture of the lifestyle you can have. But let's be honest, only a few can really own up to being a true luxury home.
Realestate.com.kh wants to clear the air with its take on what makes the baseline for luxury properties and will give you properties worth considering if you're in the market for one or if you're simply curious!
What makes a luxury property in Phnom Penh?
What makes a luxury property in Phnom Penh doesn't differ much from what you'd normally consider in buying any home. Generally speaking, these are Location, Quality of Interiors, Available Amenities, and Price.
Location
A property's location influences a lot about it, including other considerations in this list. A property's location plays its biggest role in determining your daily life/routine, such as where you go and how much time it takes for you to get to where you want to go. Its immense role in your daily life makes it one of the foremost considerations in any property purchase/rental decision.
But there's more to location than just providing convenience. For buyers looking to invest, a great location is somewhere with lackluster surroundings but holds great promise in the near future. After all, when it comes to real estate, the real returns are not just made by selling high, but by buying low.
Quality of Interiors
The quality of interiors directly influences the level of comfort you experience at home. This is where luxury developments often splurge by providing branded appliances and fixtures such as heaters, air conditioners, lighting, mattress(es), and bathroom essentials. How these are delivered is often indicative of the amount of thought the developer put into making their luxury vision into reality.
Available Amenities
Amenities complement the comfort you experience from your residential unit. Fortunately, most luxury properties in Phnom Penh often have a swimming pool, a garden, sauna & spa, rooftop activity areas, fitness facilities, and even in-house commercial areas. It's sometimes so extensive that the number of things you can do in your building somewhat reduces the need for you to go out!
Price
Phnom Penh's luxury property market is rife with choices ranging from expensive to extraordinarily pricey and this last and final factor neatly ties up all the aforementioned considerations into a quantifiable number, because setting prices set expectations.
The price per square metre for luxury developments (centrally located) ranges from $2,500 and only goes up from there. Of course, this is not saying that the higher it's priced, the better the property is overall. But price tags often dictate the kind of market a project is targeting and the level of luxury you can expect from a premium development.
The luxury properties of Phnom Penh
There's plenty of luxury properties in Phnom Penh and this shortlist is showcasing the developments exemplifying what's been discussed above.
Sky Villa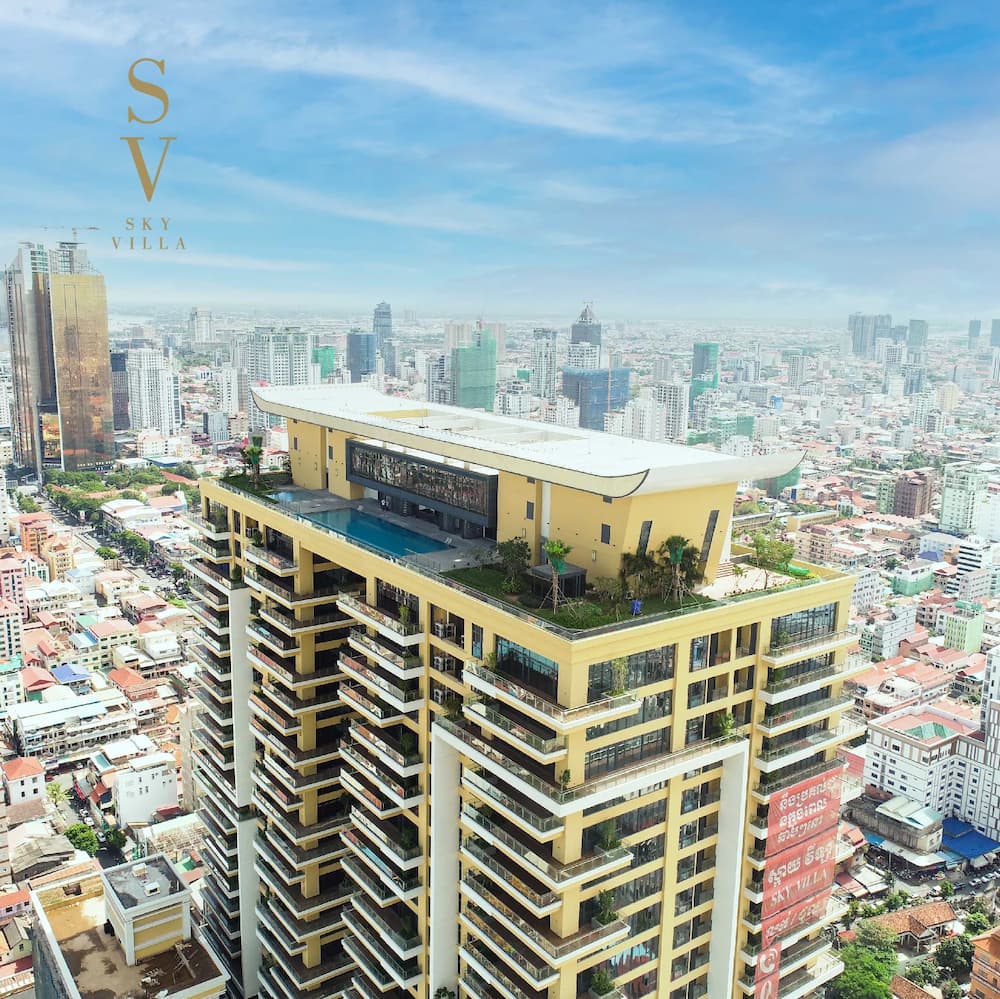 Sky Villa is arguably the most expensive luxury development in Phnom Penh. While there are other developments within the 1-million USD price range, Sky Villa takes top place as it's the biggest of the million-dollar apartments to come to the city.
Its residential units span more than 500sqm and are styled after the luxury landed villas most rich Cambodians live in, including ornate furniture, generous spaces, and premium amenities like exclusive bars, restaurants, pools, and concierge services. Other luxury landed villas don't have a sky bar and spa & sauna, nor are they in the middle of the city like Sky Villa.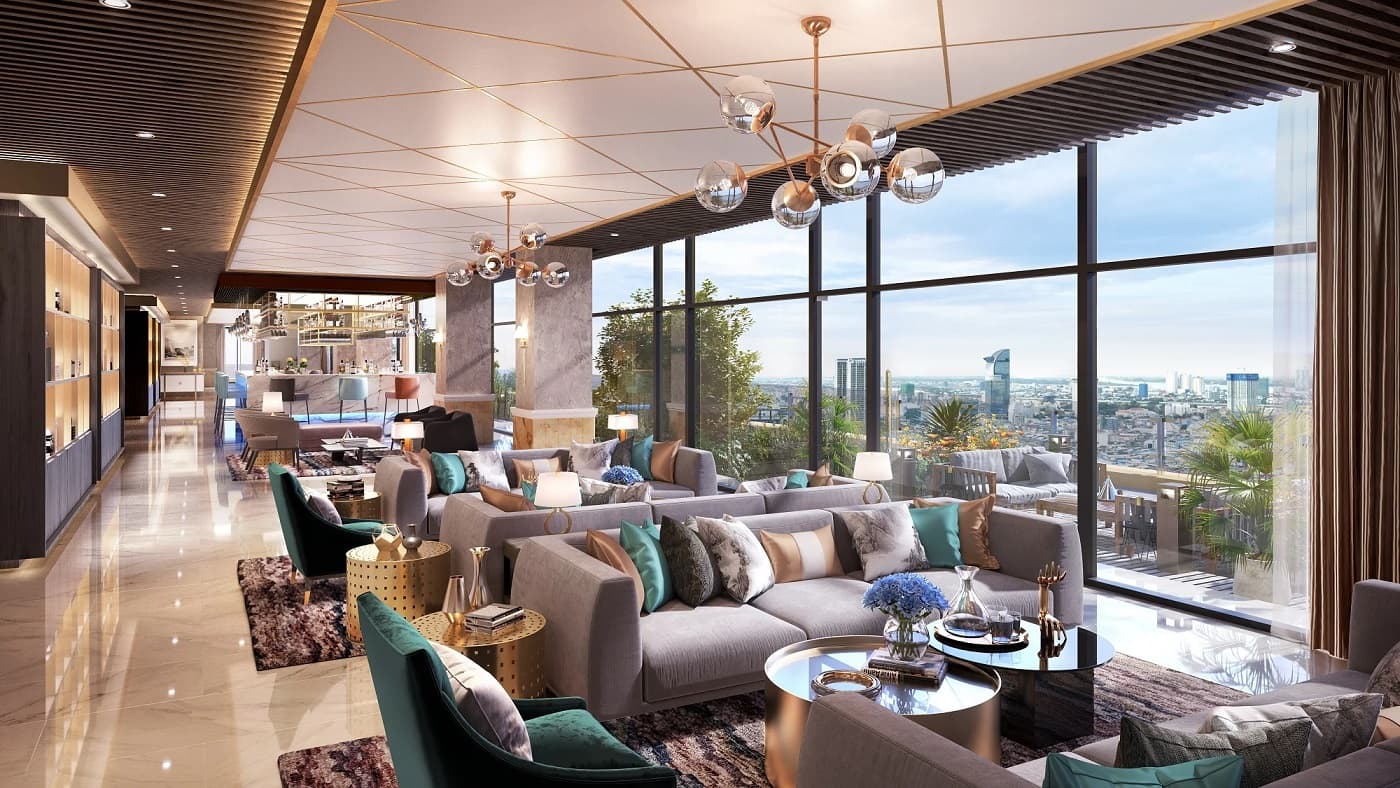 Its central location in 7 Makara puts it in an advantageous central position with easy access to major road arteries that cross Phnom Penh. The closest major shopping destination to it is the Olympia Mall, which is a 4-minute drive away or a 10-minute walk from Sky Villa. If you're into the more humble side of the city, dozens of shophouses and cafes litter 7 Makara. It's hard to run out of places to explore in this area.

Sky Villa certainly packs plenty of must-haves and even nice-to-haves for a luxury property in Phnom Penh. If you're interested in finding out more, you can find the Sky Villa property listing here.
The Peninsula Private Residences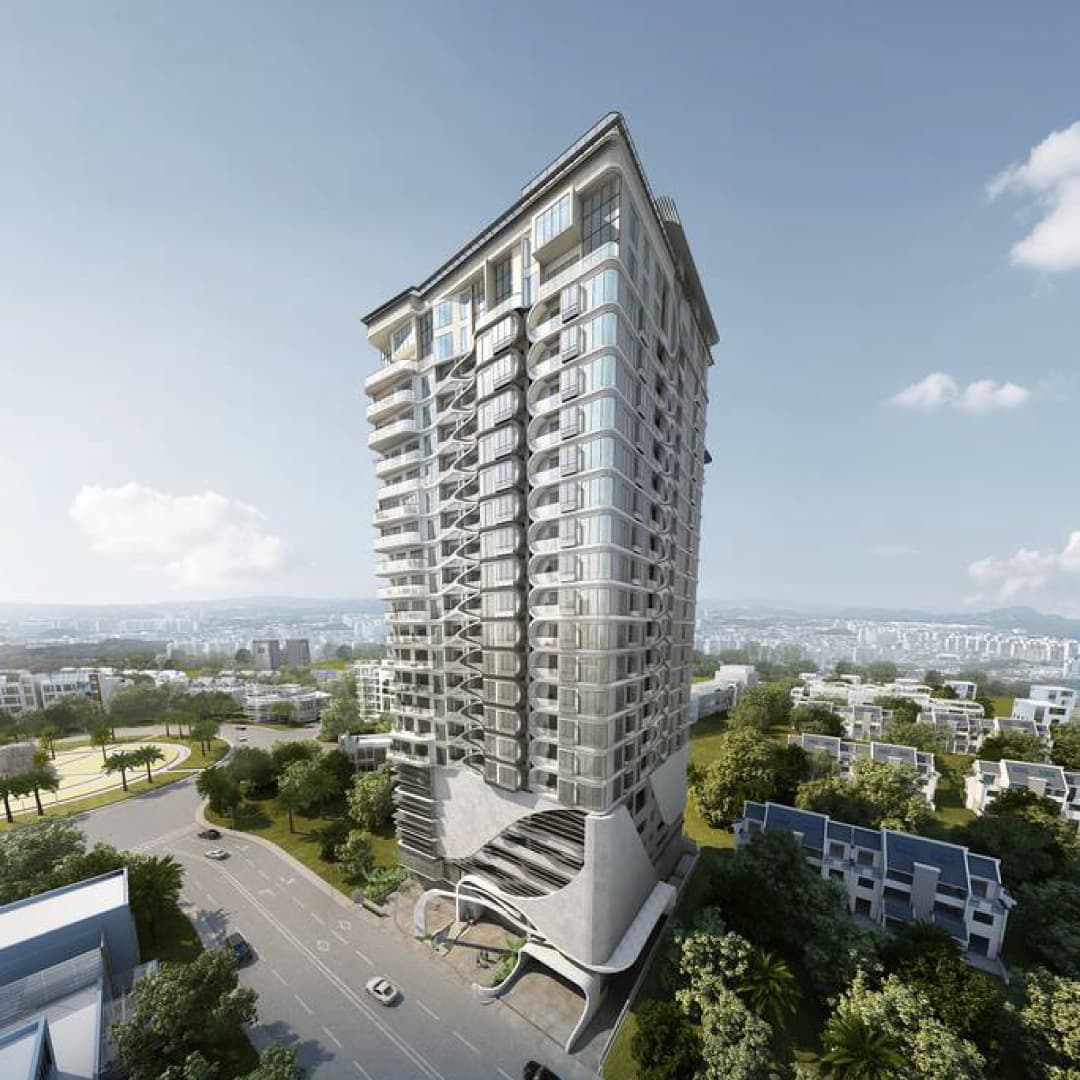 A project's location, for most buyers, means easy access to conveniences. But to the long-term investor, it means something quite contrary but highly profitable!
The Peninsula Private Residences in Chroy Changvar district is an ideal example of investing in an area that holds much promise in Phnom Penh's future. The district is earmarked for major residential projects which have attracted many of the city's elite political and business circles. Its promise is tied with its suburban appeal as its peninsular geography gives its residents a natural atmosphere that's become a hook for many of Phnom Penh's city dwellers.
Given its popularity, it's no stretch that the project has become the landmark development in Chroy Changvar. The Peninsula Private Residences garnered many awards such as the Best Architectural Design 2019 and Best Interior Design 2019. Its awards show as the project's interiors are built with carefully designed aesthetics that complement the area's natural atmosphere; providing a premium experience of Chroy Changvar's environment if you will.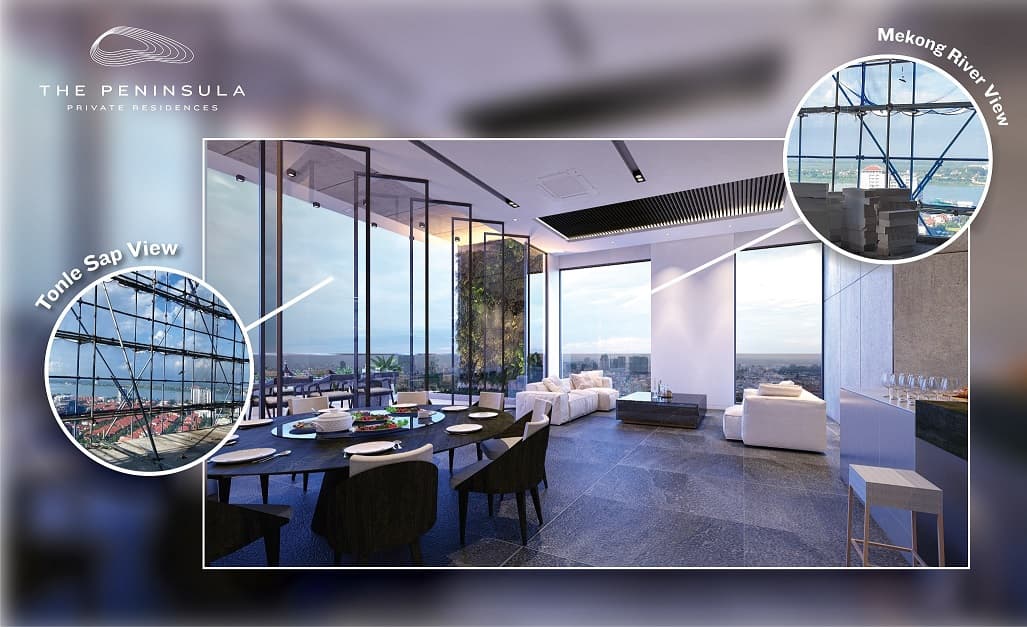 The Peninsula Private Residences emphasize the everyday living experience and pull out all the stops to make it as pleasant as it can be. Its quality amenities include the basics with additional features of a private kitchen and patio, co-working space, and even a social club room with a home theater system.

If you're interested in learning more about this luxury development, you can check the Peninsula Private Residences property listing here.
The Peak Residence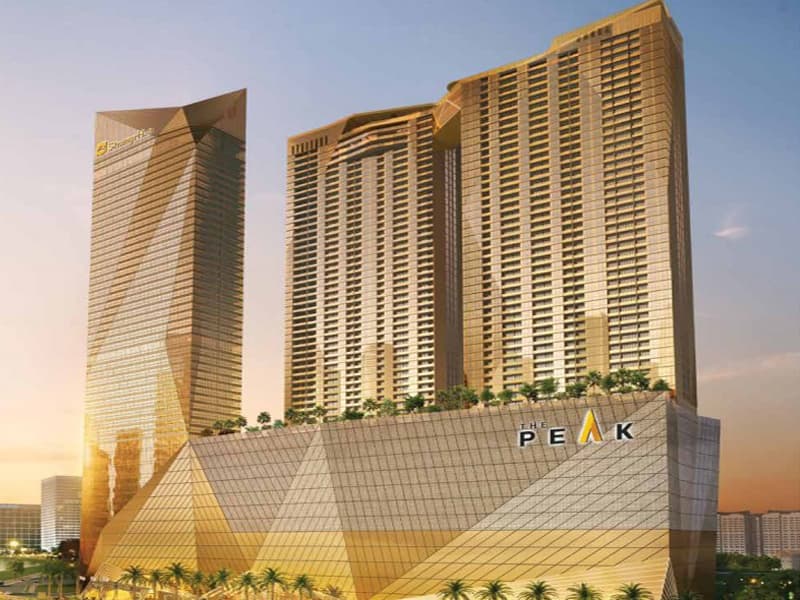 When it comes to living in a premier condominium close to a shopping area, The Peak Residence certainly peaks the list of projects in Phnom Penh. The Peak Residence is a premium mixed-use development in the highly commercial area of Tonle Bassac in Chamkarmon. It's one of the first retail podiums with 3 towers in Phnom Penh, making it the premier project offering a commercial experience truly integrated with a luxury condominium.
Residents will additionally get to enjoy various commercial shopping choices to more residential comforts like swimming pools, jacuzzis, lush gardens, and premium restaurants right at their fingertips; there's plenty to discover at this premier development.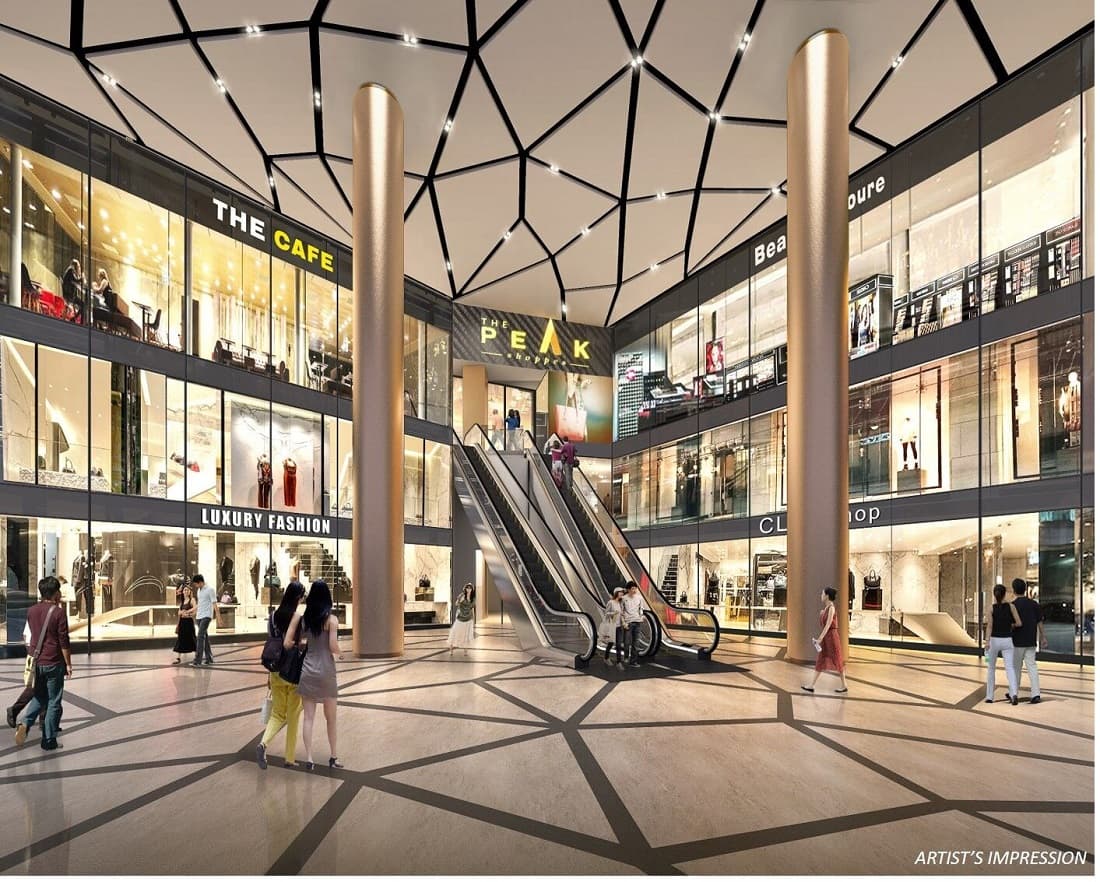 But if a commercial center integrated with a residential tower is too tame, how about a premium hotel chain on its premises? The world-renowned Shangri-La Hotel will be occupying and housing high-class visitors in one of the Peak's towers. In fact, the entry of the international Shangri-La hotel brand is expected to attract a new demographic of tourists to boost the Kingdom's burgeoning tourism sector.
If you're interested in learning more, you can check out the Peak Residence property listing here.
Skyline Apartment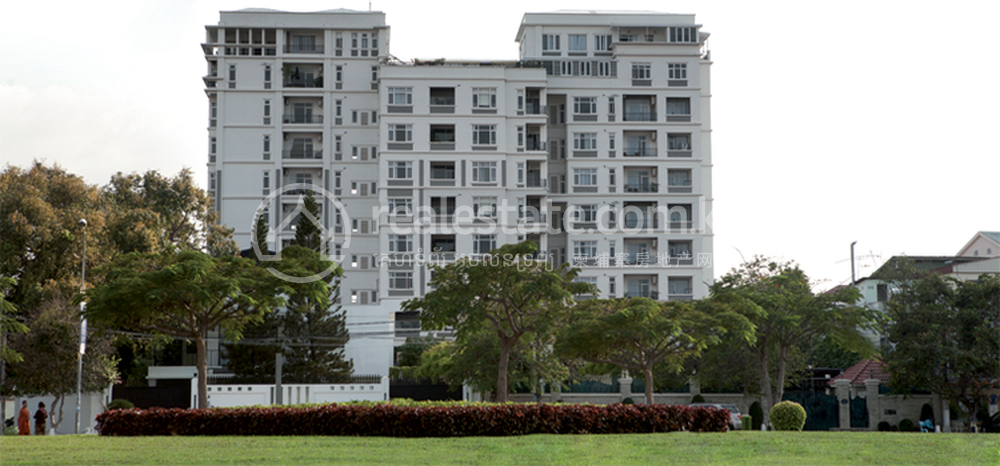 The Skyline Apartments is a high-class rental apartment in Tonle Bassac, Chamkarmon. Conceived by The Room Design Studio, its design immediately catches the attention of passers-by even in the flurry of residential choices within Tonle Bassac. Its designers were inspired by both Cambodia's rich architectural heritage and the influence of its colonial past to create an iconic residential building in Phnom Penh's most central area.
Skyline Apartment's premium status is derived from the luxury of feeling at home in Phnom Penh. This is particularly sought after by expatriates as feeling at home in a foreign country can do wonders for one's mental health, especially during stressful workdays! The Skyline Apartment creates this atmosphere by providing residents with spacious living spaces complemented by an array of amenities that fit the theme of being at home. While it's not as luxurious as previous projects mentioned above, the Skyline Apartment does edge them out in delivering a serene living experience.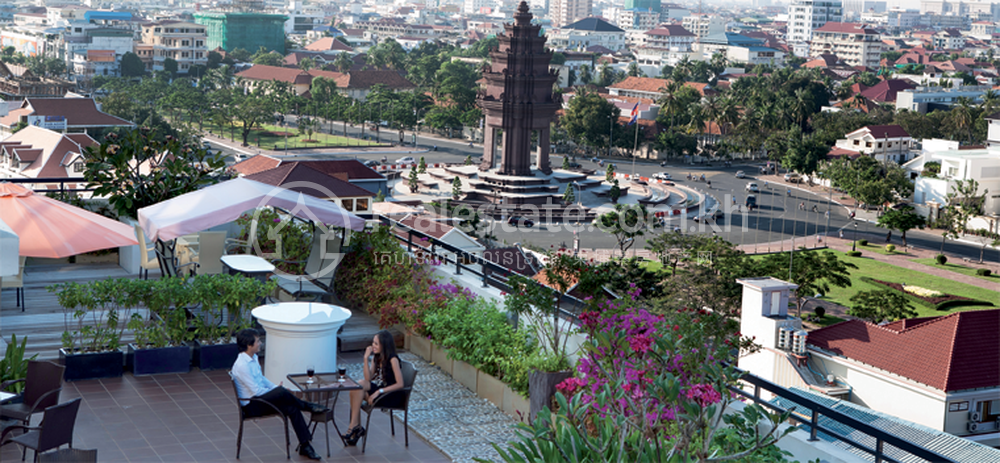 A lot of rest and a lot quiet are things commonly associated with suburban/provincial properties. Fortunately, the Skyline Apartments is just 100m away from the Preah Sihanouk boulevard, and a few minutes walk away from the many restaurants, cafes, and entertainment destinations found in and around Tonle Bassac.

If you're interested in finding out more, you can visit the Skyline Apartment property listing here.

Article by: