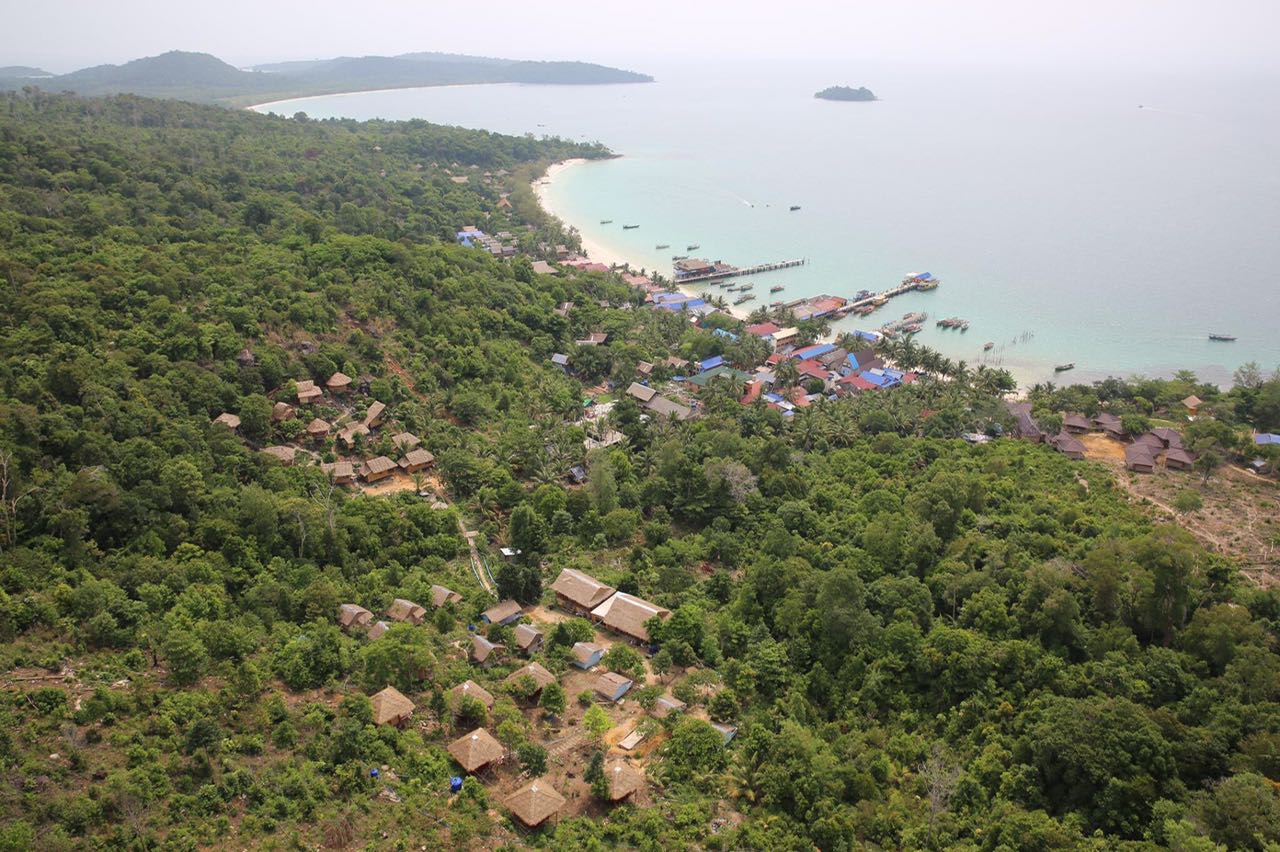 In May of this year, Koh Rong and Koh Rong Sanloem islands will form the newest municipality in Cambodia, according to a sub-decree released by the government in January. 
Previously, the islands were classified as communes within Preah Sihanouk province's Mittapheap district. Later this year, however, they will be classified as a single city and gain administrative power of their own.
Many expect investments in the tourist industry to rise sharply after the islands become a city. But there are concerns over the status of land ownership on Koh Rong and Koh Rong Sanloem.
The two islands have a combined area of over 100 square kilometres and are located 25 kilometres offshore from Sihanoukville.
Currently, Koh Rong and Koh Rong Sanloem are comprised of four villages and two villages, respectively. The islands are home to around 4,000 permanent residents. They are two of the biggest tourist destinations on the Kingdom's southern coast.
Thousands of visitors every day

Chheun Chantha, commune chief of Koh Rong Sanloem, welcomed the plans. He expressed hopes that more real estate development would come to the area, in turn increasing land prices. 
He explained that, with new administrative management, the islands would need more government buildings and more infrastructure.
Chantha claimed that land along the beach in Koh Rong Sanloem's Koh Touch village was currently selling for more than $1,000 per square metre. Land further in was going for between $100 and $200 per square metre. The price for land without a hard title, on the other hand, was just $20 to $50 per square metre.
"The area is very attractive for tourism. On average, 2,500 tourists show up every day," he said, adding that around 75% of the visitors stay for at least one night.
Accommodation on the islands ranges from $5 per night for a dorm bed up to hundreds per night for a luxury bungalow.
Brad King, managing director at Sihanoukville's Cambodia Real Estate, said that making Koh Rong and Koh Rong Sanloem a single municipality will be good for the real estate sector. 
However, King noted that the real estate market on the two islands is still quite limited. He expressed concerns over ownership on the islands, adding that most landowners simply hold their plots instead of building on them.
"Most villagers don't own their land with hard titles," he said, adding that investors are waiting until they can get these before they make significant investments.
Royal Group is one of the only major players to come to Koh Rong. It established a luxury resort on the island called Royal Sand.
'No one keen to buy'

Commenting on the issue of hard titles, Chantha said that only a third of landowners on Koh Rong Sanloem held them.
King, who has developed some of the only apartments on Koh Rong, said construction is a long and difficult process. Because of this, owners aren't willing to invest until hard titles are issued.
"It took 60 boat trips just to bring materials for my apartment project," he said, adding that land prices were comparable to Sihanoukville at $2,400 per square metre. 
He claimed that if hard titles were issued, buyers would come in droves.
"No one is keen to buy or invest on land without [full] legal ownership."
Sharing King's view, Den Sakal, CEO of Universal Real Estate, said that land transactions on Koh Rong have become stagnant. He claimed establishing a municipality would speed up activity.
"This will buoy confidence from investors. At the same time, rental prices will increase and services will be upgraded to the next level to welcome more tourist," he said.
Chantha agreed with the concern over hard titles, adding that undeveloped infrastructure, poor waste management, and illegal logging and fishing are other key factors holding back the islands.
Besides making the two islands a single city, the sub-decree also adds two new districts to the map of Phnom Penh. 
The two new districts will be called Boeung Keng Kang and Kambol.
Read the full story of the new BKK district. For more breaking news like this, check our news section every day.