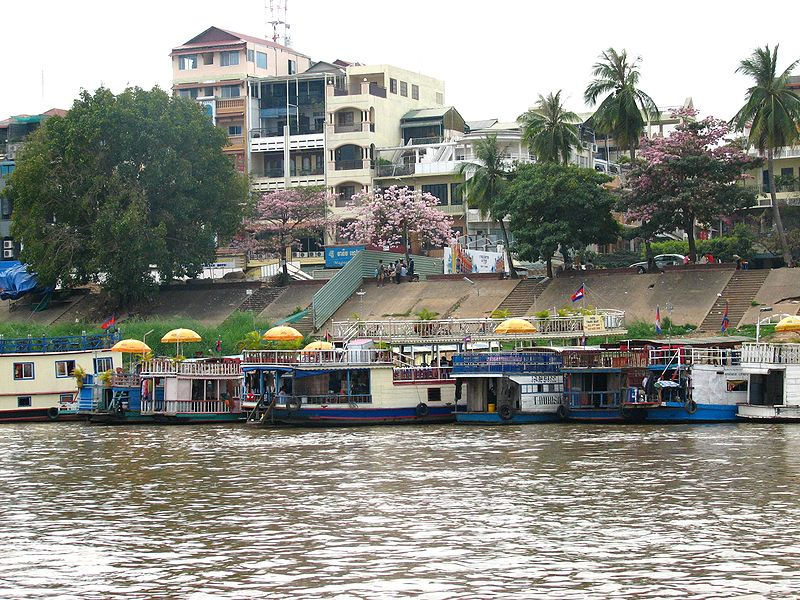 Phnom Penh's popular Riverside area, a tourism and business hub, will see more development in the coming months, with a number of massive construction projects about to commence, on the drawing board, or in the pipeline.
Guangzhou Yuetai Group, a well-known Chinese real estate developer, is proposing to develop a 9.25 hectares of land stretching from the Night Market to Chroy Changvar Bridge. The Harbour Bay development proposal would see the construction of 24 high-rise buildings along the banks of the Tonle Sap.
Last March, the Cambodian government opened that stretch, half of which is managed by the State-run Phnom Penh Autonomous Port (PPAP), to investment by reclassifying it from state-public to state-private. The move is believed to be in preparation for the Yuetai project, though the Government has yet to confirm this. Estimates put the value of that prime lot from USD $330 million to USD $550 million.

Earlier, Royal Group, a local conglomerate, also proposed to build on the site of the historic Cambodiana Hotel, a 600-meter skyscraper, which if completed, will be the tallest in Southeast Asia.
TBR  Twin Tower World Trade Centre, a USD $5 billion joint venture between Thai Boon Roong, a local firm, and Chinese contractor Sun Kian Ip Group, is also slated to rise nearby. The 500-metre tall, 133-storey twin towers will be built in Daun Penh District, on a 5-hectare lot formerly occupied by Dreamland Amusement Park.
Further to the south and facing the Tonle Bassac, one of the distributaries of Tonle Sap, a major entertainment complex will soon open. WB Arena, a USD $10 million project of WorldBridge Group intended to fill the entertainment gap in Phnom Penh, is scheduled for completion before the end of this year.  
Possible property sector impact Paul Ellender, Property Consultant at Freer Enterprises, said new development plans for Riverside will impact properties not only within but also outside the area.
"I am not opposed to this development as much of the surrounding area is under-developed and there are few examples of quality architecture worth retaining. Nonetheless, this development will impact on Phnom Penh's Riverside, BKK and other surrounding areas in a number of ways," he emphasized.
Talking of Yuetai, Mr Ellender said the project's impact will depend on the quality of design and construction.
"Assuming, the project is of a high quality (in terms of design, social impacts, environmental, urban infrastructure, price and offers a diversity of uses), this will be a great development that will impact favourably on the surrounding areas and gentrify Phnom Penh's centre even more," he stressed.
Mr Ellender said problems will likely arise if the project is of poor design and will not consider factors such as traffic flow to and through the area, as well as parking; open spaces for recreation and relaxation; public security and safety; local employment opportunities; quality (locally procured) materials and architectural design; and maintaining the few quality, heritage buildings in the vicinity.
"Then this project will sparkle for a while, possibly remain partially occupied for extended periods and ultimately fail as a shiny ghetto," he said.
According to him, the impacts of this will be felt in nearby areas and social impacts such as increased crime may be the result.
"I would encourage the designers, developers and planners to think carefully about this project as, if done well, it will be a wonderful addition to this amazing city," he concluded.
Charles Villar, a property expert with stints in some of the top real estate firms in Cambodia, said more development in the Riverside area would mean more expensive land, but cheaper property rentals.
"First question would be, who will occupy these units? With this development, there would definitely be more choices for local and international buyers most especially in the Riverside area. There will be a significant increase in land market price for the area because of property development but lease/rental fees would decrease because of the oversupply of units," he stressed.
The Riverside and surrounding areas have some of the most expensive real properties in Phnom Penh, with land selling between USD $1,000 and USD $6,000 per square meter.  More condo, apartment, and other housing projects will mean more supply to a city already awash in such properties. Oversupply often results in cheaper sales price and rentals.
Some sectors, however, are predicting that land prices in Phnom Penh will dip by 2 to 5 percent this year because of economic and political factors, foremost of which is the upcoming national election on July 29.
Mr Villar said Cambodia stands to benefit a lot from such development, in terms of jobs, investments and revenues.
"If you have such a large scale construction project, this would create more jobs for Cambodians. Cambodia implements a very "investor-friendly" environment for foreign businesses. Having these mixed development type of properties would most probably attract them to see what Cambodia has to offer in terms of property," Mr Villar said.
Mr Villar said he believes benefits will trickle down to the masses. "The more investment/investors that come in the market, taxes would be paid to the government. These may be used for government initiatives to improve infrastructures and provide more livelihood programs for Cambodians," he pointed out.