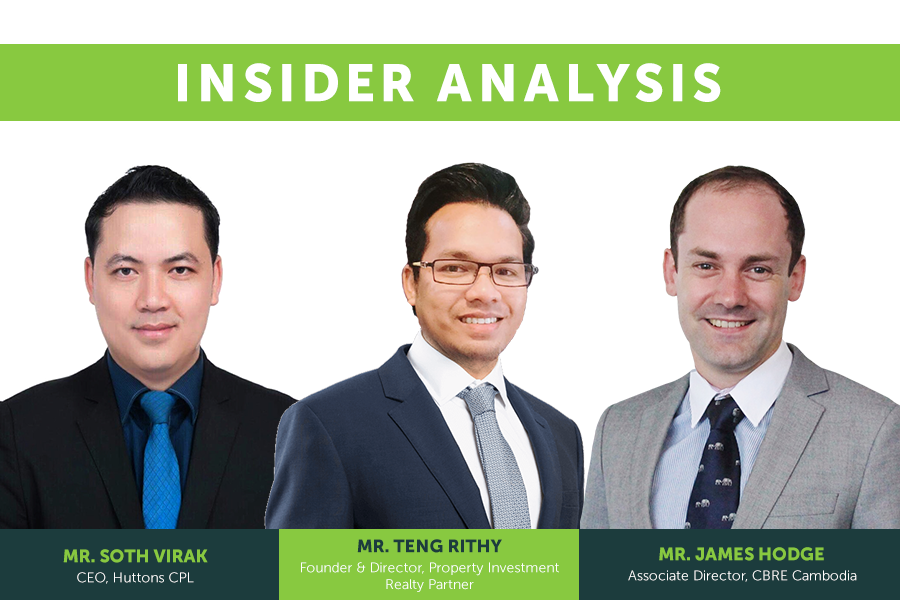 Q: The Cambodian national election has concluded, giving the ruling party another half decade to run the country. What will the Cambodian real estate industry look like over the next five years?
Soth Virak
Cambodia will benefit from relative political stability and continuing foreign investor confidence. Because the government's political structure and administration largely remain the same, I think Cambodia's real estate industry will keep moving forward in the next five years.
Before investing in a property market, developers often look at several factors, including the economy and political stability. Political stability is one of the top factors they look at.
The Ministry of Land Management, Urban Planning, and Construction approved more than 3,000 projects, mostly condo and borey developments last year. These projects are expected to be completed in three to five years. I think more projects will be approved this year and in the succeeding years.
As for supply, it will continue to increase as 10 million square metres will reach the market every year. Locals and expats will continue buying properties in the Kingdom and middle- to low-cost housing projects offering low interest rates will be the biggest market.
In the next five years, I expect China to continue to be the leading property investor in Cambodia, followed by Japan, Korea, Malaysia, and Vietnam.
Teng Rithy
Founder and Director, Property Investment Realty Partner
The real estate industry, in general, will continue to grow during the next five years. During that span, our team will develop about five residential projects. These will be condominium and borey projects, mainly targeting Phnom Penh and other key provinces such as Siem Reap, Battambang, and Kampong Cham. At present, these locations are being closely studied to determine their value in terms of location, price, and which types of houses are most suitable.
Many local and international investors are paying more attention to the Kingdom's real estate industry as they are confident of the country's political stability and economic growth. I think they will continue to invest in real estate in various sectors, including tourism and agriculture.
With regards to supply and demand, most of the residential projects are located in Phnom Penh. But there is also big demand in many provinces outside the capital owing to population growth. There are many people, mostly young families, who are in need of and are looking for suitable houses in the provinces.
The supply of condo will be much higher in the future. Cambodia's market is still small and has yet to mature. There is still plenty of room for growth when it comes to condo demand and supply.
James Hodge
Condo development
We expect that in five years the condo market will have transitioned through its first proper real estate cycle and be a much more mature sector. The market will offer a breadth of options across all grades and will be able to compete in terms of quality with other centres across the Asean region. International serviced apartment operators will be more prevalent and a few of the most forward thinking local real estate companies will have blossomed into market leaders.
Condo developers
Across central districts in Phnom Penh, an absence of large land sites will mean developers turn towards the acquisition of brownfield sites or the amalgamation of smaller plots to form a large enough site. Secondary centres will develop around transport hubs and where access to the central business district is quick and efficient.
Bank lending for condos will increase, especially as local buyers become more active in this market. 
Borey development
As land prices continue to increase, the value of landed property will also rise. This will push younger families and rising middle-class buyers who need to be close to the centre of the city towards the condo sector which will represent better value for their money.
A result of increased land prices will be the dispersion of landed properties across a wider geographic area as developers hunt out land sites of the scale and price to ensure a profitable scheme may be delivered. In particular, land price increases in Phnom Penh will accelerate the construction of satellite cities and towns in suburban and rural locations. Ensuring that developments on the urban fringe are adequately supplied with both hard and soft infrastructure will be imperative to ensuring the success of these communities.
We will see the first developments by the larger developers on the eastern banks of the Mekong, a trend permitted by improved infrastructure access across the river.
Plot land
Plotted land is likely to remain popular in provincial locations, while stocks close to prime cities will start to become uneconomical for small-scale development and as such will be swallowed up to make way for large-scale projects. Prices are likely to stabilise over the long term as families move away from self building and plot land investments towards urban living.
Foreign investment
Foreign investment into real estate will continue to be supplied by developers, but long-term investors interested in income bearing assets such as office and retail centres will grow in influence. As the local market matures we can expect to see the sophisticated institutional investors considering acquisitions.
Investment in manufacturing and infrastructure will still be largely dominated by foreign players.
As the capacity and experience of local developers increases, it will become more difficult for foreign investors to compete for local buyers. Some will rise to the challenge and start to develop products that better fit the needs of local buyers while others will focus on sales in overseas markets.
Supply and demand (local and foreign)
Supply is on the rise across all sectors and we see no slowdown in this trend so long as the economy continues to pursue its current growth path. Project launches may continue to be few in number but the scale of the projects is set to increase, especially as the large Chinese developers establish themselves and their brands in the Cambodian market.
Demand is more variable, and will fluctuate considerably over a five-year timeframe. In the long term, if supply outstrips demand then there should be a market correction that will act to reduce new supply going forward. In the short term this correction is likely to be in the condominium sector.
Over the next five years both local and Chinese backed demand and supply are likely to be the biggest influencing factors on the Cambodian real estate sector.
Q: Over the last decade, Cambodia was among the fastest-growing economies in Southeast Asia. This is a trend that is expected continue in the next several years. What does Cambodia's real estate industry need to do to keep pace with the Kingdom's rapid development?
Soth Virak
CEO, Huttons CPL
According to the International Monetary Fund, World Bank, and Asian Development Bank, Cambodia needs to keep improving in five key areas to keep pace with rapid development.
First, we need to improve the infrastructure around the country. Currently, major areas such as Phnom Penh, Kampot, and Sihanoukville have seen new construction in terms of roads, railways, bridges, waterways, and so on.
Second, Cambodia needs to reduce the cost of doing business, especially utility costs. The cost of electricity in the Kingdom is higher compared to other countries. With new hydropower dams, solar power plants, and coal-fired power stations it should be possible to reduce electricity costs.
Transparency and market regulations also need to be improved to draw attention and buoy investors' confidence. Developers are looking for countries with good investment prospects and where investors are treated fairly.
I also believe that Cambodia needs a better education system that will help address the skills gap. This is a good way to build human resources quantitatively and qualitatively. In China, for example, there is no shortage of skilled labour. Because of this, their economy keeps improving. Cambodia should follow China's example and build a large pool of highly-skilled labour.
Last but not least, we need a longer time frame for transition from the use of the US dollar to the Cambodian riel for commercial transactions. While I believe the economy will benefit more from from transactions using the local currency, it is better to transition gradually for stability's sake and for the convenience of many, especially foreign investors.
Teng Rithy
Founder & Director, Property Investment Realty Partner
I believe that Cambodia's economy will continue to grow if the political situation remains stable. To support the economy and welcome more international investors to Cambodia, we need to have quality infrastructure in the form of transportation, power and communications as well as solid support systems in place.
This means that Cambodia, particularly the key areas of Phnom Penh, Siem Reap, Battambang, Kampong Cham, Sihanoukville, and Poipet, should be well connected. In Phnom Penh alone, there is infrastructure expansion towards the suburbs. Many roads are being built outside the city, one of which is a new "Ring Road". There are also new sewage systems and electricity connections. These moves are leading more people to relocate to the city.
In the same vein, there are many things that Cambodia's real estate industry can do to make sure the country's rise will not leave it behind.
For one, it needs to embrace and keep pace with technology. In the more developed countries, smart homes, where entertainment, security, lighting, air-conditioning, and other systems are controlled remotely or via an app, are becoming a trend.
While several major mixed-use and residential developments in Cambodia now tout smart homes, the Kingdom needs to do more to push or encourage development towards that direction.
Cambodia also needs to continue improving vocational skills and training programs to close a significant skills gap and make Kingdom workers, particularly those in the construction and property industry, better and more competitive.
The government should also make sure that laws and regulations governing the real estate and related industries are updated and enforced fairly.
James Hodge
Associate Director, CBRE Cambodia
To limit risks over the long term and in order to help the market keep pace with development, but not out-strip it, developers must focus on the needs of individuals and companies and respond with projects that match demand.
Cambodia's real estate industry has a significant opportunity to build a competitive advantage, should it embrace technology. This would enable the early stage of the real estate sector's development. The benefit of developing legal and technical frameworks means that it is easier to leapfrog other markets when embracing new ways of working through the implementation of up-to-date ideas and procedures. Property tech innovations like blockchain and smart city policies may well be in operation in some developments in Cambodia during the next five years.
Infrastructure investment is required in a significant volume. With a growing population and increasing traffic, finding a solution for future transportation and infrastructure demands is imperative to the continued success of the real estate sector. If goods, services and people are not able to move freely this will place a cap on the level of development that is sustainable in any one location. An accessible, efficient form of public transport will be key to the long-term growth of capacity in urban areas. For infrastructure investment to be forthcoming, Cambodia needs to promote a suitable platform upon which such investments can be solidly based. An attractive, clear platform will allow Cambodia to leverage the weight of private sector capital available.
In order to remain strong the real estate sector will most likely need to accept higher levels of control. At present developers are largely free to build properties that suit their wishes, and this doesn't always mean that the resultant property is of benefit to occupiers, users and the people of Cambodia. Improved planning policies as well stricter safety and design standards will help to ensure that buildings are great places to live, work and play.
Furthermore, there is a clear skills gap in the construction and real estate industry which is sustained by a lack of vocational education and the limited development stage of regulatory processes. In the real estate sector the first educational courses are coming, and this combined with experience and increased international exposure, as well as the excellent work of the Cambodian government in tightening regulation and modernising systems and processes, we can expect to see this gap close significantly over the next five years. Greater capacity, skill and transparency will all assist the market in delivering an environment that international investors find appealing and competitive.
Realestate.com.kh, Cambodia's home of real estate, has the most up to date information for buyers, sellers and property enthusiasts! Sign up for our newsletter today and stay up to date with the latest info…