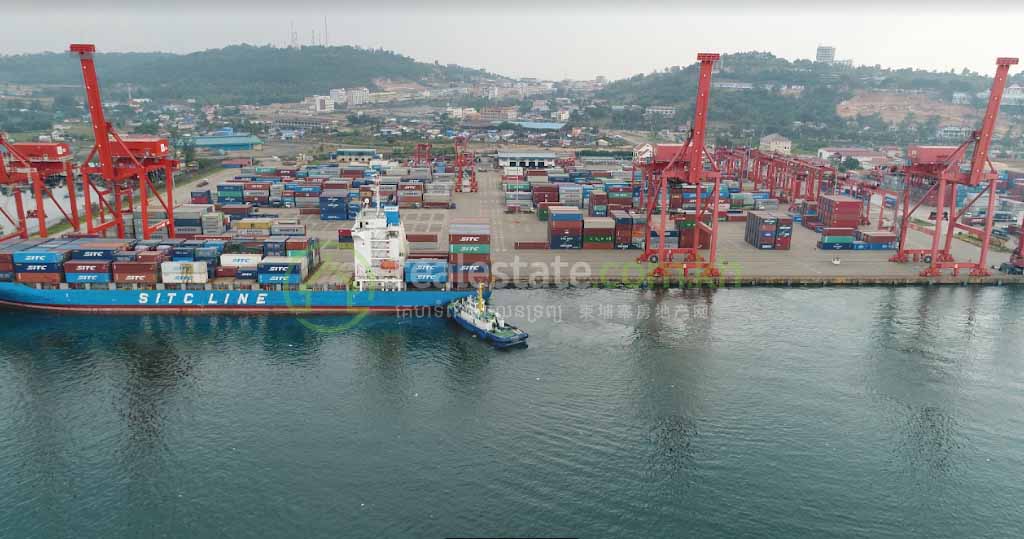 The Cambodian Government will further expand its sole deepwater seaport to accommodate more and bigger ships.
Minister of Transport Sun Chanthol recently disclosed to the local media that they are working at further expanding the Sihanoukville Autonomous Port (PAS), turning it into an intermediate-scale standard port in the next few years.
According to the Transport Minister, the expansion, which will entail the construction of another container terminal, will enable the port to handle more than 1 million TEUs (twenty-foot equivalent units). The existing port capacity stands at more than 500,000 TEU. While the biggest in the Kingdom, it is much lower compared to the capacity of major ports of neighboring countries.

The expansion will also enable the Sihanoukville port to receive ships of more than 60,000 tonnes. At present, the port can only receive and handle ships of much lesser size and tonnage.  
The proposed new container terminal will have a depth of 14.5 meters and a length of 350 meters. Funding is courtesy of a US$209 million soft loan from the Japan Government through the Japan International Cooperation Agency (JICA).
Construction of the new terminal will commence next year and targeted to be completed by 2023.
Owing to its importance and with Cambodia's economy growing, the Sihanoukville port has been continuously upgraded and expanded in the last few years.  The port is the Kingdom's most important trade gateway. Cambodian's most important export products like garments, rice, and rubber are mostly shipped from there.
The Sihanoukville port handles more than 70 percent of Cambodia's container traffic.  Last year, the Sihanoukville port handled 459,835 TEU.
The seaports of Laem Chabang, Klong Yai, and S. Kittawan in Thailand and Cai Mep in Vietnam also handles a large volume of Cambodian cargo.
Expansion of the Sihanoukville port means less reliance on these foreign ports and less burden for Cambodian shippers, who have to contend with additional customs inspections.
Last month saw the inauguration of a new multi-purpose terminal at the Sihanoukville port. With a depth of 13.5 meters and length of 330 meters, it allows for the berthing of much larger vessels. The facility doubles as a logistical base for tugboats and oil exploration.
Funding for the US$74 million project was shared by the Cambodian and Japanese Governments. It was constructed by TOYO Construction Co., Ltd. and MAEDA Corporation of Japan.
The addition of the new Japan-funded terminal brought to 9 the number of terminals at the Sihanoukville port, with a total combined length of 1,660 meters.
Occupying 125 hectares of land in the southwest corner of Cambodia, the Sihanoukville port was constructed in 1956 and started operations four years later. The port is safe from typhoons, tsunamis, and other natural disasters.