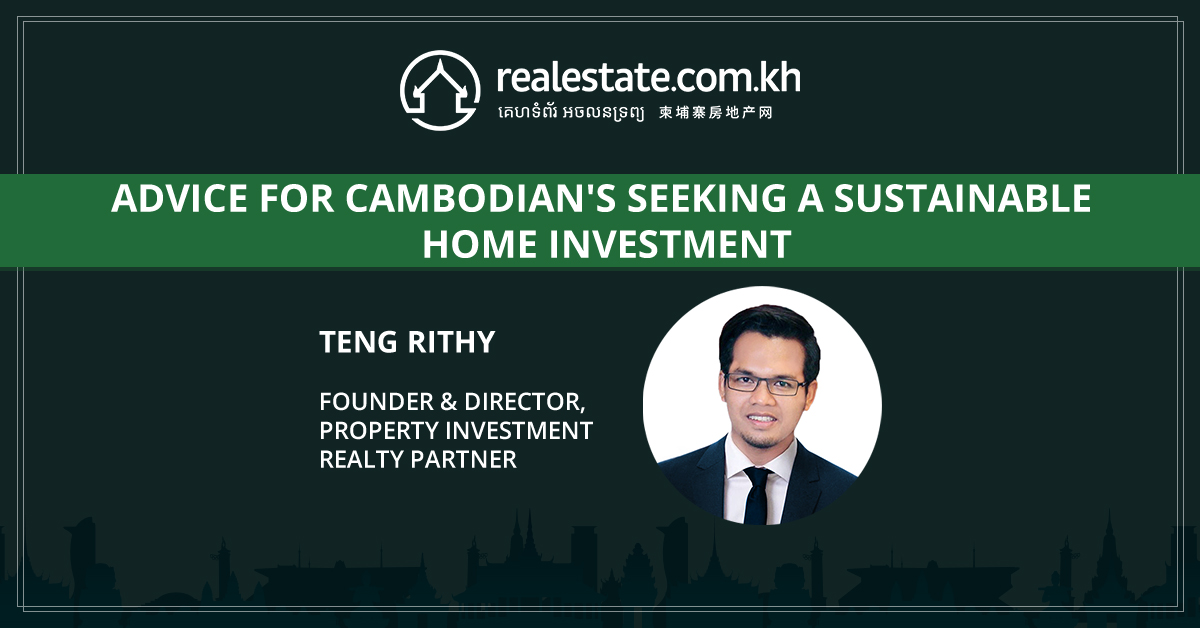 Mr. Teng Rithy, Founder and Director of Property Investment Realty Partner, has over 10 years experience in the real estate industry, and is well regarded as an authority on investment on the Kingdom's booming real estate sector.
During the Cambodia Real Estate Show 2 held on 6-7th October, 2017 in NagaWorld, Mr. Rithy delivered a seminar focused on giving practical advice to Cambodian's seeking a sustainable home investment.
Please see the full the video here!

To begin with, Mr Rithy provided an analysis of the key areas of development in Phnom Penh.  He further highlighted the importance of following Phnom Penh's 2035 Master Plan, in order to make a successful investment in the property market.  
The announcement of the Master Plan was initially in October 2005 by the Governor of Phnom Penh, to highlighted the principal areas and development plan of Phnom Penh - and the plan is still anticipated to continue developing until 2020. Mr Rithy highlights the following key developments areas and their purposes  in Phnom Penh, based on the Master Plan, thus far:
1. Preak Pnov: Facilities development and the development for the administration business area.
2. Chroy Changva: Development of commercial, office and tourism work.
3. Areyksat : To become an established entertainment center, and the development of jobs and necessary facilities.
4. Boeung Kak: To continue to build commercial offices of international standards and improve tourism development in the area.
5. Triangulation area: Focus on improving harbors, and becoming an area of potential for large scale developments.
6. Chom Chao: The ultimate goal is to become the 'service town'', for the commodities of the business and working.
7. Chbar Umpao, Boueng Snao:To become the forefront area of both commerce and tourism
8. Takhmao, Chak Angrae: A prime area for work institutions and a focus on entertainment and lifestyle.
Mr. Rithy believes that before making any investment in a particular area, it is vital that the prospective investor is aware of the relevant city's 'Master Plan', as it enables an informed investment in an area where future benefits can be reaped. Mr Rithy believes that an uniformed decision and disregard for these vital plans can lead to the failure of an investment.  
From Mr Rithy's perspective, the development areas in Phnom Penh have so far followed the Master Plan. For example, LYP Group has already built LYP bridge and been developing other projects in Prek Pnov area- redeveloping the area into a transportation hub of Cambodia. Likewise, In Chroy Changva, Oknha Pung Kheav Se, a renowned "business tycoon'' has been developing Chroy Changvar Satellite City, and other Borey projects have also been developing in that area.
Furthermore, 111.6 hectares Phnom Penh City Center (PPCC) is being developed in Boueng Kok area and is set to become Phnom Penh's Central Business District where modern business, innovation and international-standard infrastructure will meet.
Mr. Rithy emphasised that every real estate investor must follow and  understand and follow the city's Master Plan as he see's it as ''the backbone of investment'.
"If we do not follow Master Plan, our investment is doomed to failure. For example, if you want to build a 30-storey condominium and buy land in the area that there is a height restriction for the building, this means that you are investing in the wrong location and will face trouble with your investment." Mr Rithy stated.
He continues: "For home buyers, If you buy a residential project, you should look for renowned developer building a project which can provide a ''one-stop'' living environment with facilities as; schools, hospitals, banks, markets, offices, restaurants and gym etc, onsite or in the area.  Some developers do not focus on these facilities which is a reason why their project is not a success and there are not many clients interested in their project"
As a developer, before construction of a residential project, Mr Rithy believes the focuses should be on the environment (fresh air), safety (quality of building) and facilities such as; big gardens, swimming pools and easy water, electricity, and sewage system. Good management and economical efficiency are critical factors as well. "Sustainable home living means that you can live in that home for a long time- and with pleasure". according to Mr. Rithy.  
One project that Mr. Rithy has been directly involved with is The Mekong Royal project - located along National Highway 6A. Mr. Rithy stressed that this project achieved success because it focused on all these factor and creating a development with an ecosystem of features for residents. So far, The Mekong Royal has sold 95 percent of its units.
Commenting on growing plot land transaction trend outside of Phnom Penh, Mr. Rithy said: "Some plot land development is not in accordance with Phnom Penh's Master Plan. For example, some locations are for industrial purposes but people use those areas to develop residential projects."
Mr. Rithy explained that in this case, the developers are not looking for a sustainable home investment. This is due to the reason that residents will not live a comfortable life in the area due to  more factory buildings, that make a lot of noise- which ultimately affects resident's health. "The worst thing is that there will be no hospitals or schools in those areas since it is for industrial, not residential purposes" Mr Rithy concluded.
Ultimately, for any developer and buyer looking to invest in Phnom Penh- looking at the Master Plan should be one of the first steps, as it enables the individual to be fully informed about the future of their area of investment, and develop or buy a project which will suits lifestyle needs in the long term- and allow for a return on the investment.