Phnom Penh as a city has not stopped expanding for decades, nor does Cambodia's capital show any signs of reducing its spatial expansion in all directions, as developers look for more affordable land and buyers move along new major developments such as key access routes, megamalls, schools, and the new international airport.
The scale of infrastructure in the south of Phnom Penh is expanding rapidly, and as a result, there has been significantly increased interest in the area ever since Hun Sen Boulevard was announced a few years ago. The area has become a prime location for all types of real estate development due to the growing infrastructure and relative abundance of affordable land.
The Royal Cambodian Government's decision to open the new ambitious international airport in the south of the city has prompted further development and could lead to rail links, new roads and other services to provide for travellers to reach the airport and connect them to the city. Therefore the area has the potential to foster increased well-developed and good-quality residential, commercial and industrial activities.
Population Growth And Urban Expansion Bring Opportunities To Southern Phnom Penh
The latest census report released by the National Bureau of Statistics of Cambodia highlighted some important trends. In 2019, Cambodia's population reached 15.6 million, an annual growth rate of 1.4% compared with the 2008 census of 13.4 million and the urbanisation rate remained relatively stable, with an average annual growth rate of 3.2% from 2013 to 2019.
Phnom Penh continues to see urban population growth which has created new challenges for the capital's infrastructure and public facilities and resulted in the Cambodian Ministry of Land Management, Urban Planning and Construction adopting the Capital Phnom Penh Land Use Master Plan 2035 to guide land use and ensure the promotion of sustainable urban development.
The city has increased its total area more than six times, reaching 679 square kilometres in 2019 with a World Bank study indicating that Phnom Penh's urban space expanded at the second fastest rate in East Asia. 
The urban sprawl means that potentially the southern corridor of Phnom Penh offers among the greatest development potential due to fewer geographical constraints, large amounts of undeveloped low-cost land and improving infrastructure accessibility.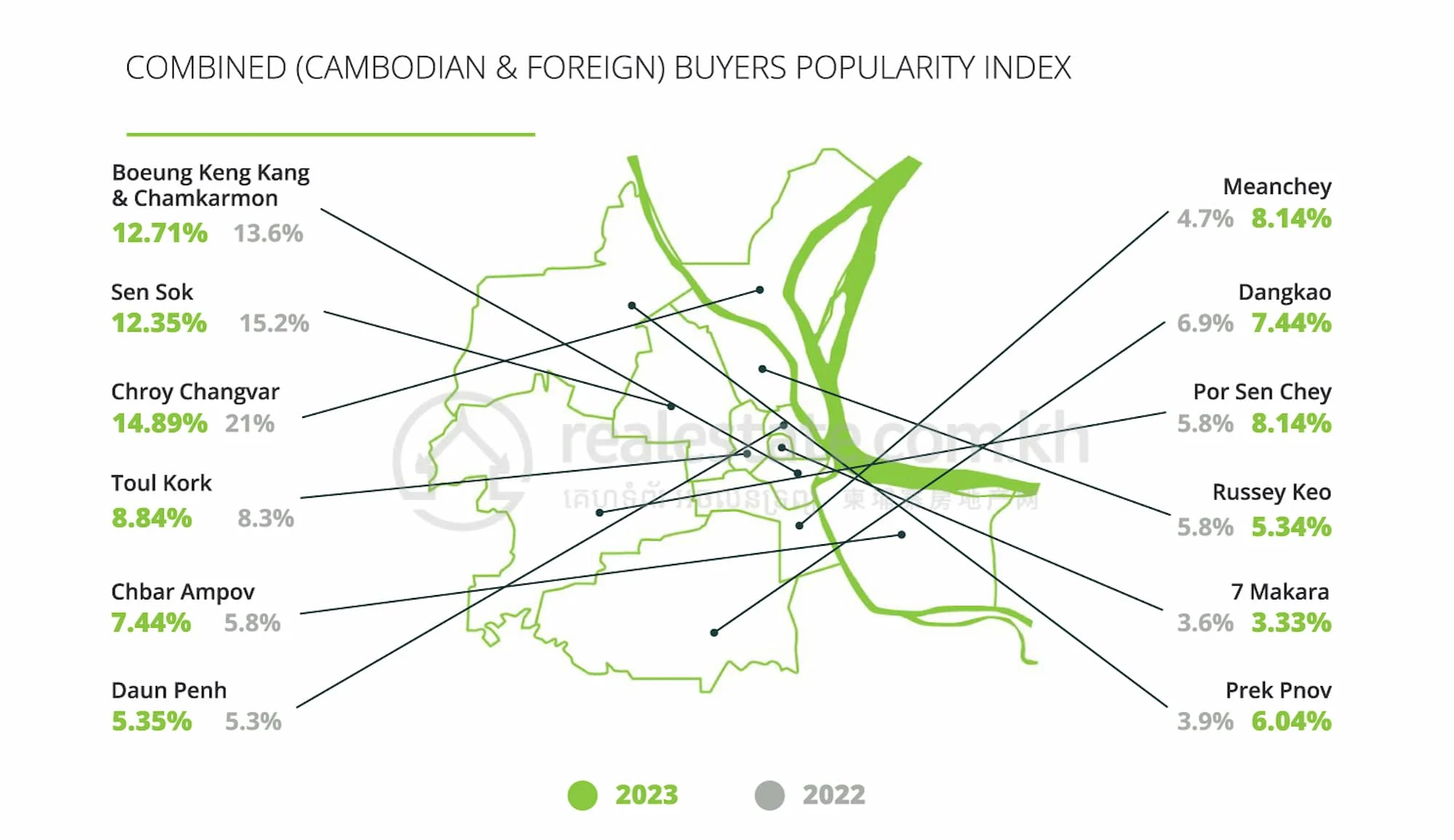 Within the capital, combining interest from Cambodians and foreigners in the recent survey on property preferences, the three areas most in demand to buy property in at the start of 2023 were:
Chroy Changvar
Chamkarmon / BKK
Sen Sok
This suggests that the south has room to grow and rise in the rankings as it becomes more connected and developed to match the same attraction as the other more popular areas.
New Overpasses, Roads, And Maybe Even Light Rail - How has Infrastructure In Southern Phnom Penh Improved
The development of the southern parts of the city extends to Kandal Province and Takhmao which means that bridges, overpasses and other infrastructure (which has completely transformed the lakes and rice fields present here just a few years ago) into a ever increasingly connected urban jenga of residential, commercial, industrial, and logistic developments.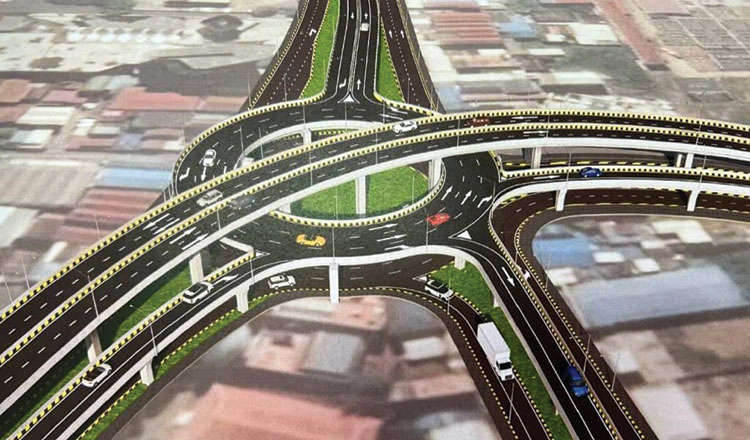 A new overpass located at the triple intersection of Samdech Techo Hun Sen, Street 271, and Monivong Boulevard at a cost of USD $36.7 million got underway in August 2022. The construction period is 36 months and is due to alleviate the growing traffic congestion issue which has become more serious.
There are several bridges planned or under development, including as many as three bridges across the rivers which would facilitate traffic flow in and out of the capital.
In mid-2023 an asphalt concrete road 4 km in length and 50 meters in width was started that will connect National Highway 2 and Road 271, and will also include two concrete bridges. Reports indicated this is the 3rd main road of the ING City development project - in addition to more than 60 other roads being constructed as part of the ongoing satellite city development project.
This southern region of Phnom Penh is already home to international schools such as ISPP, mega malls, and The Factory, and will likely be a thoroughfare for the new Phnom Penh International Airport. 
The Techo Takhmao International Airport could introduce new travel options such as express bus lanes, and other transport routes connecting the airport to the city, including the possibility of a light rail. 
H.E. SUN Chanthol, Senior Minister, Minister of Public Works and Transport suggested in June 2023 that the proposed light rail line may run underground from Phnom Penh to the airport which is located around 35 kilometres south of Phnom Penh. Modern transport connectivity is key, as the airport when completed, will be among the top ten largest in the world and is due to be operational by 2025. 
In addition, the number of mega malls and other new retail spaces that have opened in the south of Phnom Penh has also addressed any issues of catering for shopping needs, entertainment and much more for those relocating to the area, and serving the surrounding urban population.
Increased Land Potential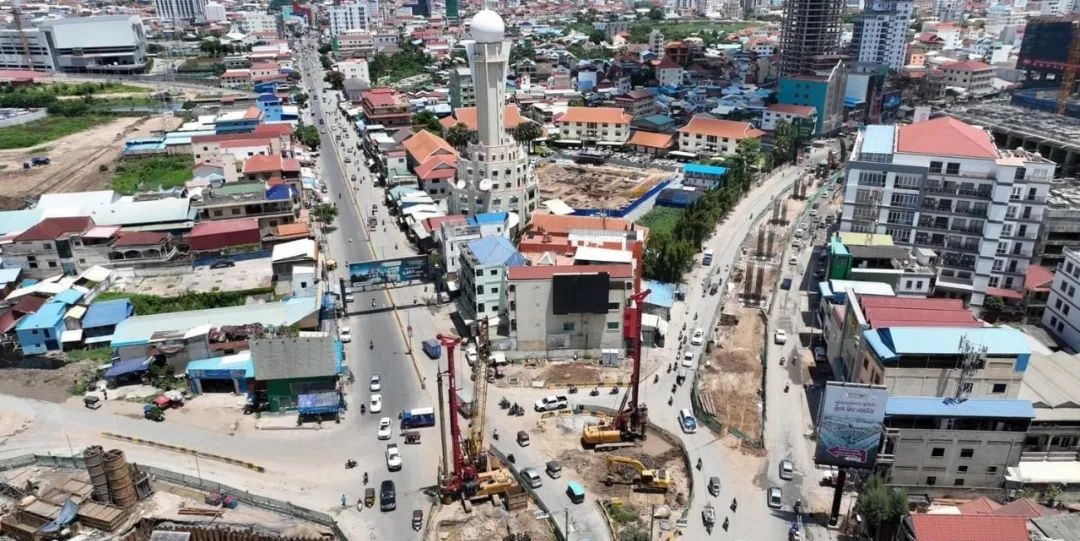 The active residential and commercial growth should mean that the south of Phnom Penh will be in a good position over the coming years. These new infrastructure facilities will reduce travel times between economic hotspots, expand accessibility, and further increase property values. 
Only a few areas of the capital's south featured as the most valuable of the 2023 land prices in Phnom Penh which suggest they should have the biggest potential to increase.
As the number of residential projects continues to increase as developers and homebuyers take advantage of the market trends, as many as 54 completed residential projects are now located in the southern part of the capital while 30 projects are under construction. These include the previously absent high-rise residential projects in the area
This all means the southern region of Phnom Penh is undergoing dramatic changes, with continued improvements in infrastructure, relatively affordable land prices, growing population and urbanisation trends, and interest from local and international investors and buyers - making it an area to watch for property buyers and investors.