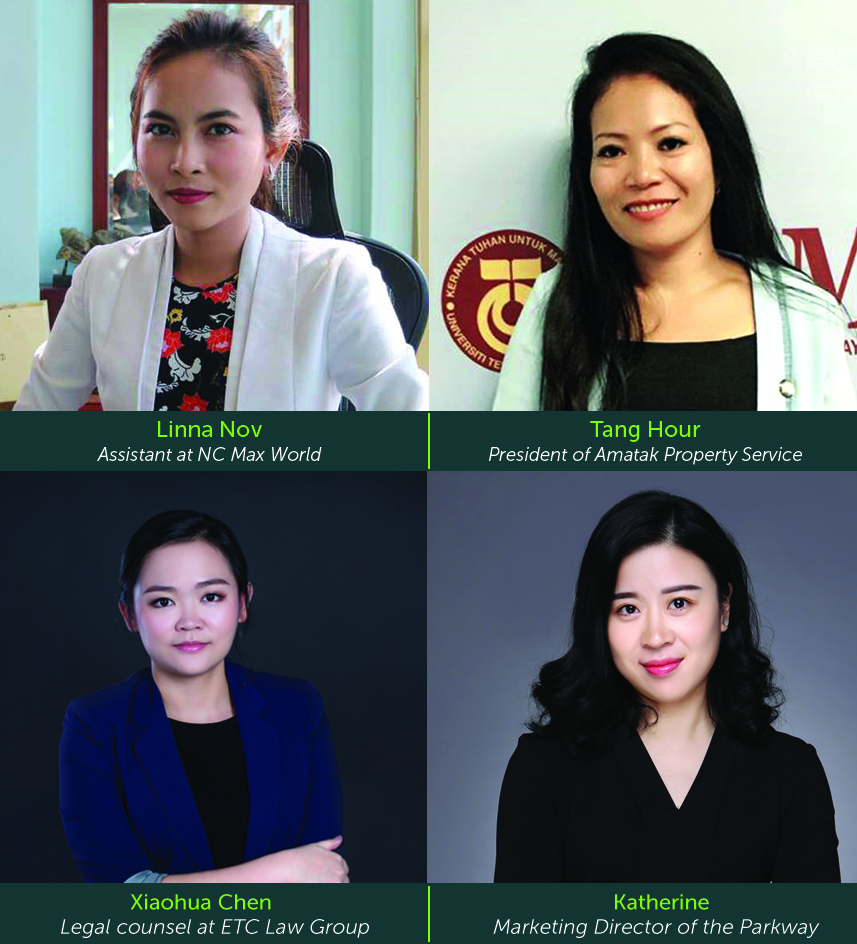 A number of Cambodian women actively contribute to the development of Cambodia's Real Estate Industry. When in the past they mostly work from home, many women now work as CEOs, managers, salespersons, etc. for real estate companies.
These women's role in developing Cambodia's real estate sector is very significant and should never be underestimated.
Realestate.com.kh caught up recently with few of these trailblazers. Khmer Content Writer and Editor Ky Kosal spoke to Tang Hour, President of Amatak Property Service Co. Ltd. and Linna Nov, Assistant at NC Max World about their own experiences, role, and prospects for women in the industry.
This article will also include an interview with Xiaohua Chen, legal counsel at ETC Law Group, and Lili (Katherine) Ding, Parkway Investment Co. Marketing Director. Ms Ding previously served as Parkway's Sales Manager. While not Cambodian, they nevertheless contribute a lot to the advancement of the industry thru Ms Chen's Real Property Law-focused legal practice and Ms Ding's leadership role in one of top real estate developers in Cambodia.  
The following are excerpts from their interviews. They have been slightly edited for content and clarity.
REAKH: Please tell us about your background:
Tang Hour: I am not a highly educated woman and my family only expected me to look after the household. But that was not comfortable with me. Then I studied English and started working at Le Royal Phnom Penh, and then later for Sunway Hotel as a Spa Manager. Later, I decided to have my own business. I operated a beauty spa for seven years. In 2014, I began working as freelancer for a local real estate agency. I saw the great potential. So, in 2015, I started my own company, Amatak Property Service.
Linna Nov: I was still completing my university studies in Finance when I began my career in real estate. I have been selling and listing properties in Cambodia for the last 4 years and had my fair share of transactions. In my culture, women are kept in the house before and after marriage and never have any chance to gain financial independence like I have. Life is good since I started to work at NC Max World. The company has taught me all that I need to know about the industry.
Xiaohua Chen: We first came here as investors. Seeing the lack of property management and professional advisory services in Cambodia, me and my husband decided to leave Australia for Cambodia. We wanted to grow our own investment in a more sustainable and profitable way. We also found a dearth of legal services available to the Chinese, despite the fact that they have the most investors in Cambodia. These encouraged us to step in and focus on the Cambodia Real Estate Industry.
Lili Ding:  I have more than 10 years of experience working for the real estate industry both in China and Cambodia, specializing in sales.
REAKH: What has been your greatest achievements? Greatest challenges?
Tang Hour: My interest in real estate started in 1997. I started buying several cheap flats in Phnom Penh, renovated them, and then sold them at a higher price. Founding and owning a real estate company is my greatest achievement. Clients trust me and we have many new and return clients. However, I am busy most of the time. Sometimes, I don't have time for my family. This job requires working "under the sun", reason why many women doesn't like it.
Linna Nov: I started to work at NC Max World while I was still in school. I decided to work for the company because I wanted to come out of shell of women's submissive culture in this country and to achieve financial independence. The business has raised my self-confidence and taught me professionalism in representing both seller and buyer.
I have listed and closed over US$8 million in sales on my own listings and buyers. This year I have already closed two large real estate transactions! I am now able to support my entire family and provide them with a good stable life.
Xiaohua Chen: Our law firm was officially launched in March 2017. In 2017, we were honored to participate in two projects left over by history for more than ten years, respectively the Oil Refinery Project in Kampot Province and Gold Tower 42 in Phnom Penh city center. Since these two projects were once significant symbols of industry development of Cambodia, resuming these two projects not only pushed the project forward, but also showed to investors that Cambodia is developing way better than expected.
The biggest challenge we are facing is the lack of transparency in Cambodia's legal system. It is very hard to access updated legal documents and materials, especially their English translations, from public databases. The number of multinational companies coming to Cambodia is increasing. They follow the classic pattern of exploring new markets, which requires accurate and updated legal regulations for decision-making. The lack of legal transparency could pose some problems in the future. We are doing our best to make a clear legal analysis for our clients.
Lili Ding: Deep plowing in the real estate industry for more than 10 years, I created numerous sales records. My pursuit of excellence made me the leader of the whole sales team step by step.
Selling houses, which are considered a luxury for many people, has been one of the greatest challenges I have meet in my long sales career in real estate. But it also gave me the opportunity to enhance my sales skills and other aspects related to customer communication. I look forward to breaking more capacity constraints.
REAKH: Why is a career in real estate attractive to women?  What is your advice to other women interested in having a career in real estate?
Tang Hour: I think a career in real estate is not only for men, but also for women.  It depends on whether they love their work or not. The present and future prospects for the real estate industry are good.  This generation of women has freedom to pursue to their own careers.  If you have a passion for real estate, go for it.
Linna Nov: The real estate business is very attractive to women who do not mind working hard and can be ready 24/7. Many women do not have the freedom here and it is hard to have careers. However, for agents, the real estate business is no easy task. But you just have to believe in yourself. The company has given me an opportunity and has believed in me and that is main reason why I can do what I do.
I would like to encourage more young women to believe in themselves and come out of their shells so that they can excel in their careers. You just have to work hard, be honest, and maintain high ethical and moral standards.
Xiaohua Chen: As far as I can see, the real estate industry is still and will always be a male-dominated industry. The call for gender equality will provide an opportunity for competent females to get promoted, which means being female itself may be an advantage in this industry. Like us, female overseas legal-service providers are playing a more than a simple role. A good application of our advantage in language and flexibility will no doubt help advance our careers.
Lili Ding: Everyone, whether they may be men or women, likes luxury goods. People are chasing after luxurious and branded goods like LV and Chanel. Houses are considered a luxury and they are the hardest to sell. Most people only buy one house in their whole, in their own country. Properties overseas are luxury among luxuries. The challenge, just like what I encountered in selling houses, attracted me most to the real estate industry. The industry also gave me the opportunity to enhance my sales and communications skills.