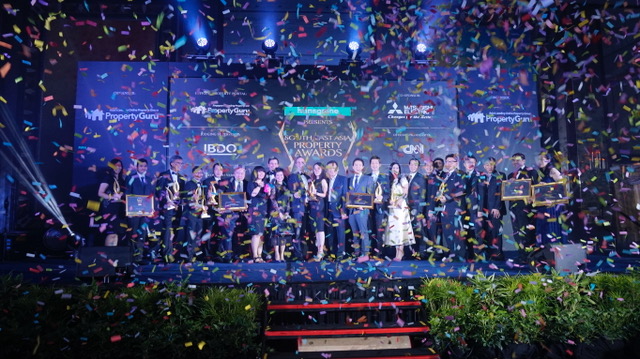 The finest developers and projects in 8 countries collected the Best of the Best honours in real estate. And Realestate.com.kh was extremely proud to be an official media sponsor for the event, alongside the official broadcaster CNN! 
Malaysia's Sime Darby Property won the coveted Best Developer (South East Asia) title
Thailand collected the most number of regional titles, followed by Philippines, Indonesia, Vietnam and Singapore
Around 400 VIPs and senior industry figures attended the exclusive, black-tie gala dinner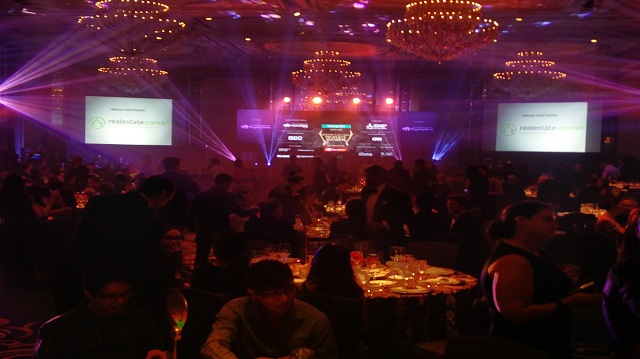 SINGAPORE – 24 November 2016
Southeast Asia's best developers and achievers brought honours and prestige to their respective countries as they competed for the regional titles at the 6th annual South East Asia Property Awards 2016 grand finale event of the prestigious Asia Property Awards series, presented by Hansgrohe and organised by PropertyGuru, Asia's leading online property group.
According to the judges, the Best Developer (South East Asia) winner is an all-rounder with a long-term commitment in the Malaysian real estate industry. "Inheriting its legacy of excellence in plantation, one of the Sime Darby Group's core businesses, Sime Darby Property is a prominent developer with a 40-year track record of developing sustainable communities and with expertise in property development, property investment and asset management.
"Given its significance and constant reinvention, Sime Darby Property is certainly an integral part of developing Malaysia's history, and now Asia Property Awards history as the 2016 Best Developer (South East Asia)."
Accepting the region's highest honour in real estate, Sime Darby Property's managing director Dato' Ir. Jauhari Hamidi commented: "The recognition of Sime Darby Property as the Best Developer not only in Malaysia, but in South East Asia by such esteemed industry experts is further testament of our commitment as a trusted developer. We are honoured to receive this award and our heartfelt appreciation goes to the organisers."
Indonesia, which led the grand final nominations tally with 15 nods, ended up with two regional design awards for Sinar Mas Land and Intiland Development, the Best Developer (Indonesia) winners in 2015 and 2016, respectively.
MQDC Magnolia Quality Development Corporation, the Best Developer (Thailand) 2016, led the country's regional winners, with one design award going to thecompany's multi-billion riverfront project – The Residences at Mandarin Oriental, Bangkok. PACE Development's acclaimed MahaSamutr country club and villas project in Hua Hin also took home a South East Asia design award, while Siam Piwat Co Ltd's Siam Discovery was voted the region's Best Commercial Development.
Two regional winners emerged from the Philippines, including a Special Recognition in Sustainable Design (South East Asia) for renowned green developer ArthaLand for its Bonifacio Global City-based ArthaLand Century Pacific Tower development.
Continuing its winning streak, Vietnam's Deutsches Haus Ho Chi Minh City by Deutsches Haus Ho Chi Minh Stadt Ltd followed up their triple victory at the Vietnam Property Awards with the Best Green Development (South East Asia) title.
Singapore's Chiu Teng Group received another accolade as it was declared the regional winner in the new category for Best Boutique Developer (South East Asia). Singapore collected a total of two regional gongs.
Attended by 400 VIPs and senior industry figures from Phnom Penh to Jakarta, the South East Asia Property Awards celebrated the successes of all the country winners following more than a year's journey that began with the launch of the inaugural Cambodia Property Awards in late 2015, when the 2016 South East Asia
Malaysia's Sime Darby Property collected its first regional Best Developer (South East Asia) gong, besting other national winners from Cambodia, the Philippines, Myanmar, Thailand, Indonesia and Singapore.
Property Awards edition began at the entry stage, until the Indonesia Property Awards 2016 held in Jakarta in October.
To date, nearly 190 awards have been presented to the region's finest real estate developers and developments in 2016. The exclusive gala dinner ceremonies have welcomed about 3,000 guests that included top government officials, global experts, senior industry figures and even royalty, and members of the press.
Presented by title sponsor Hansgrohe, the South East Asia Property Awards grand finale was part of the two-day event on 23-24 November at the prestigious Shangri-La Hotel Singapore. The entire event was preceded by the two-day Property Report Congress Singapore, the high-level conference series of Asia's industry leading Property Report magazine that featured insights from around 30 speakers including Winners and Judges of the Asia Property Awards; the South East Asia Property Awards (Singapore) ceremony in the early evening on the 24th.
The much-awaited grand finale event immediately followed the South East Asia Property Awards (Singapore) 2016 ceremony, which saw City Developments Ltd (CDL) crowned the Best Developer (Singapore).
"2016 has been a momentous year for the Asia Property Awards. Since starting 11 years ago the Awards have always endeavoured to reward the best in local real estate and produce credible winners with a transparent entry and judging system. We have achieved this goal by developing the most detailed and comprehensive entry system of any property awards in the world," says Terry Blackburn, founder and managing director of the Asia Property Awards.
"Southeast Asia's property sector has come a long way in the last decade and we are proud to have been a part of that growth," he added. "It's been our privilege to work with all the developers who participated in each country over the years and we can't wait to know who will win at the grand finals this year."
The South East Asia Property Awards 2016 Gala Dinner was supported by co-sponsor Mitsubishi Electric, influential media partners including CNN International, the official broadcaster of the awards, and official property portal PropertyGuru.com.sg, Singapore's No. 1 property website.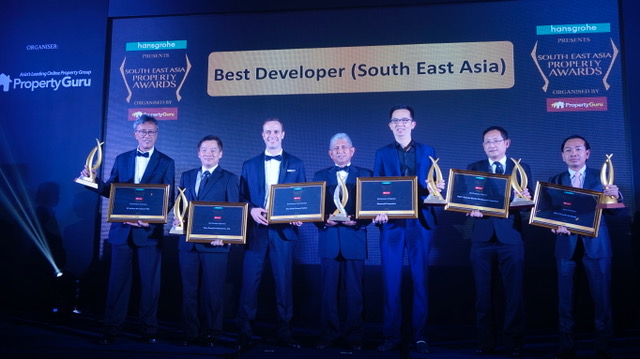 The complete list of Regional and Country Winners in the South East Asia Property Awards 2016:
DEVELOPER
Best Developer (South East Asia)
Borey Peng Huoth Group – Cambodia
Megaworld Corporation – Philippines
Shwe Taung Development Co., Ltd. – Myanmar
Sime Darby Property Berhad – Malaysia – WINNER, South East Asia
MQDC Magnolia Quality Development Corporation – Thailand
PT Intiland Development Tbk – Indonesia
City Developments Limited (CDL) – Singapore
Best Boutique Developer (South East Asia)
AppleOne Properties, Inc. – Philippines
Green Vision Construction Company Limited – Myanmar
Mitraland Group– Malaysia
Siamese Asset Co., Ltd. – Thailand
Asiana Group – Indonesia
Chiu Teng Group – Singapore – WINNER, South East Asia
DEVELOPMENT
Best Villa/Housing Development (South East Asia)
Grand Star Platinum by Borey Peng Huoth Group – Cambodia
The Dàlat at 1200 Country Club & Private Estate by Acteam International Co Ltd, a company of the Centurion Global Group Singapore – Vietnam
MahaSamutr by PACE Development Corporation PLC – Thailand – WINNER, South East Asia
Serenia Hills by PT Intiland Development Tbk – Indonesia
Goodwood Grand by Feature (Balmoral) Pte Ltd (Tong Eng Group) – Singapore
Best Condo Development (South East Asia)
Acqua Private Residences by Century Properties Group, Inc. – Philippines\The Nassim by SonKim Land & HongKong Land – Vietnam
The Gems Garden Condominiums by Capital Development Ltd – Myanmar
Serai, Bukit Bandaraya, KL by BRDB Developments Sdn Bhd – Malaysia
The Residences at Mandarin Oriental, Bangkok by MQDC Magnolia Quality Development Corporation – Thailand
The Mansion at Le Parc by PT Putragaya Wahana – Indonesia
Gramercy Park by City Development Limited – Singapore – WINNER, South East Asia
Best Commercial Development (South East Asia)
SM Seaside City Mall Cebu by SM Prime Holdings, Inc. – Philippines
Deutsches Haus Ho Chi Minh City by Deutsches Haus Ho Chi Minh Stadt Ltd – Vietnam
Sedona Hotel Yangon (Inya Wing) by Keppel Land – Myanmar
Medini 10 by Medini Iskandar Malaysia Sdn Bhd – Malaysia
Siam Discovery by Siam Piwat Co., Ltd. – Thailand – WINNER, South East Asia
South Quarter by PT Intiland Development Tbk – Indonesia
Marina One by M+S Pte Ltd – Singapore
Best Green Development (South East Asia)
ArthaLand Century Pacific Tower by ArthaLand – Philippines
Menarco Tower by Menarco Development Corp. – Philippines
Deutsches Haus Ho Chi Minh City by Deutsches Haus Ho Chi Minh Stadt Ltd – Vietnam – WINNER, South East Asia
Serai, Bukit Bandaraya, KL by BRDB Developments Sdn Bhd – Malaysia
Whizdom Avenue Ratchada – Ladprao by MQDC Magnolia Quality Development Corporation – Thailand
Thamrin Nine Tower 1 by PT Putragaya Wahana – Indonesia
M Social Singapore by Novel Developments Pte Ltd – Singapore
Special Recognition in Sustainable Design (South East Asia)
ArthaLand Century Pacific Tower by ArthaLand – Philippines – WINNER, South East Asia
DESIGN
Best Residential Architectural Design (South East Asia)
Grand Star Platinum by Borey Peng Huoth Group – Cambodia
Embassy Central by Urbanland Central BKK Co., Ltd – Cambodia
Uptown Ritz by Megaworld Corporation – Philippines
The Dàlat at 1200 Country Club & Private Estate by Acteam International Co Ltd, a company of the Centurion Global Group Singapore – Vietnam
Rosehill Residences by Rose Hill Soilbuild Co., Ltd – Myanmar
The Crystal by Genting Property – Malaysia
MahaSamutr by PACE Development Corporation PLC – Thailand – WINNER, South East Asia
Casa Domaine by PT Griyaceria Nusamekar – Indonesia
The Mansion at Le Parc by PT Putragaya Wahana – Indonesia
Selong Selo Residences by The Selong Selo Group – Indonesia
Best Residential Interior Design (South East Asia)
Admiral Grandsuites by Anchor Land Holdings, Inc. – Philippines
The Dàlat at 1200 Country Club & Private Estate by Acteam International Co Ltd, a company of the Centurion Global Group Singapore – Vietnam
The Gems Garden Condominiums by Capital Development Ltd – Myanmar
Puteri Cove Residences by Pacific Star Development Pte Ltd – Malaysia
The Residences at Mandarin Oriental, Bangkok by MQDC Magnolia Quality Development Corporation – Thailand – WINNER, South East Asia
The Mansion at Le Parc by PT Putragaya Wahana – Indonesia
Bellewoods by Qingjian Realty (Woodlands) Pte Ltd – Singapore
Best Retail Architectural Design (South East Asia)
SM Seaside City Mall Cebu by SM Prime Holdings, Inc. – Philippines
Junction City Shopping Centre by City Square Commercial Co., Ltd (a member of Shwe Taung Development Co., Ltd) – Myanmar
theCOMMONS by The Commons Co., Ltd – Thailand
The Breeze Lifestyle Center by Sinar Mas Land – Indonesia – WINNER, South East Asia
Best Office Architectural Design (South East Asia)
ArthaLand Century Pacific Tower by ArthaLand – Philippines
Junction City Tower by City Square Office Co., Ltd (a member of Shwe Taung Development Co., Ltd) – Myanmar
South Quarter by PT Intiland Development Tbk – Indonesia – WINNER, South East Asia
Best Hotel Architectural Design (South East Asia)
Conrad Manila by SM Prime Holdings, Inc. – Philippines – WINNER, South East Asia
Sedona Hotel Yangon (Inya Wing) by Keppel Land – Myanmar
AVANI Riverside Bangkok Hotel by Minor Hotels – Thailand
Six Senses Resort Uluwatu Bali by PT Cahaya Warna Prima – Indonesia
M Social Singapore by Novel Developments Pte Ltd – Singapore
Best Hotel Interior Design (South East Asia)
Conrad Manila by SM Prime Holdings, Inc. – Philippines
Melia Ho Tram at The Hamptons by Tanzanite International – Vietnam
Sedona Hotel Yangon (Inya Wing) by Keppel Land – Myanmar – WINNER, South East Asia
AVANI Riverside Bangkok Hotel by Minor Hotels – Thailand
Six Senses Resort Uluwatu Bali by PT Cahaya Warna Prima – Indonesia
M Social Singapore by Novel Developments Pte Ltd – Singapore
Best Landscape Architectural Design (South East Asia)
Melia Ho Tram at The Hamptons by Tanzanite International – Vietnam – WINNER, South East Asia
Celadon City by Gamuda Land – Vietnam
D'Lagoon by the Lake at Seri Austin by United Malayan Land Bhd (UMLand) – Malaysia
AVANI Riverside Bangkok Hotel by Minor Hotels – Thailand
The New Australian Embassy, Jakarta – Indonesia
Sol Acres by MCL Land Limited – Singapore