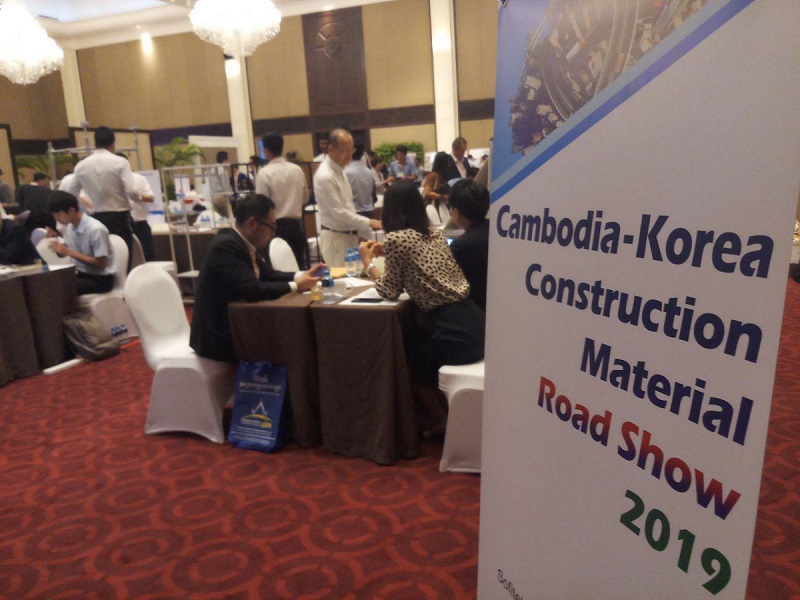 Dozens of Korean companies in the construction sector have shown growing interest in Cambodia's booming property sector. The firms, which are mainly building material suppliers, gathered this week for a roadshow at Sofitel Phnom Penh.
Put on jointly by the Korea Trade-Investment Promotion Agency (Kotra), the commercial section of the Korean Embassy, and the Cambodia Constructors Association (CCA), the event was the first-ever road show in the Kingdom for nearly 30 Korean companies.
Kyungmoo Kwon, director general of Kotra Phnom Penh, said on Thursday that the construction industry in Cambodia is booming and there are a lot of opportunities for Korean companies. He added that much of Cambodia's construction materials are currently imported from China, Vietnam and Thailand.
"We really want to introduce more efficient, safer and better quality Korean products and equipment to the construction sector," he said.
"After this first roadshow, we will expand to do roadshows about construction machinery and design, and seek more cooperation related to construction projects." 
Korean investors lose prominence to Chinese counterparts
According to Kyungmoo, there are 40 Korean companies operating in Cambodia in the construction and real estate sectors. He said that as more enter the market, Korean-backed projects will gain a better image.
Korean investors were originally considered first movers in the Cambodia construction scene. However, they have since been superseded by investors from China. 
The capital's Gold Tower 42 was originally a project backed by Korean interests. Announced in 2006 the building was plagued by numerous delays. Progress sped up again this year and completion is forecasted for 2020.  
Hann Khieng, vice-president of the Cambodia Constructors Association (CCA), said that Korean construction material suppliers offer a wide variety of products, which is helpful to the growing Cambodian construction sector.
"The developers now have more choices. I see many attractive materials that are needed in the construction sector. Korean products are quality and the price is competitive."
If you found this article useful, you should read our overview of the Cambodia construction sector in the Investment Guide 2019.

Article by: