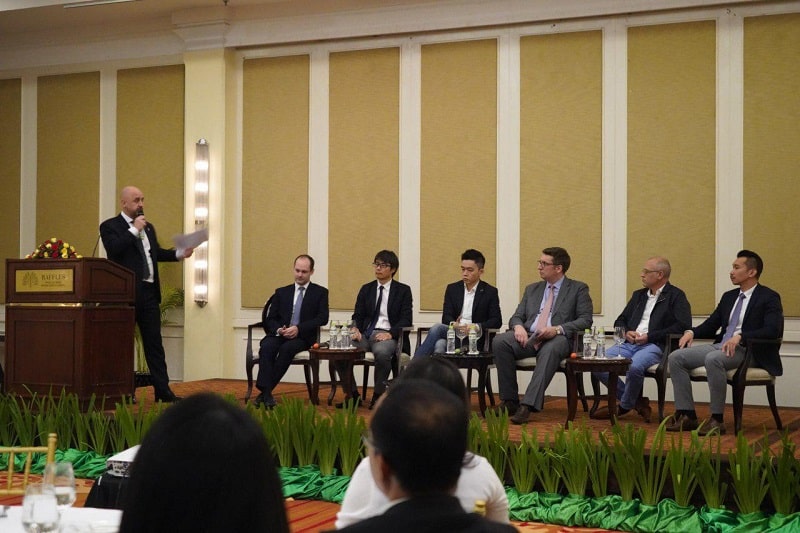 Cambodia is at a pivotal stage in its process of urbanisation. Experts at a seminar Tuesday in the capital said now is the time to push smart city technology.
The event, dubbed Smart Cities and The Future of Urban Development, was organised jointly by the Kingdom's CBRE, legal firm DFDL and construction company Archetype.
Guillaume Massin, partner and managing director of DFDL Cambodia, said at the seminar that Phnom Penh is a fast-growing city and has transformed into a hub of economic development.
"Ten years ago, we could not imagine how a large shopping mall or high-rise building [would appear]," he said, adding that new developments and the city's international airport are already onboard with smart city principles.
"There is more to come, but Cambodia is keeping up with other countries where it needs to be. I think it has quite a competitive advantage in terms of urban planning." 
What is a 'smart city'?
By definition, a smart city is a sustainable urban development that uses technology to address problems such as housing shortage, traffic congestion and environmental degradation.
Phnom Penh, Battambang and Siem Reap are the three cities in Cambodia that have been included in the Asean Smart Cities Network. The municipalities are set to receive assistance from the Japan government in implementing advanced tech in their urban spaces.
ASCN is seen as a collaborative platform. Usually, three cities from each member state are included in the initiative. 
Some developers in Phnom Penh have already started building up to ASCN specifications. Overseas Cambodian Investment Corporation's Chroy Changvar district satellite city and Ing City, south of the capital, follow the initiative's framework.
Phnom Penh City Hall's administration director Seng Vannak said during the discussion session on Tuesday that the concept of promoting smart city concepts is good but there are several challenges surrounding implementation. 
One of the biggest challenges, Vannak said, is increasing awareness among Cambodian people and help them navigate the changing urban space.
"The main challenge is how to help people understand their place in the city and how they can be a part of its development."
If you're interested in learning more about the development of Cambodia, download our Investment Guide 2019

Article by: