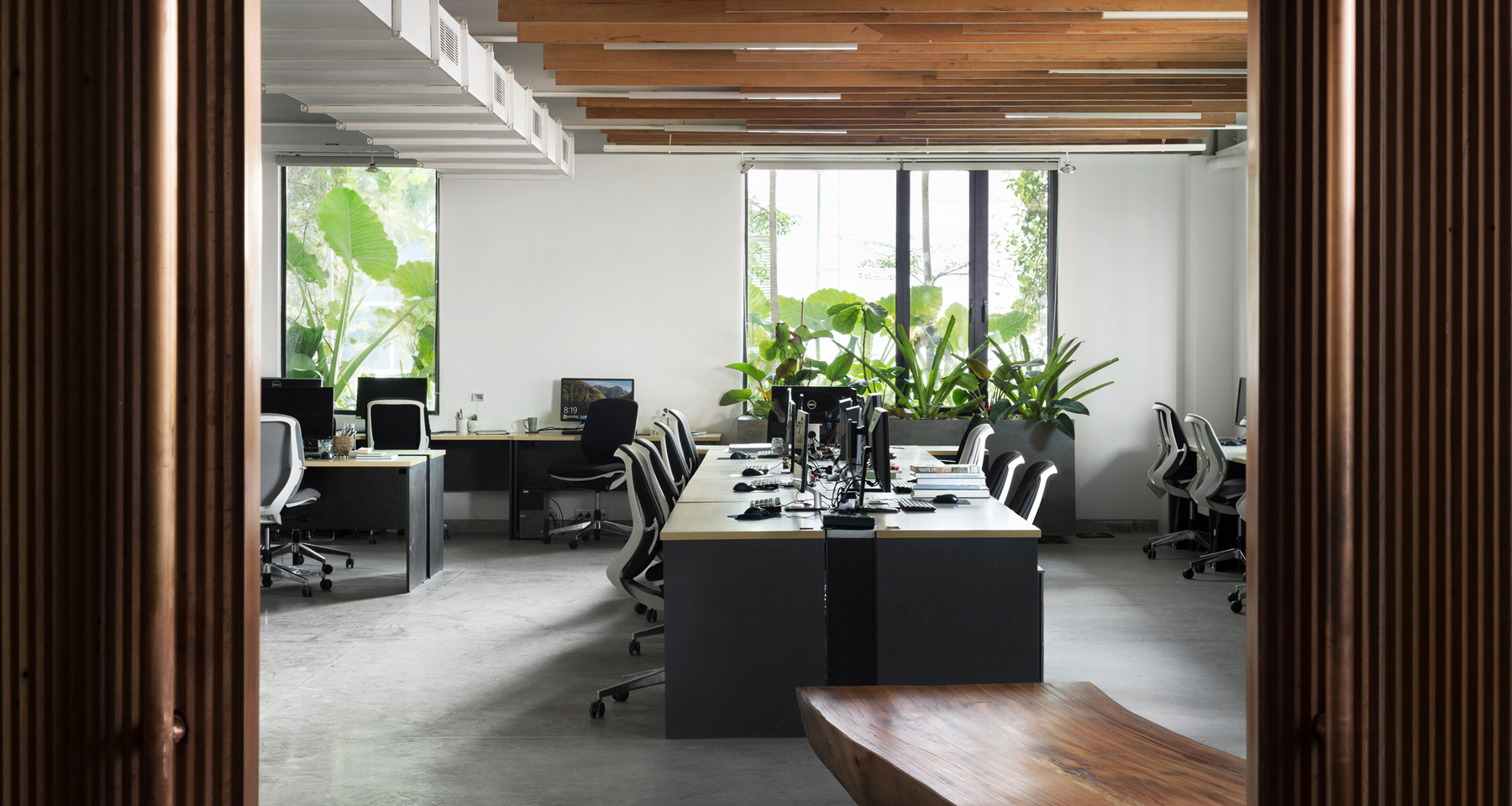 (A sample of office space for rent in Phnom Penh. Photo courtesy of Raintree Cambodia)
The real estate sector of Cambodia has progressed tremendously in the past few years with a lot to do with foreign direct investment bringing big companies and entrepreneurs alike in Phnom Penh. As such, office spaces have grown in demand to house rising local businesses and foreign companies wanting a piece of Cambodia's growing market.
Overview of office spaces in Phnom Penh
There are many options for companies to set up shop in Phnom Penh. The city offers a wide range of office space choices and it's only growing with each passing year.
Knight Frank, a real estate consultancy firm in Phnom Penh, released a report called Cambodia Real Estate Highlights First Half 2019. In their report, they indicated 4 key findings for Phnom Penh's office sector, namely:
The completion of Diamond Twin Tower, Elysee Tower, and Prince Holding contributed approximately 46,444 sqm of net lettable area (NLA) to the Phnom Penh office stock, taking the total office supply to 463,701 sqm.
Diamond Twin Tower, a mixed development comprising condominiums, office and retail components, was the thirst stratified office building to be added [to] Phnom Penh's office stock.
The new incoming supply placed downward pressure on the overall average occupancy, dropping 5.2 percentage points [from 88.5%] to 83.3% during H1 2019.
Yield-driven investors may be attracted to stratified office investments as the condominium market continues to cool down.
There has been an overall increase in available office spaces in Phnom Penh as of 2019. The Knight Frank report also projects that the growth (if monitored projects are completed on schedule) would more than double by the year 2021; offering up to 1,059,170 sqm NLA.
Office spaces in Phnom Penh are distributed in the following areas:
Daun Penh (32%) - considered Phnom Penh's (Primary) Central Business District
Chamkarmon (25%)
7 Makara (17%)
Boeung Keng Kong (15%)
Toul Kork (4%)
Sen Sok (4%)
Meanchey (2%)
Chroy Changvar (1%)
Office Space Grading in Phnom Penh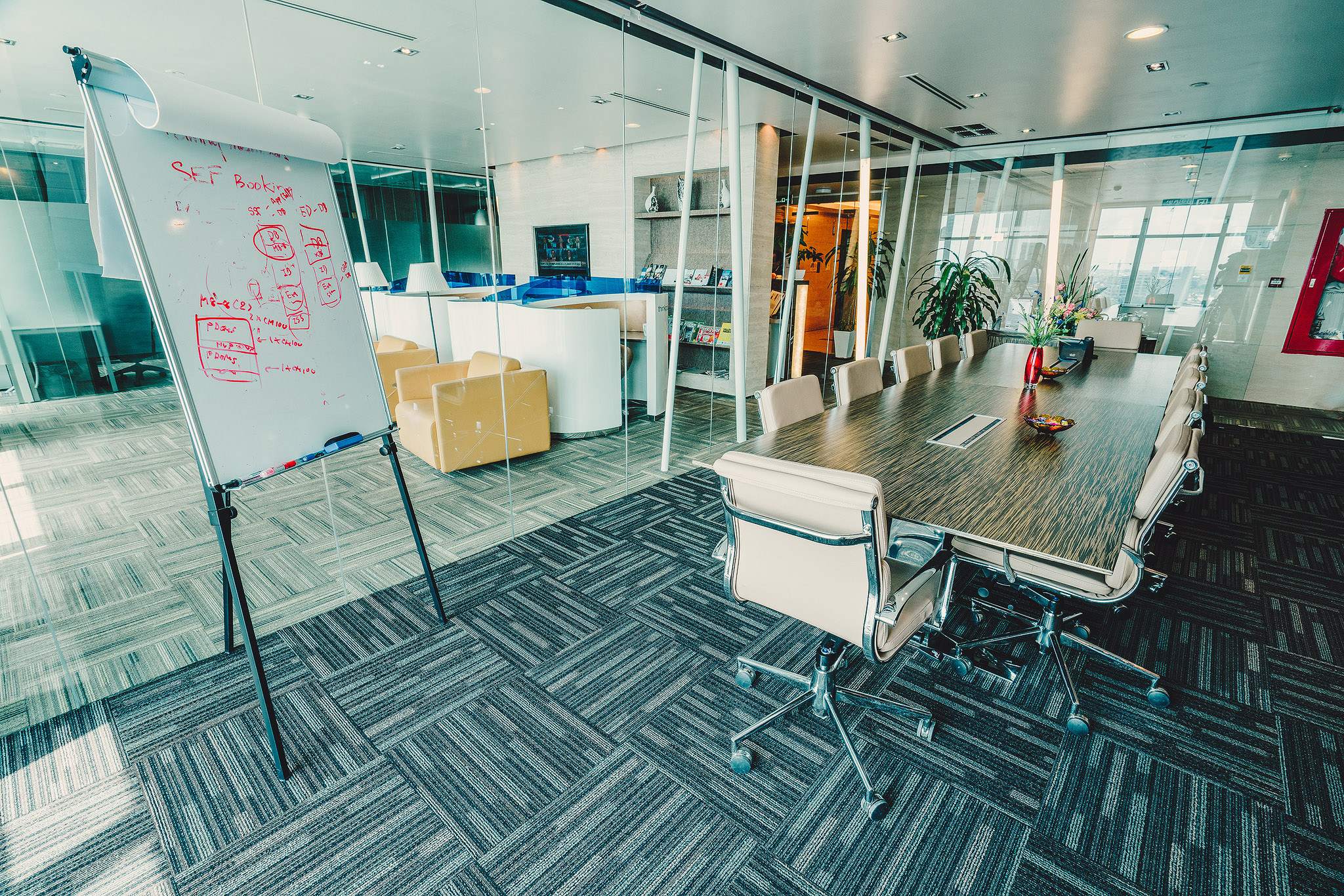 (An office meeting room in Phnom Penh. Photo courtesy of Canadia Tower)
The year-on-year expansion of the capital's business activity gives investors a chance to choose from a healthy selection of Grade A, B, and C office spaces.
Grade A - These offices are what would be considered high-end. These are commonly located in high-visibility locations. Grade A offices are outfitted with top-of-the-line equipment, amenities, and modern HVAC systems. They're spacious and aesthetically pleasing in terms of outside appearance and interior design. These are office spaces that are commonly associated with your multinational conglomerate who can afford the small fortune to keep these offices looking impeccable.
Grade B - These are what would be considered middle-of-the-market office spaces. Some Grade B spaces offer the aesthetics and comfort higher-end offices might offer with some compromises. Nevertheless, facilities offered by Grade B office spaces usually are more than enough to cover the basics for a decent work environment. It's arguably the most popular office-grade companies go for since it's usually much cheaper than Grade A offices.
Grade C - These offices are relatively the lowest priced and the poorest-quality in a given market. Grade C offices can usually be found outside a city's business district and/or in old buildings over 20 years old. While this office-grade seems unattractive on paper, they do serve companies who are on tighter budgets and do not require a position proximal to the city's business district.
Office Space Rental Prices
According to the Knight Frank H1 2019 report, office rental rates remain fairly stable over the past few years. The report states:
"As a result of continuous office supply swelling, specifically Grade B and C, office rentals remained unchanged across all grades. Grade A, B and C offices command rentals ranging between US$28 to US$40 per sqm per month, US$18 to US$29, and US$9 to US$18, respectively. (excluding service charges and tax)"
Of course, when it comes to Grade A office spaces, more luxurious (and expensive) options are available - coming with all the bells-and-whistles an office manager could ask for. One example is the Diamond Twin Tower located in Koh Pich which, according to the Knight Frank report, sells (via strata titles) its floor space anywhere between USD$2,800 to USD$3,600 per square meter.
How to find office space for rent
There are various means to find offices for rent in Phnom Penh. You can find real estate agents who have a network of office space lessors. These real estate agents can save you a lot of headaches in terms of time spent looking for the right space, and negotiating the prices with the lessors. We recommend going through an agent since they will also walk you through the whole legal process of securing the lease.
You can also search for office spaces (and agents) by visiting Realestate.com.kh, the leading real estate website in the country. You can find more than 45,500 properties, subdivided by region, price, and amenities. Realestate.com.kh has a long list of commercial real estate agencies and agents you can contact directly.
Popular Office Spaces for Rent in Phnom Penh
CORE@PPSEZ
The CORE@PPSEZ project is located near the entrance of the Phnom Penh Special Economic Zone. This development includes 10 shopping units, 40 specially-designed office units -- providing convenience for future expansion into trade and factory spaces.
The project is designed to provide easy access to trade and to increase productivity. The project will be a profile for various business, trade and industrial activities that offer international quality services and the starting price of this project is $100,000. These include elevators, security, 24-hour room monitor, 500 square meters of a production facility for private cargo handling. The CORE@PPSEZ construction began on August 1, 2016, and opened in March of 2018.
Emerald Hub
Emerald Hub offers affordable office units in the form of a co-working space. It is the most popular option for part-time employees and freelancers. Here, you can work independently or meet with other like-minded people who have different skills and knowledge. Emerald Hub also offers other services such as cleaning, photocopying, hot and cold water, coffee, tea, and many more.
The lowest rental price is at $30 dollars a month for a small unit. But if you need a temporary place where you can rent by the day or a week, they also provide flexible and easy ways for people like entrepreneurs who are just starting a new business.
The mixed-use developments are usually not only developed for residences. It also includes facilities like shopping malls, offices, and hotels.
AMASS Central Tower
AMASS Business Center is located in the center of the BKK1 District (also known as the Embassy District), considered to be one of the most prosperous and wealthy districts in Phnom Penh. Surrounded by four main urban roads, the AMASS Business Center is surrounded by hotels, cafes, bars, banks, and supermarkets. It is not only conveniently located within major transportation routes but also places itself near many high-end residential and business office projects.
Rental here, considering its ideal location, comes at a great starting price of $18/sq. metre.
Office Villas
This isn't exactly one company offering their spaces, unlike the ones mentioned above. Office villas are villas in high-traffic areas of Phnom Penh (such as BKK1) that are rented out by companies in lieu of high costs of conventional office spaces in the more expensive parts of town.
Typical rental prices for villas range from as low as around $6/sq. metre to $25/sq. metre. However, longer leases or opting to sign as an anchor tenant may see these rates reduced. Beware though – working out a fair lease can be a challenge in the Phnom Penh commercial property market, and Cambodia generally, as villas (and other property for that matter) will often be priced according to your presumed budget rather than fair market value.
Increasingly, however, villas around Phnom Penh are being pulled down to make way for new luxury developments and condominiums or being secured and modified for retail purposes. A decrease in supply has increased the value of those villas that still remain.
Tax for Real Estate Rental
In the past, the landlord or property owner would normally withhold 10% of the rent from its lessor. In a sub-lease situation, the tenant of the real estate entity would withhold 10% of the rent on the sub-lease to the real estate company.  
Instruction 18410, a tax update from the General Department of Taxation (GDT), now provides an exemption with the withholding tax on the sublease if both the lessor and lessee are registered taxpayers.
"Instruction 18410 is another example of the GDT responding positively to the market, which identified this as a duplicate tax for real estate entities, a withholding tax obligation in this case on both the Lessee and Sublessee on the same exact space," commented Anthony Galliano, CEO of Cambodian Investment Management.
Office space outlook for Phnom Penh
Phnom Penh's available office spaces are projected to increase by 130% according to Knight Frank. The report projects that rental prices will either remain static or be pressured down as more office spaces open in the immediate future.
The report further projects that stratified offices (spaces that can be acquired via strata titles) are attracting more investors as Phnom Penh's condominium market reaches equilibrium. Investors also note that business tenants tend to sign longer-term leases - which helps boost the confidence of those investing in the construction of stratified offices.
The main challenge to the long-term future of conventional office spaces is co-working spaces in Phnom Penh. Co-working spaces are gaining momentum among young entrepreneurs, digital nomads, and start-ups in Cambodia. The flexibility of terms offered by co-working spaces, along with cheaper overhead costs, to companies on a shoestring budget is starting to attract medium-sized businesses as well.
Whichever office is more suitable to your needs, Phnom Penh offers a variety of choices! If you're interested in exploring currently available options, be sure to check out our listings and/or contact our partner agents directly.
Stay up-to-date on the real estate industry in Cambodia and get real-time updates on real estate news as they happen. Download the Realestate.com.kh App now!

Article by: