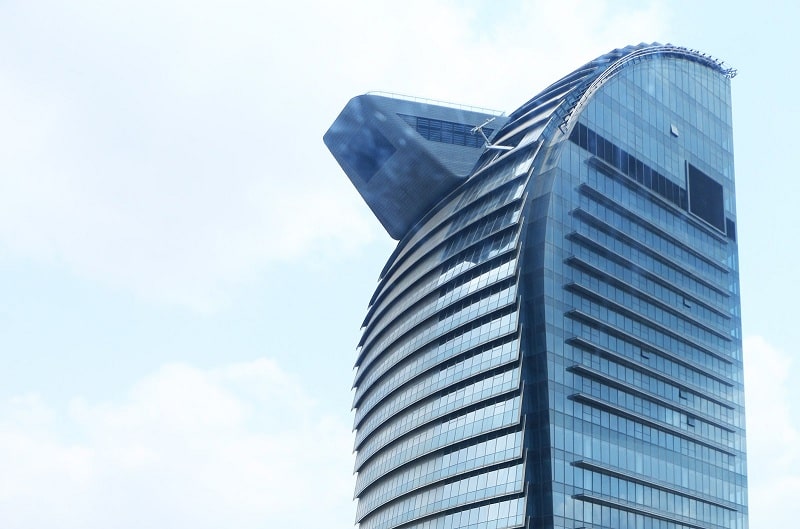 Real estate investment in Cambodia is typically seen to be risky. And yet, it also comes with higher potential returns. The current market is offering a safe investment environment, however, as risks keep decreasing.
This brief introduction is part of an excerpt of Realestate.com.kh's Cambodia Investment Guide 2019. To read or download the full guide, click here.
For ten years Cambodia has held a constant yearly GDP growth of around 7%. This growth shows no sign of slowing. In fact, it is attracting new investors from around the globe. Furthermore, Cambodia offers little to no restrictions on capital movement. 
Why make an investment in Cambodia?
Cambodia properties are, relatively speaking, very cheap. Therefore, investment here is a savvy move for any investor. The Kingdom's properties have a high potential to yield huge returns on investment. To be sure, this potential is backed by population growth, economic growth, infrastructure improvements and a tourist boom.
Realestate.com.kh's traffic shows huge increases in interest from nations all across the globe. Because of this, we know first hand that investors are bullish. 
More than just Thailand's neighbour
Cambodia is located in the southern portion of Southeast Asia. The country occupies a total area of 181,035 square kilometres and is bordered by Thailand, Laos and Vietnam.
To read more about how the country stacks up in the region, read our full analysis.
There are three main economic centres: Phnom Penh (the capital), Siem Reap and Sihanoukville. On the other hand, secondary centres such as Poipet, Battambang and Kampot are on the rise as well.
It's all about the people
Cambodia's population is growing at a rate of 1.6% per year. Most noteworthy, over half the population, is under the age of 25. This young population is a direct consequence of the turmoil in Cambodia in the 1970s and 80s. 
Recently, the government is becoming more active in developing this younger workforce. As a result, more have access to education and new skills. The current labour force has the potential to offer 30 years of productivity. 
Similarly to Vietnam, economic productivity, in combination with greater education and employment, will continue to stimulate GDP growth.
Expats in Cambodia
There are around 150,000 expatriates living in Cambodia. However, the majority live in Phnom Penh. This figure includes both Asian and Western expats. Also, Cambodia is one of the most popular retirement destinations in Southeast Asia.
Click over to our expat guide for the full story.
Core industries for investment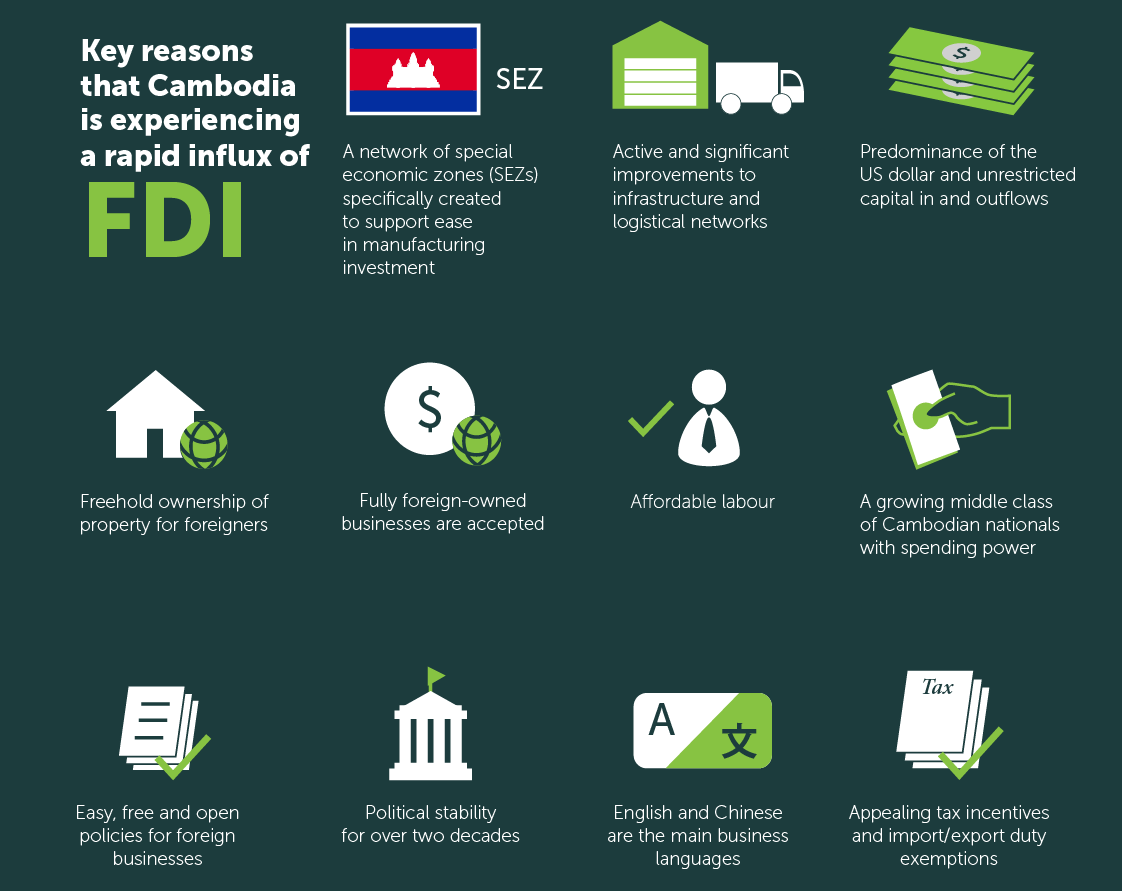 Firstly, you should know about the key sectors before making an investment in Cambodia. Major industries in the country include garment manufacturing, agriculture, construction and tourism. In addition, there is lightning fast tech adoption.
Garment and footwear manufacturing dominate manufacturing. What's more, they account for 80% of all exports. According to government data, Cambodia exported garments and footwear worth $5.6 billion in the first nine months of last year. This was up 7% compared to the same period a year earlier.
In terms of the local economy, agriculture plays a major role. Approximately 80% of people depend on farming as a source of income. In fact, rice is the principal product and production has been increasing by 8% yearly. This sustained growth has been critical in securing the country's overall economy.
Building the future
Investment in the Kingdom's construction sector last year hit $6.8 billion, according to the Ministry of Land Management. Over 4,000 projects were approved that year. This equates to a 22% increase year on year.
Finally, tourism continues to be a main pillar of annual growth in Cambodia. Angkor Wat was dubbed the world's top attraction in 2015 by the Lonely Planet. Above all, this accolade has hugely contributed to Cambodia's international tourism boom.
Pulling the trigger
Almost monthly, a new article comes out about the potential of Southeast Asia. Hence, interest will continue to mount. The biggest risk when making investments is not having all the information. Luckily, that's what we're here for. 
If you want to expand your business to the region, we are here to help. Want to make your first affordable investment in Cambodia? We are more than just a site for property listings. Rather, we want to be a guide to anyone seeking real estate information.
Make sure you download the rest of the Cambodia Investment Guide 2019. Additionally, you can find tons of resources in our guides section, location profiles, and reports. Make sure you stay current with our news section.