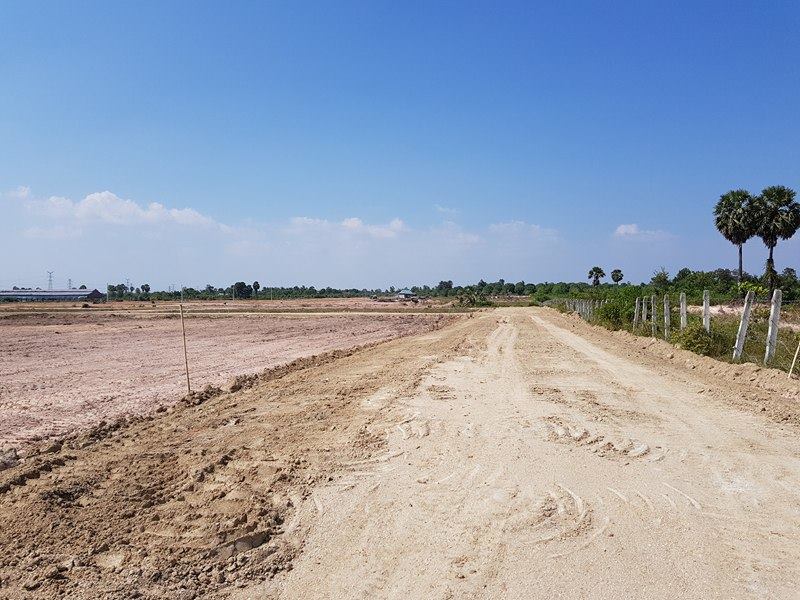 Foreign direct ownership of land is prohibited by Cambodian law. However, there are legal mechanisms that allow foreigners and foreign entities to indirectly own and operate land within the Kingdom.
Brief History of Land Ownership in Cambodia
Private ownership of land only became possible in 1992 when the Cambodian Government passed the land law. The local Sangkat issue Soft Title to Cambodians, which is not a full guarantee of ownership and has thus been being exchanged in favor of the nationally-recognized Hard Title.
In 2001 the new Land Law came into effect, further strengthening an individual's right to property ownership and since then, many changes have been made in order to accommodate a more dynamic market that would benefit the economy and the people.
It may seem like a lot to take in, but talking about the land ownership law in Cambodia doesn't always have to be a heavy topic. Here, Realestate.com.kh breaks down things you need to know to be able to invest inland.
Since the redistribution of land in 1992, ownership of land can now be held in Cambodia by means of the different titles available. These include hard titles, soft titles, strata titles, and LMAP titles. These serve as official proof of ownership in the Kingdom. But what's interesting about Cambodian land titles is that even if some titles are recognized nationally, some titles are also only recognized at the local government level.
Foreign ownership mechanisms for land in Cambodia
The Land Law of Cambodia prohibits foreigners from directly owning property in the country except through a strata title. But strata titles for residential units are only usually made in co-owned buildings and not land. Fortunately, there are ways foreigners have been able to secure land in Cambodia.
Via a Khmer nominee or licensed trust company
This method will require foreign investors to "nominate" a person with Cambodian citizenship to be the legal owner of the land to be purchased. A 'trust agreement' will be formed between the two entities wherein the nominee will agree to hold the property in their name. This method is arguably the most common form of owning land for foreigners due to its straightforward approach and low associated costs. However, it is not a method advised if an investor does not have anyone they can trust to hold their investment.
Alternatively, investors looking to go down this route can do so through a licensed trust company in Cambodia. In January 2019, the Royal Government of Cambodia promulgated the Trust Law (the "Trust Law") strengthening the regime of trusts in the legal system which commenced in 2013. Trust companies allow foreigners to legally own land in Cambodia in their stead. This method is advised for investors who are looking for a licensed service provider liable to legal authorities.
Forming a land holding company
A Land Holding Company (LHC) can be formed by a foreigner looking to buy land through a joint venture with a Cambodian. By law, the foreigner has to take up the minority stake up to 49% while the Cambodian partner takes up the majority stake at least 51%. This may seem like a significant caveat for a foreigner looking to go this route, but control of the LHC may fully be granted to the minority stakeholder (the foreigner) through company bylaws, special power of attorney, or other legal instrumentations.
The only real drawback of this approach is the cost of registration fees, administration costs, and tax burdens levied on the company and property.
Government concession
Land concessions are a means to owning property as a foreigner under an agreement with government authorities. This allows foreigners to legally occupy, utilize and exercise rights over the land in question.
The Cambodian government usually grants these concessions through Economic Land Concessions (ELC) and are usually allocated for agricultural and industrial developments. These concessions can be extended through a long-term leasehold. Investors must apply for ELCs through the Ministry of Agriculture, the Council for the Development of Cambodia (CDC), and local provincial authorities will then approve the application after investigating the social and environmental effects of the concession.
Once initial approvals have been met, the application will go to the office of the Prime Minister where it will be endorsed to the Ministry of Agriculture and become a formal concession agreement. This process may take anywhere from 6 to 9 months.
Marrying a Cambodian
Another straightforward way of owning land that is not too dissimilar to the previously mentioned nominee structure. Foreigners married to a Cambodian are allowed to purchase land in the Kingdom, however, the name on the land title will only have the Cambodian spouse's name.
If you wish to marry a Cambodian, Realestate.com.kh advises you to consult the Cambodian embassy in your home country or consult your home country's embassy if you are already residing in the Kingdom.
Becoming a Cambodian citizen
The land ownership laws of Cambodia make the right to own land in their name exclusive to Cambodian citizens. Fortunately, like most countries, it is possible for a foreigner to acquire a Cambodian citizenship, making it arguably the most direct, and consequently, most secure way of owning land in Cambodia. If you wish to pursue this route, you can check B2B Cambodia's guide below.
So, What Kind of Title Do I Need to Get?
Hard titles are the strongest type of proof of ownership. It's given by the Land Management and Planning Office. It contains information that's recognized by the Ministry of Land and the cadastral office at a national scale. A transfer tax of 4% is paid when a property with a hard title is sold.
A Strata Title is also a form of a Hard Title but is most commonly given on newer developments. Strata title holds that foreigners are not allowed to acquire a grounded unit and that foreign ownership is limited to 70% of units in any co-owned building.
Soft titles are the most common issued titles in Cambodia. It's registered and only recognized at the local government level and given by the district office.
Land Management and Administration Project Title are considered the safest kind of land title because it uses GPS to allocate land plots. This accurately shows the boundaries of purchased land.
How Do I Know What Type of Title I Have?
Soft titles typically refer to three documents that can show proof of ownership. These are the application for land occupation, a local government acknowledging the letter of transfer, or a simple private sale-purchase agreement.
An application for land occupation is the request made by the possessor of land to the local authorities. A letter of transfer that's acknowledged by local authorities is a document of transfer that the Chief has acknowledged and signed. While the simple private sale-purchase agreement is an agreement made only between the buyer and seller.
Hard titles also refer to three certificate types. These are the Certificate of Land Use and Occupation Rights, Certificate of Immovable Property Possession, and the Certificate of Immovable Property Ownership.
Certificate of Land Use and Occupation Rights are called "chicken feather titles" because it has an image of a feather printed on them. This refers to titles issued to owners before the enactment of the land law.
The Certificate of Immovable Property Possession is given if the land registration was initiated by an owner in an area where the systematic land registration hasn't been conducted yet by the government. This is known as "sporadic land registration". This document usually doesn't have the map of the property included.
The Certificate of Immovable Property Ownership is given after a systematic land registration by the government. Unlike the Certificate of Immovable Property Possession, it has a map showing the land's location and boundaries.
If you are unsure of what the different property titles are, you can learn more in our guide to property titles.
What if I Want to Get a Hard Title For Security?
In a recent breakfast meeting organized by Sciaroni & Associates, Sereyrath Kiri -- an associate of the firm -- saying that soft titles can be made into hard titles via a sporadic land registration. Kiri also mentioned that the cost to do so depends on the location and size of the property.
How Do Foreigners Legally Protect Their Land Ownership?
Locals may be more secure in just getting a Hard Title and avoiding scams. Foreigners, on the other hand, will need to deal with a few more security details for them to safeguard their land. But it's not as complex as people think.
When a property is owned through a Khmer nominee, foreigners should enter a nominee agreement with the Cambodian citizen. The Khmer nominees should also grant foreigners a long-term lease. A mortgage should be made and registered on the title. Foreigners should also hold the original title. To prevent any misunderstandings in the event of an accident or death, the nominee should also prepare a will or supporting documents.
Should ownership fall on a landholding company, it is important to enter into nominee protection documents. The company should be required to grant the foreigner a long-term lease. Similar to the first scenario, a mortgage should be taken and registered on the title, and a will or supporting documents should also be prepared.
Like most countries, laws in Cambodia continue to evolve to accommodate the demand of both local and international investors. So, knowing these things and keeping yourself updated may keep you from a whole lot of trouble in the future and even bring you a proper return of investment.