The Independence Monument in Chamkarmon bordering Daun Penh. Supplied.
Chamkarmon (ចំការមន) is one of the most well-known districts in Phnom Penh. Located in the south-central part of the city, it connects the central districts in Phnom Penh like Beoung Keng Kang (BKK), Daun Penh, and 7 Makara to developing districts like Meanchey and Chbar Ampov.
Foreign direct investments have poured into the district's residential and commercial sectors over the past year and have made it into one of the more developed areas in terms of urban conveniences. As a result, Chamkarmon has become a prime choice for many residents to live and do business in. But what exactly are the things that make Chamkarmon popular among Phnom Penh's residents and keen foreign investors?
Road accessibility
It's easy to get to Chamkarmon. The district's location plays a major role in making it accessible, and as a result, popular to the city's residents. Three major roads pass through the district; the first is the Mao Tse Tong Boulevard which cuts through the middle of the district and serves as a major artery between the eastern and western parts of Phnom Penh.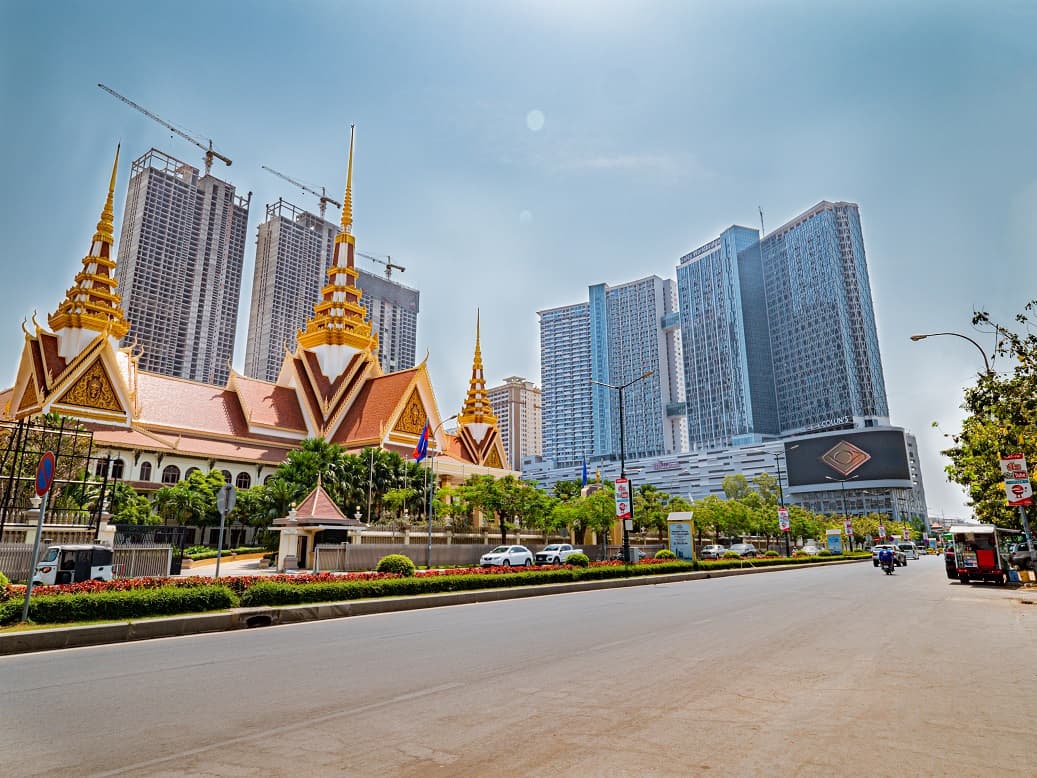 Preah Norodom Boulevard runs through many key developments in Phnom Penh. Supplied.
The two other roads are the Preah Norodom Boulevard and Preah Monivong Boulevard with both roads considered the main avenues for travelers between the north and south of Phnom Penh. These 3 roads intersect at different points in the most commercially active communes of Boeung Trabek and Tonle Bassac.
Lower property prices
Chamkarmon's road accessibility is complemented by its relatively lower associated property costs. In terms of real estate, Chamkarmon's property sales and rental prices are still comparatively lower compared to central districts like Beoung Keng Kang and Daun Penh.
New development median sale prices (as of mid-2021)
| | | |
| --- | --- | --- |
| Chamkarmon | Daun Penh | Beoung Keng Kang |
| $116,000 | $207,000 | $182,375 |
Median rent prices per bedroom apartment (as of mid-2021)
| | | | |
| --- | --- | --- | --- |
| Unit | Chamkarmon | Daun Penh | Beoung Keng Kang |
| 1 bedroom | $600 | $800 | $750 |
| 2 bedrooms | $800 | $1000 | $1000 |
*Prices displayed above are median price points; there are several dozen live listings available for lower-priced properties for sale and properties for rent in Chamkarmon.
These comparatively lower costs of living compared to central districts like BKK, Daun Penh, and 7 Makara make Chamkarmon popular for middle-class locals, expatriates and tourists alike.  It also doesn't hurt that the area's more attractive cost of living is paired with exciting nightlife and plenty of modern shopping destinations nearby.
Nightlife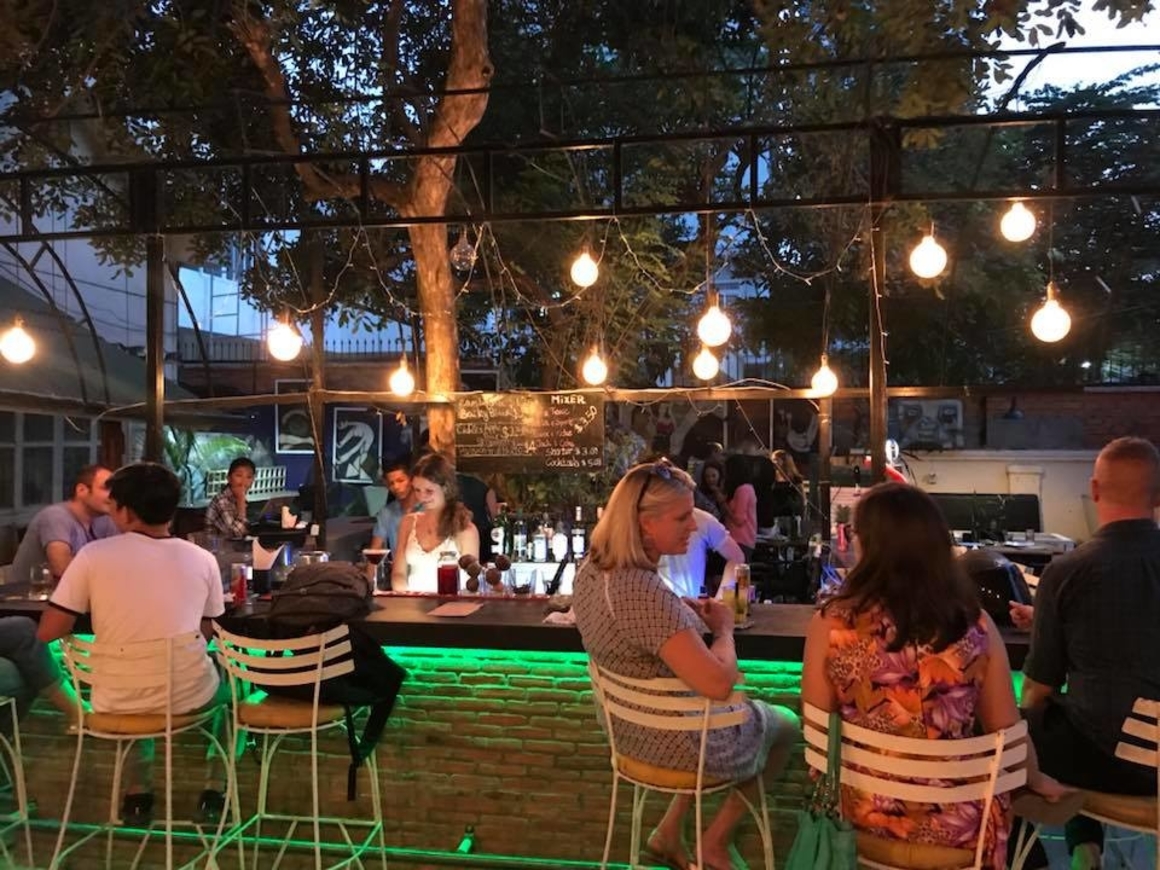 Bassac lane is a popular destination for both locals and expatriates in Phnom Penh. Photo by The Culture Trip.
There are many sides to Phnom Penh's nightlife and Chamkarmon is home to its more relaxed but vibrant face as opposed to the wilder side of the night in Toul Kork and Daun Penh. Selections of small to medium-sized shops, cafes, pubs, and restaurants litter the many streets and intersections especially around Toul Tompoung a.k.a. the Russian Market.
Toul Tompoung's nightlife caters more to a younger crowd and families simply looking to have a swell night out. Toul Tompoung's nightlife is made popular among locals and tourists by the dozens of street vendors selling local delicacies and cuisines near the Russian Market every night starting at 6pm.
Food & beverage retailers are abundant in Chamkarmon. There are a few semi-fine dining options in the area while more modest restaurants are more numerous and usually are serving foreign cuisines made by the area's expatriate community. This melting pot of cultures spills over to Chamkarmon's pubs and bars which enjoy city-wide fame with young Cambodians and expatriates.
Chamkarmon, in general, has plenty of things to offer people looking to have a great night out without spending too much money. All it takes is one or two weekends around the Toul Tompoung area and anyone living in Chamkarmon can find a place they can always go back to.
A growing shopping district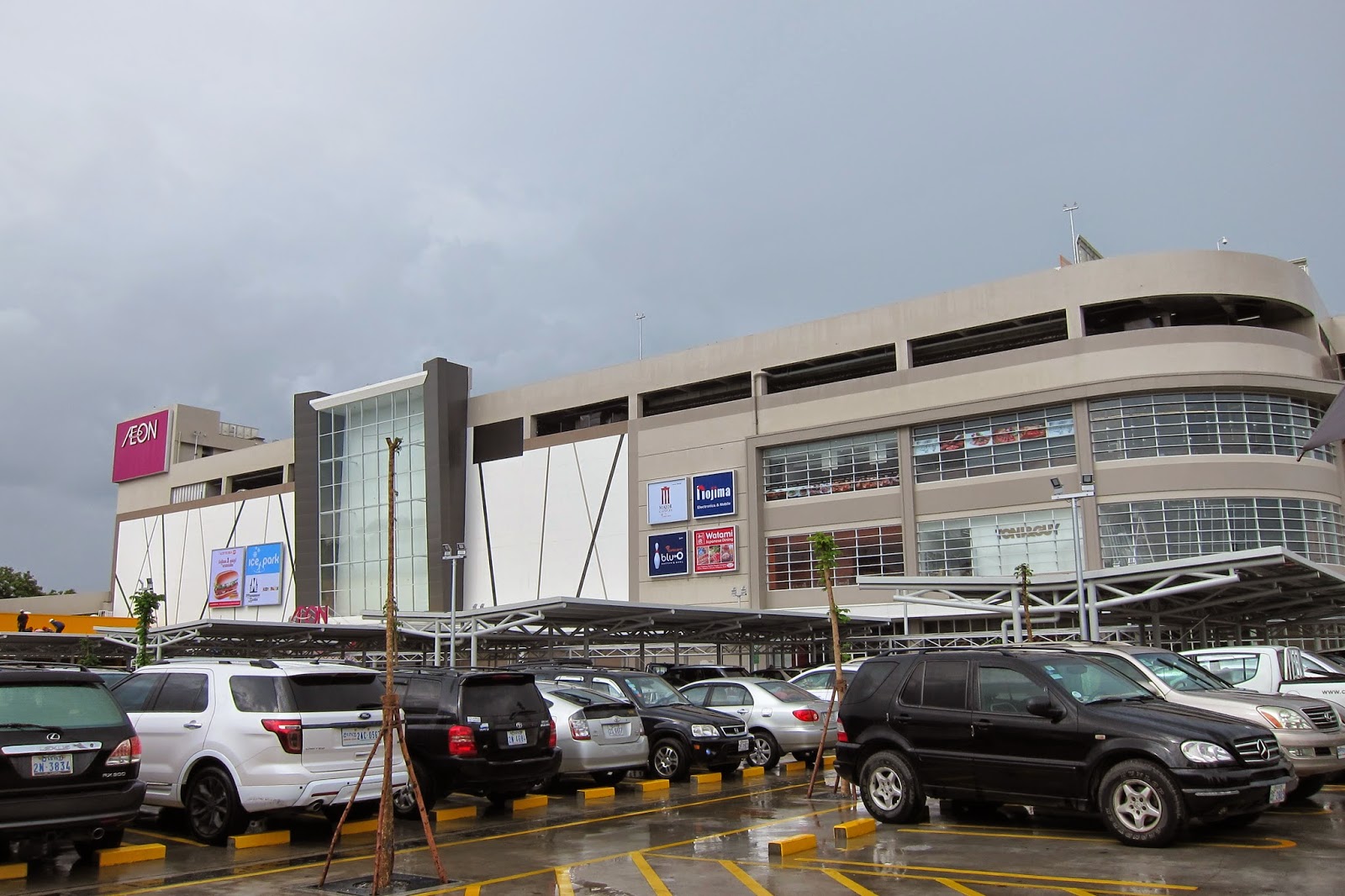 The AEON Mall 1 was the first large purpose-built mall in Phnom Penh. Photo by TheLostPinay.
Chamkarmon is a popular shopping district where hundreds of small-to-large businesses are found. Immediately noticeable is the prevalence of shophouses and purpose-built community markets as Chamkarmon is a nesting ground for the local entrepreneurial spirit. Whatever you're looking for, a shop in Chamkarmon probably has it.
There are two main markets in the Chamkarmon area: The Toul Tompoung Market (Russian Market) and the Boeung Trabek Market. These are the primary community markets selling both wet and dry goods as well as knick-knacks/souvenirs. Both markets are additionally surrounded by shops outside the market premises catching the spillover shoppers.
Modern purpose-built shopping malls are also present in Chamkarmon. Chief examples are the AEON Mall 1 in Tonle Bassac and Chip Mong Noro Mall along Preah Norodom Boulevard. You can check our guide to shopping malls in Phnom Penh for more information.
Market developments in Chamkarmon
The residential market in the area remains afloat because of the prevalence of COVID-19. Yes, because of the pandemic. With the income of many expatriates and middle-class families having been affected by the pandemic, many have been looking to move away from BKK and Daun Penh for lower cost rentals in Tier 2 locations like Chamkarmon where they would not be conceding the urban comforts found in BKK and Daun Penh.
Of course, the interest in living more for less has translated to an uptick in properties changing owners in Chamkarmon. According to a report by Realestate.com.kh, while Boeung Keng Kang remains the most-searched district from property seekers, Chamkarmon's popularity has closed the gap since the lifting of the quarantine measures in the city back in mid-May 2021.
Chamkarmon's retail space market continues to grow and is now one of the biggest retailer destinations in Phnom Penh. According to Knight Frank's H2 2020 report, the district is home to 22% of the existing retail spaces (~400,000 sqm) in Phnom Penh, putting it on par (at 22%) with Sen Sok district - home to the biggest mall in Cambodia, the AEON Mall 2 and international wholesaler Makro. This growth is attributed to the opening of new shopping centers in the district.
Office spaces in Chamkarmon have also kept up with the central business district of Daun Penh. According to Knight Frank's H2 2020 report, Chamkarmon is close at 21% behind Daun Penh at 25% when it comes to the total office spaces in Phnom Penh. Though the report did not specify the specific commune these office spaces are, it may be safe to assume that most of these are located in the Tonle Bassac area.
The development of Meanchey and Chbar Ampov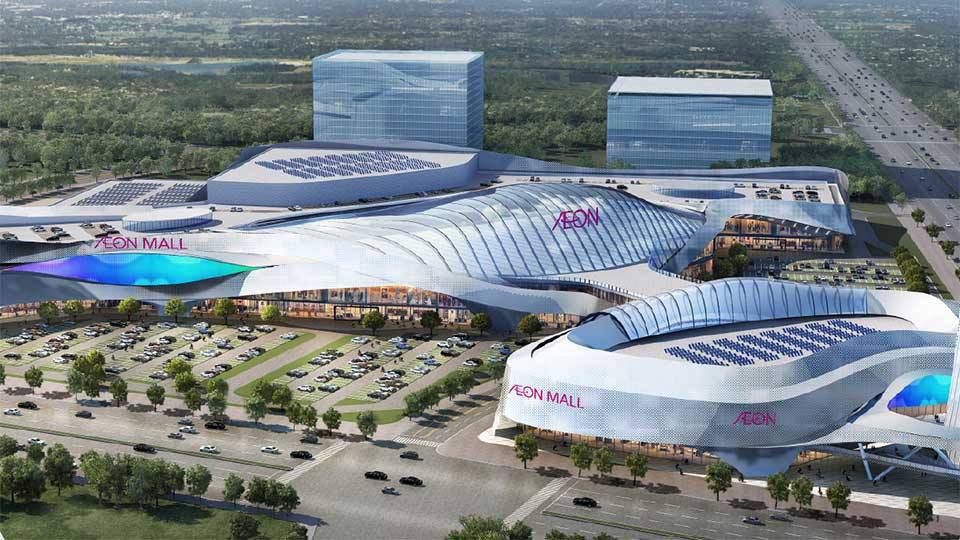 The AEON Mall 3 is the biggest mall coming to Phnom Penh in the next 3 years. Photo by Cambodia Properties.
While Chamkarmon itself is seeing growth, keen investors do well whenever the larger picture is taken into account. The two southern districts of Meanchey and Chbar Ampov connected to Chamkarmon via the Preah Monivong and Preah Norodom Boulevards are both earmarked for massive residential and commercial developments.
For the Meanchey district, the main headline is the construction of the AEON Mall 3, soon to be Phnom Penh's largest purpose-built shopping mall measuring at ~174,000 sqm. When news broke in 2019, property prices around AEON Mall 3 saw a boost with many developments and land properties being bought in anticipation of the boom in the area.
The Hun Sen Boulevard also greatly contributed to the viability of doing business in the Meanchey district. The 60m road (the other name for the Hun Sen Boulevard) is accessible via the Preah Monivong and Preah Norodom Boulevards from Chamkarmon. Its completion a few years ago vastly alleviated the traffic congestion in the southern part of the city, expanded opportunities, and raised property prices in Meanchey.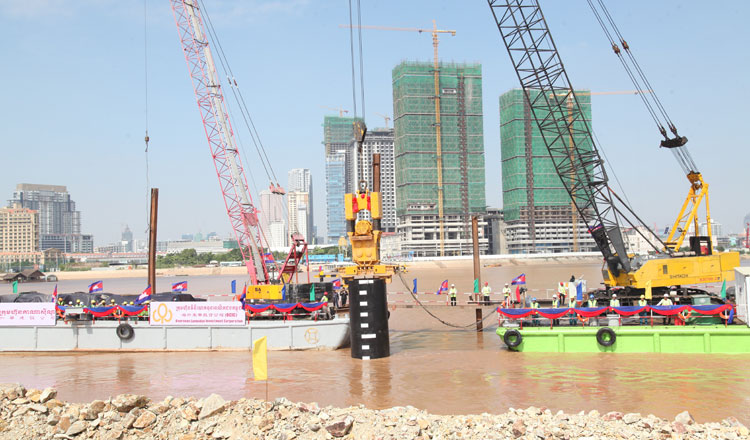 Construction of Koh Norea bridge began in Q4 2020. Photo by Khem Sovannara from the Khmer Times.
For Chbar Ampov, big borey developments have already laid claim to much of its vast lands. However, the OCIC has earmarked the northeastern portion of the peninsula for the Koh Norea Satellite City estimated to be worth $2 Billion.
At present, Chbar Ampov is only accessible via the Monivong Bridge which leads to the Preah Norodom and Preah Monivong Boulevards. The OCIC is currently building a bridge over the Bassac river to connect Koh Norea directly to Koh Pich (Diamond Island). The Koh Norea bridge is planned to open in 2022.
When it comes to future returns, Chamkarmon edges out central districts on price attractiveness and even potential returns for the next 5 to 10 years. It's worth noting that much of the city's outskirts are still developing and have been earmarked for further development such as Meanchey and Chbar Ampov - two districts directly connected to the district - presenting an opportunity for considerable returns for investing in Chamkarmon.
Discover why Cambodia remains the rising tiger economy of Southeast Asia. Download now!

Article by: