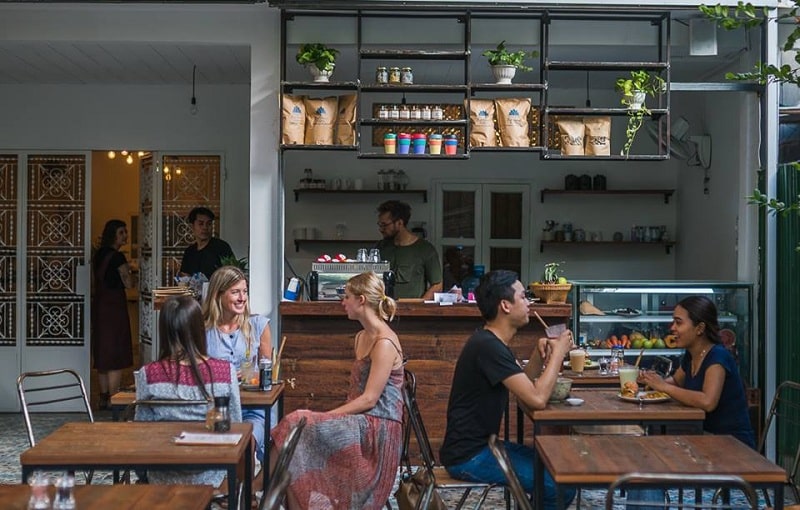 Coffee. It's the third most consumed beverage in the world after water and tea. 172.8 million bags of coffee are produced yearly worldwide and Cambodia consumes a lot of the roasted beans.
In Cambodia, the beverage has traditionally been an older person's drink among the locals but with the growing influence of cafe culture from the West, a younger generation is spending more and more time in coffee shops (also for the social media photo opportunities)
Before choosing a house or apartment, many people want to make sure the neighbourhood has a safe & comfortable vibe. Having at least one cafe within the area is something individuals consider but cafe hotspots have also sprung up in the capital.
Realestate.com.kh has drawn up a list of the top cafes in Phnom Penh. No matter where you choose to live, chances are you'll be close to a coffee shop in Cambodia's capital. There are also many, many franchises such as Starbucks and Amazon throughout the city.
We've even put all the best cafes in Phnom Penh into a map for you - Scroll down to see more!
We think the best cafes in Phnom Penh are:
Java Creative Cafe - The artsy cafe

This stylish joint has cafes in Toul Kork, Russian Market and near the Royal Palace. Previously it had a popular location near Independence Monument, in Tonle Bassac, which closed during the pandemic in 2020. Based on the review, you'll find that people love the food but Java also strives to be a hub for local artists and creatives.
"[Java has] been serving up homemade food and organic coffee for nearly 20 years. We love art as much as we love food and as a cultural enterprise, we are a platform to launch Cambodian artists and public art events thanks to all our customers," said Java owner Dana Langlois.
Metro Hassakan - The swanky cafe
Riverside might be known for its happy hour deals but Metro is one of the best places for a midday coffee break. Kick back and enjoy a java while gazing out at the Mighty Mekong while enjoying excellent service.
In addition to the Riverside location, Metro has a cafe in Toul Kork. It's one of the fastest-growing areas of the capital, praised for its amenities and security.
If you're curious about living there, watch our video guide to Toul Kork and see more about properties in the area.
Backyard Cafe - The health-nut cafe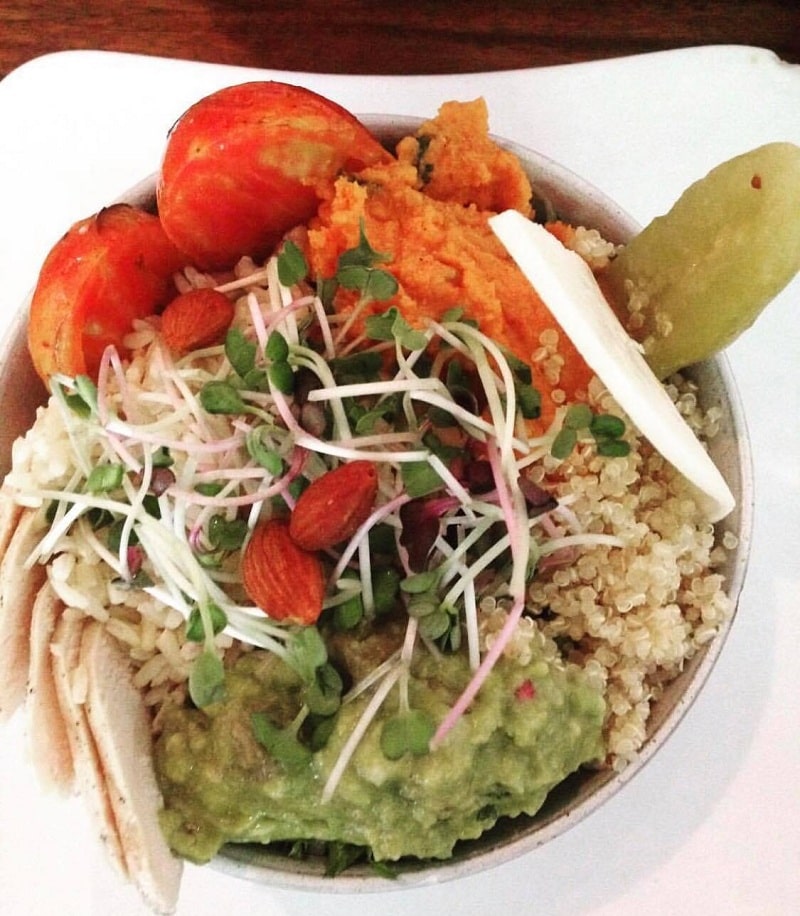 The Backyard Cafes may share the crown for best health food restaurants in the capital since opening in 2015. On the menus, you'll find everything from trendy avocado toast to veggie burgers. Just as much care is put into the coffee too. 
If you're vegetarian, vegan, or want to level up your quinoa game, stop by one of their two locations in BKK1 and near Riverside. They also have a sister cafe, Vibe, in the Russian Market area.
If you like the look of the districts read our expat rental guide to Phnom Penh to find out what an apartment should cost.
Lot 369 - The neighbourhood joint

Nestled among the shophouses of Toul Tum Poung (Russian Market) sits Lot 369, which changed location and is now on St 155 (entrance via the back alley between streets 446 and 440). The popular cafe is spread over a couple of floors and has views over the TTP market. Order any of a wide selection of hot or cold coffees and you'll even get a few chocolate-covered coffee beans. 
According to co-owner James Wilson, the idea for Lot 369 is to "offer a relaxed, chilled atmosphere that reminds travellers of a casual cafe off a Melbourne alleyway," she said, adding that the food is a fusion of Australia's brunch culture and Cambodia's local flavours.
Wednesdays are very popular as all coffees are only $1!
Like a few of the other expat-aimed spots on this list, Lot 369 is health-conscious and eco-friendly. 
(They previously had a location in BKK1 which has since closed).
Feel Good Cafe - The roasters
It isn't just the caffeine that will have you feeling good here. With two outlets in the capital, Feel Good Cafe is a social enterprise that serves up organic fair-trade coffee and food. The cafes are employee-owned and seek to empower the local staff and suppliers.
The place was started in 2013 by two expat coffee roasters, and still serves up single-origin blends sourced from around SE Asia. The Feel Good group operates social enterprises across the Kingdom including in Battambang.
The locations also serve a mix of local and western food and have many popular dishes such as the breakfast muesli, burrito bowls and rotating specials.
The location on St 29 in Phnom Penh has closed.
The Shop - The foodie cafe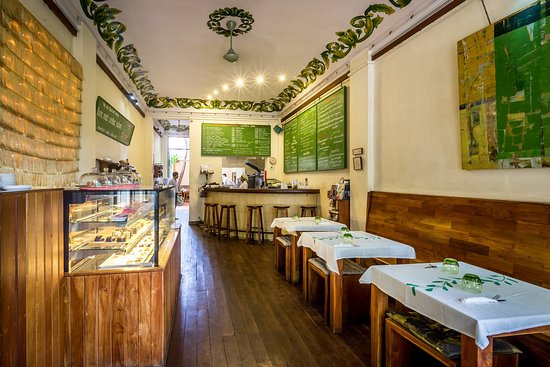 Are you guilty of Instagramming your food? If reading the words "goats cheese" makes your mouth start watering, The Shop is probably for you. This brunch-centric place has four locations in Phnom Penh and a speciality chocolate shop in the capital - they have been operating since 2001.
If you end up at any of their cafes and snap some photos of your artisan quiche, don't forget to follow Realestate.com.kh on Instagram. We've got some killer interior design photos that you'll love!
Eric Kayser - The boulanger

If you didn't know, French culture still has a strong legacy in Cambodia. Heck, we even did a special article on the French colonial architecture in Cambodia. It makes sense that there's at least one cafe chain offering up traditional "barang" baked goods.
Eric Kayser is a popular cafe franchise in Phnom Penh and it's got several locations in the capital.
If you've got a craving for a traditional French croissant, and a huge selection of bread and pastries - this is the place to go. No beret is necessary ;)
SUZY Anti-café - The digital nomads' cafe
SUZY Anti-Cafe is a novel concept in the crowded cafe scene in the capital and one of the few great choices in BKK3. The cafe offers customers the chance to pay for unlimited snacks and coffees for the time spent in the cafe and is a popular choice among remote workers and digital nomads.
As well as all the typical coffee drinks, they have several promotions and have Game Days. For those working there are free cookies and a free printer, paper, pens and more!
You can find our selection of apartments for rent in bKK3 here.
Brown Cafe - The hometown hero

With nearly 20 cafes around the city, Brown is a popular coffee shop in Phnom Penh and is a common go-to meeting spot, especially among Cambodian students. The Cambodian-established chain isn't just another Starbucks knockoff either. Every branch has a unique setup. They've got all the normal tea and coffee variations as well as shakes and a full food menu. 
Local consultant Soumy Phan said he liked Brown not only for its coffee but for how it could be used for meetings or as a workspace.
"I don't have my own office, so it is a good place for me both personally and professionally. I like the fact that it is an original brand started by Cambodians," he said.
No matter where you live in the city, you're probably close to a Brown. The flagship store is in BKK1 district, often considered the "foreign quarter" of Phnom Penh because of all the embassies, NGOs, and foreign businesses.
Given its popularity among residents could Brown have the best coffee in Phnom Penh?
Farm To Table - The sustainable cafe
With open outdoor eating, regular sustainable and farmers markets, Farm To Table is a popular choice for many expats in the capital.
In addition to coffee, they've got some killer healthy food, providing healthy & sustainably produced dishes. They also partner with growers, farmers, and cooperatives in Cambodia to support local organic farming. 
If you're looking for a more professional place to work, check out the list we drew up of all the coworking spaces in Cambodia. 
Map of the best cafes in Phnom Penh
Coffee culture at cafes in Phnom Penh

Many may instantly think of Australia or even Vietnam with regards to coffee culture in the Asia Pacific region. Indeed, Vietnam is the world's number two exporter of coffee, and the average Ozzie consumes around three kilograms of the stuff per year.
But there's a culture forming around coffee in the Kingdom. A young, urbanised population means there's plenty of javaheads. You don't need to go far in Phnom Penh to find the best coffee in Phnom Penh for you. 
Phan added that the cafe atmosphere was a significant factor for the success of shops in the Kingdom.
"I think the coffee culture here is mostly a social thing, and it's proliferating among younger Cambodians."
Which one of these cafes is your favourite? Let us know if we missed any by commenting below.

Article by: