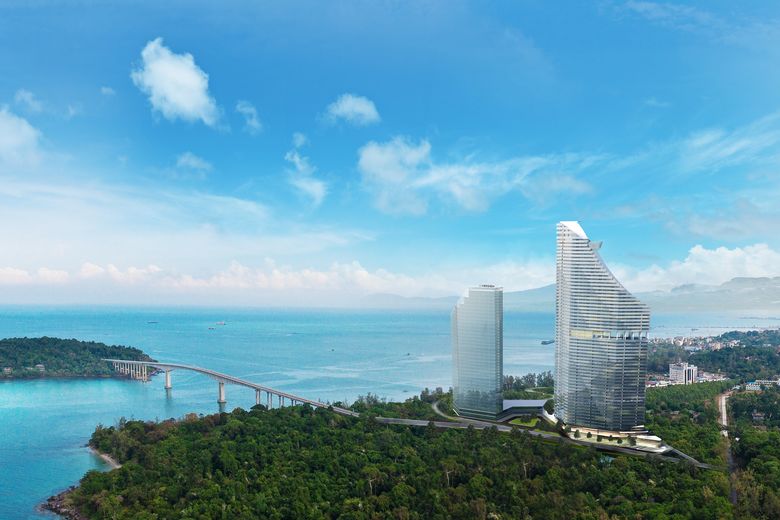 Sihanoukville's economy is expected to receive a boost from a massive residential and commercial development project that a well-known American developer will soon undertake.
Marriott International, Inc. will build Gold Coast at Sihanoukville, a USD 200 million integrated development project on 1.67ha of land facing the Gulf of Thailand. The project, which consists of 888 residential units, will start early next year and targeted to be completed by 2022.
Up and center of Gold Coast at Sihanoukville is Le Meredien, a 5-Star, 388-room luxury abode, which is Marriott's second hotel in Cambodia. The first one, Courtyard by Marriott Siem Reap, opened in Siem Reap two months ago.  Grand Lion Group, a local real estate company, will manage the new hotel.
Ross Wheble, Country Head of Knight Frank Cambodia, said he expects a substantial economic boost from the project. Knight Frank Cambodia is a leading real estate consultancy firm in the Kingdom.
"The contributions to the Sihanoukville economy will be far reaching.  In addition to the increasing demand for construction workers, which has positive knock-on effects for local business operators as more internationally branded hotels open in Sihanoukville, there will be increased regional and global awareness of Sihanoukville as a tourism destination," he said.
According to Mr Wheble, the project will be beneficial to many.  "This rise in tourism will generate increasing revenue streams which will benefit both the local population as well as the provincial government, allowing money to be reinvested in much needed infrastructure and beautification projects in Kampong Som," he stressed.
Sihanoukville, which abounds in pristine beaches and eco-tourism sites like the Ream National Park, is Cambodia's second most popular tourist destination. During the first nine months of 2017, 1.5 million tourists visited Sihanoukville. The New York Times ranked Sihanoukville as one of the top global holiday destinations (13th out of 52) in 2018.
To maintain their growth and further attract similar projects, Mr Wheble said Sihanoukville and other parts of Cambodia should focus on infrastructure development.  "As mentioned above, infrastructure is a key area that needs to be addressed throughout Cambodia, providing better connectivity between the major tourism hubs in the Kingdom," he said.
"This interlinked with master planning at a provincial level which clearly sets out land use zoning and planning policy, providing more transparency in the market whilst also protecting the environment and ensuring sustainable development for the future growth of Cambodia," Mr Wheble added.  
For the past 10 years, the Cambodian economy has grown by an average of 7 percent, with growth centered in Phnom Penh, Siem Reap, Sihanoukville, and other urban areas. Sihanoukville's economic growth is even higher than the national average, reaching 8 percent in the  is evenCambodia's progress has largely been attributed to massive foreign investment and tourism growth.