PHNOM PENH:

This year's Realestate.com.kh Expo represents one of the largest real estate sales event in Cambodia's history. The gathering of industry experts, developers, agents, international investors and local home buyers should surpass record sales figures from 2017's expo. Initial estimates show that the event is set to break $25 million in property sales,  and could see as much as a 50% increase in transactions over last year's event.

Taking place at Phnom Penh's NagaWorld Hotel & Entertainment Complex over the weekend, the occasion hosted over 5,000 attendees, half of which were international property investors from across the Asean region who travelled to Cambodia for the event.

Tom O'Sullivan, CEO of Realestate.com.kh, said: "Attendance increased by about 25% over last year as 5,000 people attended the expo. There was an almost even mix of international investors and local home buyers. Developers generated thousands of leads and we expect to exceed $30 million dollars in property sales, which will be an increase of $10 million over last year's event."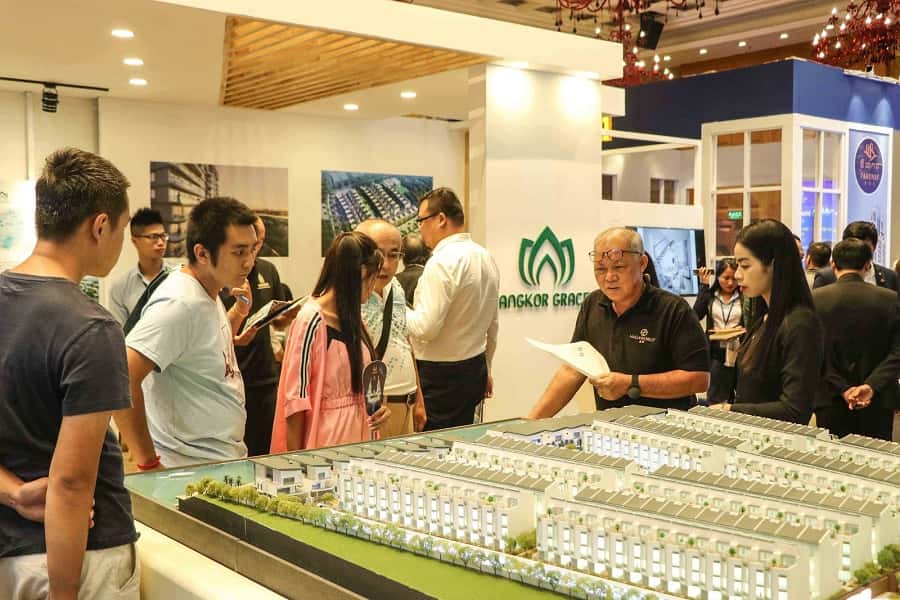 One of the standout exhibitors this year was the New Nordic project, which closed a deal worth $500,000 and expects to close four more this week. Additionally, Woodland Residences fully sold a unit and is set to finalise nine other deals shortly. The Kingdom's Creed Group booked a whopping 10 reservations, Morgan Tower sold four units, SEAPS' LZ Sea View Residences sold three units and The Parkway took deposits for two units and scheduled seven site visits.
Prince Real Estate reportedly has over a hundred new sales leads and has booked a handful of site visits. The Dubai, US project says over 150 sales leads came out of the event, 20% of which have a very high buying potential. V-House, meanwhile, sold two units, Paoly Mansion got 55 leads and three reservations and Royal Park got 40 new leads and confirmed one sale worth $50,000.
Cloud Coast also bagged 210 leads for their upcoming project.
PPC Bank, another exhibitor, registered 10 new accounts and began the process for two major home loans. Other banks present, such as ANZ Royal and RHB Indochina, were on hand to give attendees a place to learn about loan opportunities. Representatives from Homeloan.com.kh also manned a booth to inform about various financing options.
The massive event wasn't just be about buying and selling real estate, either. Free seminars were available in Khmer, English and Chinese during the two-day event. Particularly lively was the joint session led by Oknha Cheng Kheng and Oknha Ly Hour. Oknha Cheng Kheng is the chairman and CEO of CPL Cambodia Properties Ltd. Oknha Ly Hour, president of Ly Hour Group and the Housing Development Association of Cambodia, said: "Thank you to Realestate.com.kh for organising this event which is very good for investors, developers and the public."
Other speakers in the seminar room included Guillaume Massin, the managing director at DFDL law firm, who spoke about legal frameworks for investment; Simon Griffiths of Urban Asset Solutions, who did a rundown of the local retail sector and Alice Hsieh from Position Property. She gave attendees a closer look at opportunities in Brisbane, Australia.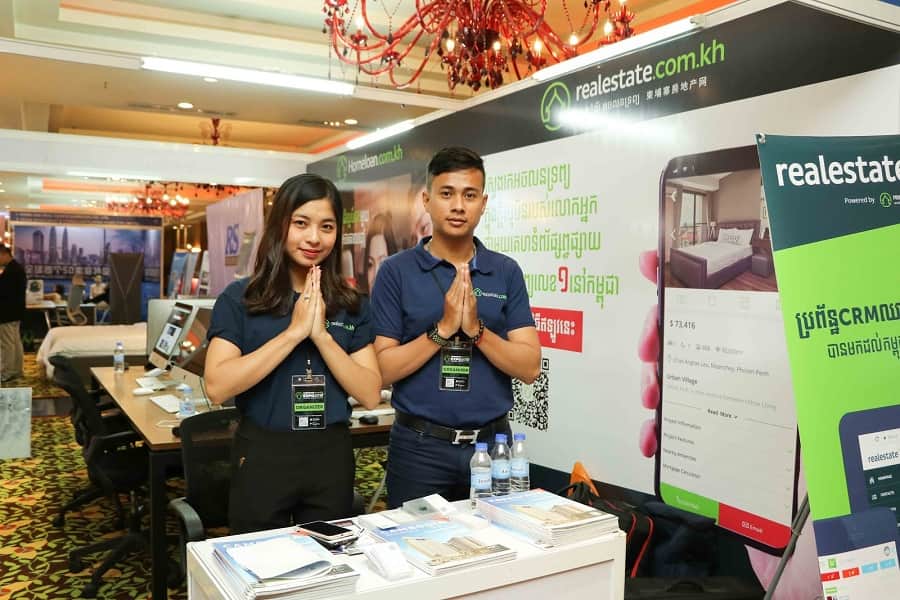 Realestate.com.kh will be releasing both videos and articles about the seminar speeches over the coming months.
According to Realestate.com.kh's O'Sullivan, the occasion gave everyone in the industry a deeper look at the Kingdom.
"When investors arrived in Phnom Penh for our real estate show, they were able to understand the infrastructural improvements that are transforming the country into an economic hub. This exposure to Cambodia will give them confidence to invest in property here."
Meanwhile, the event offered local Cambodian home buyers the opportunity to see projects that covered a variety of price points. The rising Cambodian middle class was in clear focus for sales teams.
The show was made possible by sponsors Ezecom, the Kingdom's foremost internet service provider, and Belt Road Capital Management, a private equity investment manager with a deep understanding of the Greater Mekong Sub-Region.
Co-sponsoring this year's proceedings were law firm DFDL Cambodia, Lumiere Hotel, Cambodia Bayon Airlines, property management app PropEase, the Kingdom's China Duty Free (CDF) and Aruna Natural Water.
The roster of exhibitors shows all the biggest names in the Kingdom right now including Creed Group, Orkide Villa, Sofitel, The Peninsula, The Penthouse, The Parkway, The Palm, Aristo Developers​, One Park, Phnom Penh Harbour, Le Bassac, North Park Condominium, Sabay Osja,  Aming Holding, Residences Bel Air, Pafilia, Position Property Services, NC Maxworld, SEAPS (South East Asia Property Services), 88 Suits, Seara Sports Engineering and Recreation Asia Cambodia, OneDa, The Room Design Studio, Cloud Coast​, Naki Group, Naki Realty,​ Avic Intl, New Nordic Group, Morgan Tower, The Spring Villa, PropEase, Angkor Grace,Yuetai, Tnaot News, Skyland Condo, V-House, Prime One Real Estate, Maison M Poly, Tasaki, Century 21 Fuji Realty, Sabay Osja, RS Residence, 995 Home, Prince Huan Yu, OC Consultancy Services, Ezecom, Silversea Media​, Baoli,​​ Silver Craft Technology, Khmer Amrith, Flat house & Vila Star Gold, Mekong View Tower, Royal Park, France Batiment Industrie, CPL Cambodia Property Limited, Sing Meng Media, Homeloan.com.kh, Realestate.com.kh CRM, ANZ Royal, PPC Bank and RHB Indochina Bank.
Media partners for the huge expo were Thmeythmey.com, Propertyarea.asia, Fresh News, Eurocham, Biz Khmer, KHB Media, Business Cambodia, The Cambodia China Times, Forward Asia, The Khmer Times, Nice TV, Cambodia Sin Chew Daily, Gold Zone Media, Grep Tech, Jian Hua Daily, B2B Cambodia, Angkor Today, The People, CTN TV, 58.com, Sabay, Khmer Load and MyTV.
Realestate.com.kh will soon be announcing a full lineup of events for next year. Building on the strength of the expo, all the events are expected to grow in both size and scope.
For more information please contact:
(English and Khmer) Nara Cheng
E: nara.cheng@realestate.com.kh
016 333 717
(Chinese) Carrie Sun  
E: carrie.sun@realestate.com.kh
010 897 886
Realestate.com.kh, Cambodia's home of real estate, has the most up to date information for buyers, sellers and property enthusiasts! Sign up for our newsletter today and stay up to date with the latest info…