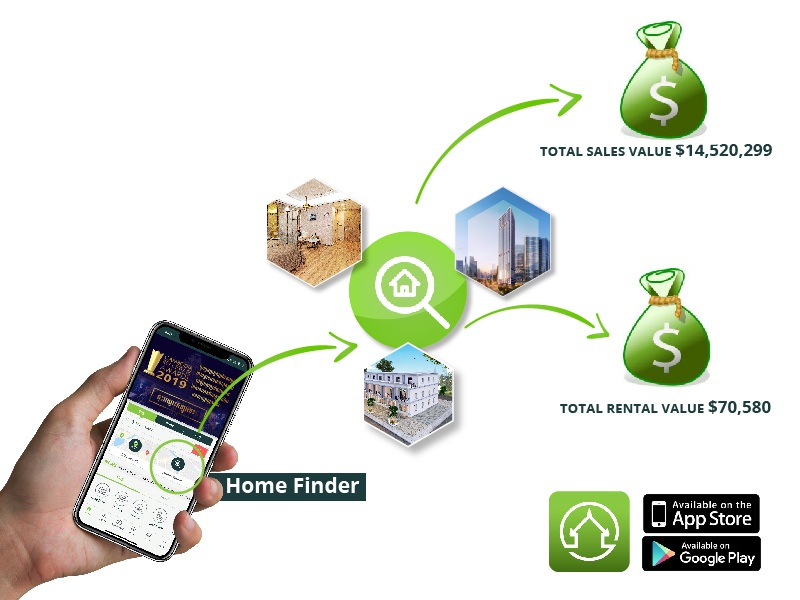 Realestate.com.kh recently announced that it generated over 100 leads for property sales, and rentals, valued at over $14 million, within one month from the release of its new "Home Finder" feature on its website and app.
With the Home Finder tool, Realestate.com.kh hopes to create a stress-free property search experience for its customers and users by allowing them to key in specific requirements and instantly alerting agents and developers about these needs.
Since the launch of the new feature, the number of property seekers using the tool is increasing on average of 75% per day, creating millions in dollars of opportunities for Realestate.com.kh agents within the platform.
$14M+ in Opportunities created with Home Finder
As of 20 November 2019, thirty days since launch, Home Finder has generated a total of 129 leads valued at $14,590,879 in potential property revenue for real estate agents in Cambodia, with each lead averaging at $113,108 value.
Total buy opportunities
There were 54 sales leads in total, worth approximately $14,520,299 in revenue. With a 3% standard commission fee, the total commission opportunity of $435,609. The average property purchase price was $268,894 and with a 3% commission rate, each lead is worth an average of $8,067 to the agent that is ultimately closing the deal.
Total rental opportunities
There were 58 rental leads in total during the 30 days, worth approximately $70,580 in total monthly rental value. With the average commission rate of three quarters of a month's rent or 75%, the 58 leads generated around $52,935 in commissions for Realestate.com.kh's clients. On average, each rental lead is valued at $1,217, with an average commission rate of $913.
Total sell opportunities
There were 17 leads for property for sale, worth approximately $2,096,000. With a 3% commission rate, the total opportunity in commission for agents was $62,880. Each lead is valued at an average of $123,294 and with a 3% rate, the average commission per lead amounts to $3,699.
Alex Sing, Agent Subscriptions and Software Manager for Realestate.com.kh said this new feature helps raise the level of transparency on the website and is providing more value to our agent clients, and ultimately making the home finding process in Cambodia easy and effortless for property seekers.
"The new Home Finder feature on Realestate.com.kh is another step towards transparency for agent clients and our end-consumers, the property seekers. The launch of this feature represents our continued commitment to listening to agents on what matters to them and taking action to better serve them. But ultimately this feature is for the end-users, providing them a satisfactory, more streamlined user experience," he said.

What is the Home Finder feature?
Home Finder is a new Realestate.com.kh feature located on the bottom right-hand corner on a desktop browser or below the search bar on the app.
It allows property seekers to simply submit their buying or renting needs and the platform automatically alerts agents and developers about the "opportunity" which is sent directly to the agents' app, just like a WhatsApp message.
It works the same way for property owners, making it easy for them to connect to agents that can help them find buyers.
Home Finder takes the hassle away from property seekers or sellers when looking for the most trusted agents who can fulfill the specific needs highlighted in the form. Once a form is filled up it becomes a lead or opportunity and all the agents who have accounts with Realestate.com.kh will be alerted. The property seekers or sellers then will be referred to the leading agents in the industry.
However, to ensure that the platform remains user-friendly, it allows only the first five agents to take the opportunity or lead. It will disappear once five agents respond to it. It keeps users from not having to deal with many agents contacting them later trying to sell their services.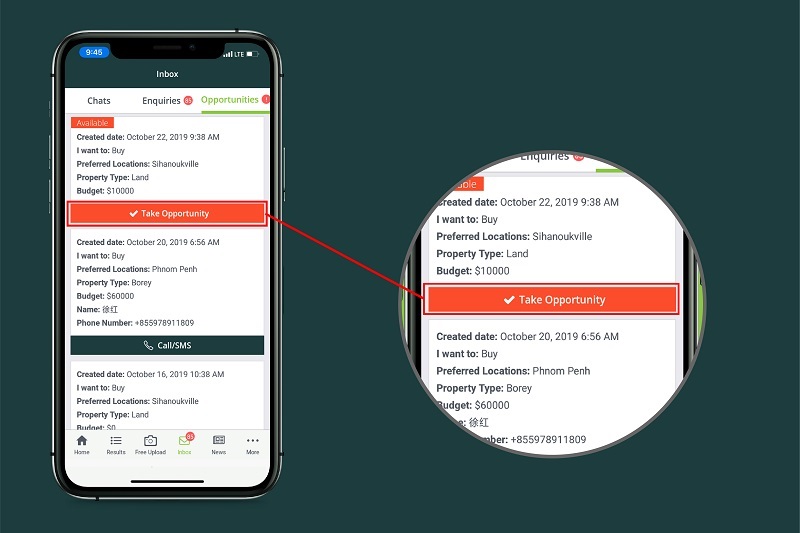 Learn more about Home Finder here!
If you are a real estate agent in Cambodia and want to know how you can gain access to these leads and opportunities contact:
Keo Sokma (Khmer & English)
+855 12 825875 | +855 16 969979
Sun Bunrattanak (Khmer & Chinese)
rattanak.sun@realestate.com.kh
+855 17 884161
Download the app now on iOS or Android
If you're interested in learning more about the development of Cambodia, download our Investment Guide 2019
Learn more about Cambodia Real Estate Award 2019 here!

Article by: