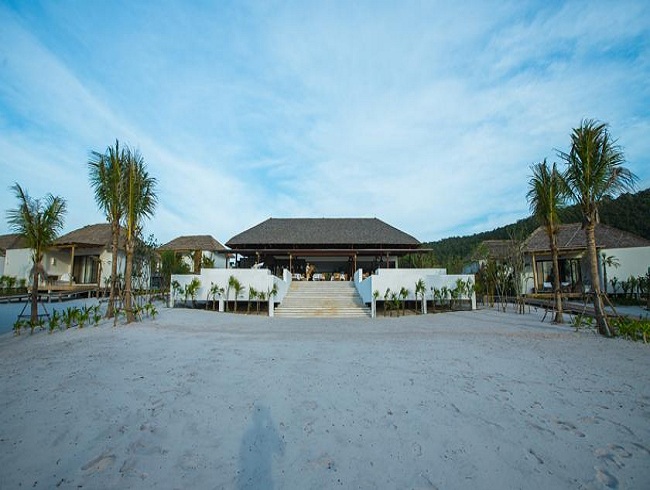 Royal Sands Koh Rong, the first luxury hotel in Koh Rong, Cambodia's largest and most visited island, was officially launched on Monday, with no less than Prime Minister Hun Sen presiding over the ceremony.
The five-star resort hotel is a joint venture between the local conglomerate Royal Group and the travel group Asian Trails. It was completed after two years at a cost of $40 million.
During the launching ceremony, Prime Minister Hun Sen noted that the project is testament to investors' continued confidence in Cambodia.  
Cambodia's relative political stability and rapid, consistent economic growth over the last decade have spawned massive investments from China, Japan, Korea, Taiwan, Europe, and other countries.
For his part, Luzi Matzig, CEO of Asian Trails, said they are proud of their achievement and stressed that the new resort will bring in more tourists that would normally go to neighbouring countries.
"While in the past foreign tourists who visited Phnom Penh and Siem Reap had to look for beach holidays in Vietnam or Thailand, now they can stay at upcoming beach resorts in Cambodia," he stressed.

Popular beaches in Thailand can be found in places such as Pattaya, Phuket, and Krabi. In Vietnam, beaches in Nha Trang, Vungtau, and Phu Quoc are the top tourist drawers.  
There were 5.6 million visitors to Cambodia last year. Vietnam and Thailand received 12.9 million and 35.3 million visitors in 2017, respectively.
He said that would mean more foreign exchange to the country, more jobs for Cambodians, reduced poverty, and economic development.
The new hotel complex, which stands on a 7.2-hectare private property facing the Gulf of Thailand, features 67 beachfront villas and special amenities like spa, jacuzzis, and a swimming pool. It has 148 rooms priced at $300 per night.
Guests can also snorkel, kayak, dive, fish, paddleboard, bike, and go on adventure treks around the area.
Kong Rong, which lies 22 kilometers northeast of Sihanoukville, is known for its beautiful, pristine beaches. There are 28 beaches on the 78-square kilometer island. The island can be reached in 45 minutes from Sihanoukville.
In 2008, Royal Group, owned by tycoon Kith Meng, was granted a 99-year concession to develop Kong Rong into an ecotourism destination. More developments are planned for the island, including airport, transportation services, water treatment plants, casino, and power plants. Aside from Royal Group and Asian Trails, another 100 smaller companies have plans to develop Koh Rong.